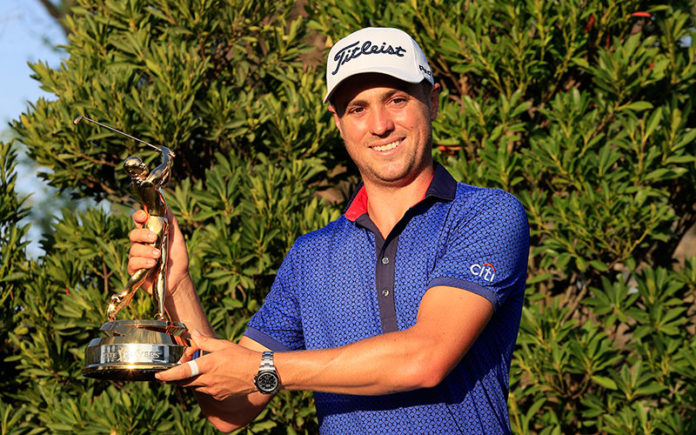 Justin Thomas found the right time for a near-perfect performance to put a rough start to the year behind him, rallying from three shots behind with bold play to close with a 4-under 68 and win THE PLAYERS Championship.
Thomas becomes only the fourth player to win a major, THE PLAYERS Championship, the FedExCup and a World Golf Championships, and it couldn't have come at a better time.
He called it as good as he has ever played tee-to-green, and he needed it to outlast Lee Westwood, a hard-luck runner-up for the second straight week. Westwood birdied the final hole for a 72 to finish one shot behind.
Thomas went birdie-birdie-eagle-birdie around the turn and put away Westwood for good with a pair of lag putts from 50 feet — one for birdie on the par-5 16th to take the lead, another on the island-green 17th for a par.
Thomas still had one more shot before he was in the clear. He took on the water framing the left side of the 18th fairway, the ball moving right-to-left and bouncing straight off the crown of the first cut, safely in the fairway.
His approach landed on the fringe — the first green he missed all day — leaving a simple two-putt for par and the 14th victory of his PGA TOUR career.
"I fought so hard today," Thomas said. "It's probably one of the best rounds of my life tee-to-green. I've seen some crazy stuff happen on TV in the past, and I'm glad to be on this side of it."
"It means a lot, obviously. It's a huge championship, very special. It's a tournament I've wanted to win, a tournament that I truly did feel like I was going to win at some point, and hopefully multiple times. I love the golf course. It was in incredible shape this week. The greens were so good. The fairways were perfect. Rough was long. Just a great test of golf. I mean, that's why it's a PLAYERS Championship.
"I tried to stay patient. I felt like the last three holes on Friday changed the momentum for us for the tournament. Birdieing 16 and then that birdie on 18 was huge, and getting a little bit of momentum and kind of rode that into Saturday and obviously had a great day. And then today it was about trying to get into position and then hang on from there.
"It's been a crappy couple months. I've had stuff happen in my life I never thought I'd have happen, and I mean, losing grandpa was terrible, and having to play a round of golf dealing with that, and then on top of that not playing well, it just was a lot, and it took a lot on me mentally.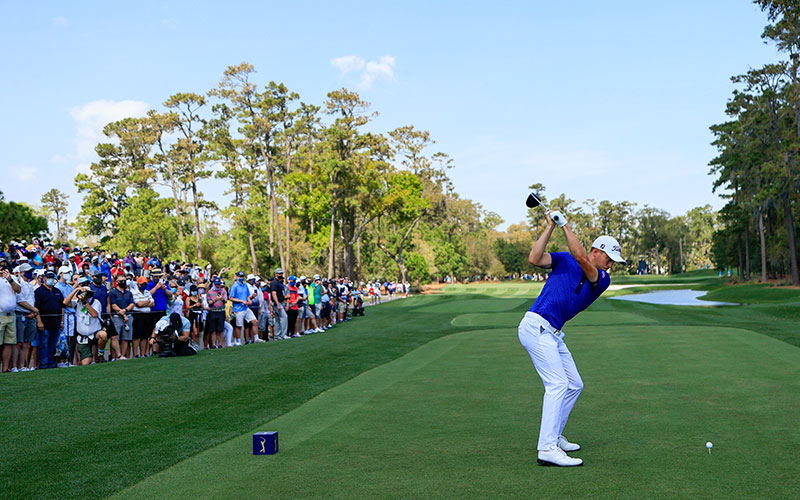 "At the same time, that's just the way that it was. I had to figure it out and had to get over it, and if I wanted to come to these tournaments and have a chance to win, then I needed to suck it up and get over it. If I wanted to throw a pity party for myself or feel sorry for myself, there's no reason to show up, and I can stay home until I feel like I'm ready.
"I felt like I was in a good enough head space where I could play. I just wasn't playing well. And then once I wasn't playing well, it was kind of snowballing.
"This week was huge to win a big championship like this in front of fans again, which is incredible. You know, it tested me mentally, physically, emotionally, and I'm very proud of myself for getting it done."
Thomas was outside the cut line after nine holes on the Friday. He followed that with a 64 on Saturday to get in the mix, and he finished off in style to pick up $2.7 million with a win against the strongest and deepest field in golf.
It wrapped up a year in which the PGA Tour shut down after one round of THE PLAYERS a year ago. Thomas was among those serving on the Player Advisory Council that was a part in getting golf back from the COVID-19 pandemic.
He looked at the gold trophy with Commissioner Jay Monahan to soak in how far golf had come in a year.
Advertisement
Sign up to our NZ Golf Updates