Danny Lee will tee off in the final group on Friday at the start of The Players Championship 2021 being held at TPC Sawgrass in Ponte Vedra, Florida.
Since its start in 1974, with Jack Nicklaus' historic victory over J.C. Snead, The Players Championship has been one of the PGA Tour's most coveted titles. After winning the inaugural event, Nicklaus went on to win the title every other year until 1978. Nicklaus remains the only three-time winner of the event.
The Kiwi Danny Lee will tee off alongside two Americans, Brian Stuard and Beau Hossler at 8.17am NZDT from the first hole on Friday in an event that he has good memories of not all that long ago.
In 2018, Lee tied for 7th place in The Players, eventually won by Webb Simpson. Unfortunately, in 2019 he missed the cut and last year of course the tournament was dramatically cancelled after the first day of play as the PGA Tour came to a halt due to Covid-19.
This year Lee has missed three cuts and the best he has finished after four-round was last week at the Arnold Palmer Invitational where he finished tied for 49th.
For PGA Tour Commissioner Jay Monahan, this year's Players championship is personal and he is really looking forward to playing hitting that first ball in anger tomorrow.
"362 days ago, on March 13th, seems like a lifetime ago in many respects, I sat with you and discussed the cancellation of our flagship event here at TPC Sawgrass," Monahan said.
"As gut-wrenching as it was at the time for the Tour, our players, our fans and our community, it goes without saying that what we experienced that day would pale in comparison to what our world would experience in the coming days, weeks and months.
"Fast forward to today, and I'm extremely pleased to recognize those directly responsible for our response after The Players was cancelled, as well as our successful return this week.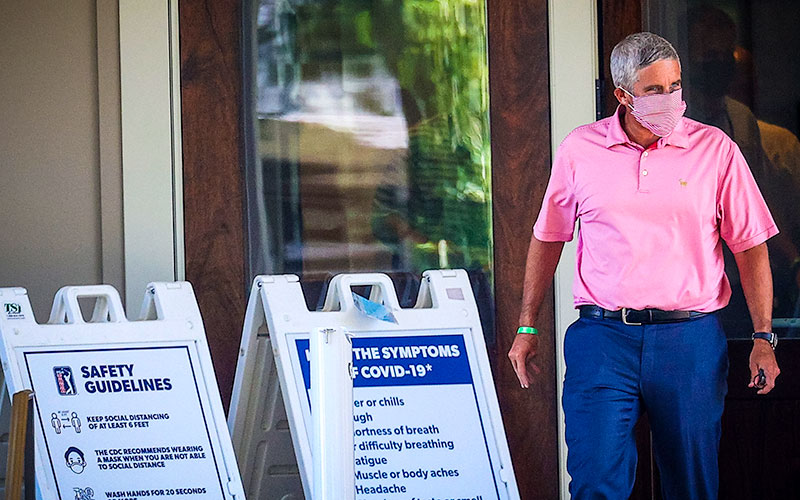 "Since the return of golf, we've successfully conducted 36 PGA Tour events, including 22 in this year's super season. With health and safety being our absolute number one priority.
"We are incredibly grateful for the cooperation we've received from government officials in every community, we see some light at the end of the tunnel, with the COVID-19 vaccine being accessible on a widespread basis over the coming weeks and months, but until the pandemic is in our rearview mirror, our commitment to health and safety continues at The Players, where we are welcoming a limited number of spectators.
"This week will mark our largest footprint to date and our players are excited that we're getting back to entertaining and inspiring our fans in person. But we remain conservative, administering tickets at only 20 per cent of our normal capacity so that we can continue to learn and adjust as we go, again with safety as our absolute top priority."
Sky Sport 6 will broadcast The Players Championship live across the weekend starting at 6am on Friday morning.
Advertisement
Sign up to our NZ Golf Updates