As a 17-year-old student in New Zealand, my two main interests were golf and art. While competing successfully in several junior golf tournaments around the country, art was my favourite subject at school.
A memorable project while attending Hamilton's Fraser High School required me to produce a piece of art depicting 'motion in sport.' I painted an acrylic on canvas of a professional golfer at impact, while trying to show the speed of the golf swing. It resulted in an 'A,' and I would pass the class with flying colours (pun intended!). That painting still hangs in my parent's house today.
Almost 40 years later, golf and art crossed paths again, but this time for a different reason.
Following the cancellation of THE PLAYERS Championship in 2020 due to COVID-19, like most everyone, we isolated for several months. During that period, I stayed relatively busy in my Communications role at the PGA Tour but sought more to help fill the downtime at home. Pulling the pens and pencils from storage, I began to draw golf holes, starting with the famed par-3 17th at TPC Sawgrass. Other recognizable holes made the cut, too, including No. 12 at Augusta National, No. 7 at Pebble Beach and No. 17 at Tara Iti in New Zealand. I then experimented with a few other random subjects which appealed to me, like Formula 1 race cars, hot-air balloons, the Jacksonville skyline—where the PGA Tour is headquartered—and even my brother's goat.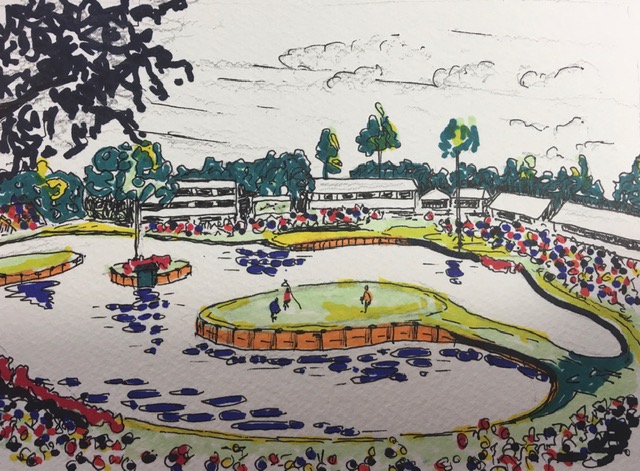 Wanting to recognize the sponsors and fans and pay tribute to the multiple tour events that got cancelled, I drew an image of spectators crowding around the first tee at the Zurich Classic of New Orleans. After posting it on Twitter, I received a lot of positive comments. Encouraged, I continued with more drawings for social media, including sponsor logos and signage. Eventually, I completed drawings of each event that had comprised the 2019-20 PGA Tour season. Not only were they designed to provide recognition to PGA Tour sponsors and partners, but also to provide an 'illustrated history' of a unique PGA Tour season. The process was inspirational, fulfilling and led to almost 100 pencil and ink drawings of PGA Tour tournaments, courses and players.
PGA Tour players began to notice. World Golf Hall of Fame member Vijay Singh, a past winner of the Houston Open, retweeted my drawing of the Texas event featuring a golf hat with the tournament logo sitting on a shelf in the merchandise tent.
When schools began closing amid the pandemic and impacting millions of students, the demand for free online home-schooling resources increased. That need led to colleagues at the PGA Tour establishing 'Links to Learning' in partnership with the First Tee. Invited to contribute to the site, I submitted artwork featuring Tiger Woods, Dustin Johnson, Rickie Fowler, Jordan Spieth, Dylan Frittelli and Matthew Wolff. The objective was for students to 'guess the PGA Tour player.'
John Bachman, a local news anchor at Action News Jax, contacted me and asked if I'd be willing to provide a piece of art to include in a fundraising auction for the First Tee of North Florida. I was happy to oblige, figuring a drawing of Rory McIlroy hoisting the trophy after his 2019 PLAYERS Championship victory was appropriate. McIlroy autographed the piece which certainly made it more desirable for the winning bidder. I also donated an additional drawing of No. 17 at TPC Sawgrass. An interview with Bachman, which aired on Action News Jax in September, helped promote the charity auction.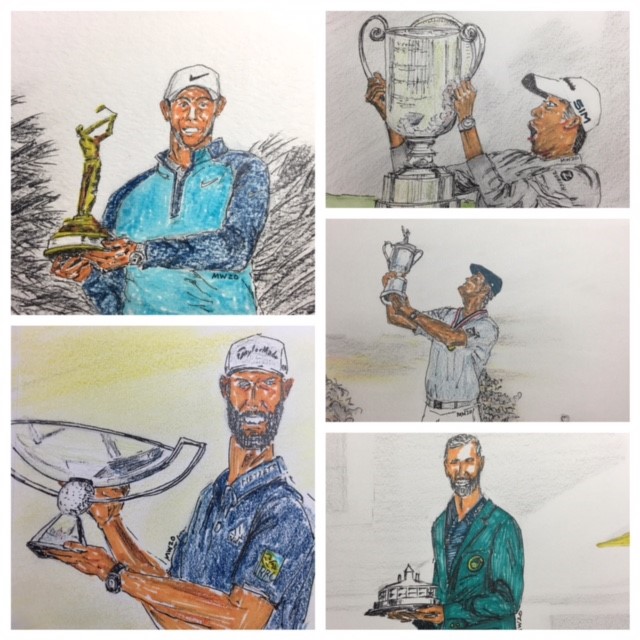 Some of my drawings of PGA Tour players, including Tiger Woods and Dustin Johnson, have also been autographed and will eventually make it to charity auctions to raise funds for good causes.
Implementing an online service, I made a couple of books to house drawings depicting tournaments from the 2019-20 PGA Tour season. It felt like a good way to keep a record of such a unique season. Also included were drawings of two events established to help raise millions of dollars for COVID-19 relief – the 'TaylorMade Driving Relief' (Rory McIlroy, Dustin Johnson, Rickie Fowler, Matthew Wolff) and 'Capitol One's The Match' (Tiger Woods, Phil Mickelson, Peyton Manning, Tom Brady). One of the books went to PGA Tour Commissioner Jay Monahan as a gift. He might view the 2019-20 season as the most challenging season of his career, but now that it is completed, it could become his most satisfying season. Hopefully, Monahan can look back at the drawings with a great sense of achievement.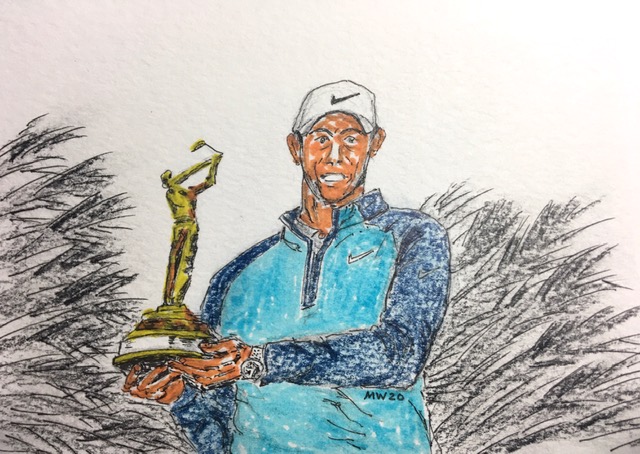 After Jon Rahm won the 2020 BMW Championship in a dramatic playoff over Dustin Johnson at Olympia Fields Golf Club, PGA Tour Rules Official Stephen Cox requested a drawing to show appreciation to the club for hosting the event. Cox had Rahm autograph my drawing with a message of thanks to the Olympia Fields staff, before framing the item and presenting it to the club. The thought of my artwork, a drawing of a fist-pumping Rahm celebrating his winning putt with the club's iconic clock tower in the background, hanging somewhere in the historic Olympia Fields clubhouse is cool!
With a renewed passion for art and a continued love of golf, I won't let another 40 years pass before art and golf collide again.
My artwork can be found on Instagram #TheIsolationArt.
Advertisement
Sign up to our NZ Golf Updates