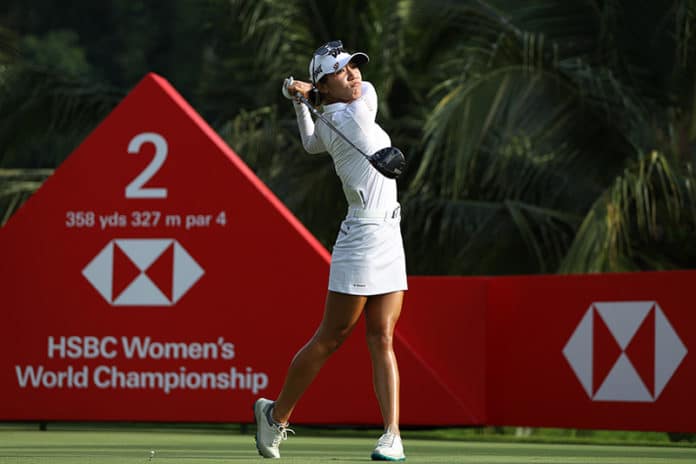 A freakish eagle on the 18th hole has helped Lydia Ko move into the final day of the HSBC Women's World Championship with momentum in Singapore.
With a relatively even day up until this point, playing just 1-under after 17 holes, the eagle came at the perfect time for Ko, in very trying humid conditions again. After the round of 3-under, she sits at 10-under the card, four shots behind outright leader Xiyu Lin on 14-under.
But it was that 18th hole second shot which had everyone talking, an approach to the green that then landed, bounced three times and hit another ball on the green which directed hers straight into the hole.
"I hit a really good drive and then obviously with the pin being tucked on the right, nice to have a short club in and hit a good committed 50-degree and I hit it perfect," Ko explained after the round.
"So nice to make an eagle and to do that on the last makes my life easier to finish this round. Lunch is going to taste great more so after that one.
"I played really solid on my front nine and on the back I made some really clumsy mistakes. Overall I putted really well and holed some really good birdie putts and holed some good par and bogey putts, as well. Nice to finish off with a two on the last.
ARE YOU KIDDING?1 😱

Lydia Ko finishes with an eagle after this happened on 18! @HWWCGolf | @GolfChannel pic.twitter.com/bQo2ZgYF14

— LPGA (@LPGA) May 1, 2021
Ko will need to be on her game tomorrow with another hot day coming up. Commentators were making note about the effects of the weather on Ko towards the end of her round.
"I thought I was fine and then I had my ice bag and umbrella with me and then those last few holes, I think when the wind kind of died down, the heat really got to me. So I was like, I need to get into the clubhouse as quickly as possible."
Ko tees off at in the second last group at 1.25pm NZT and the coverage begins at 2.30pm on Sky Sport 6.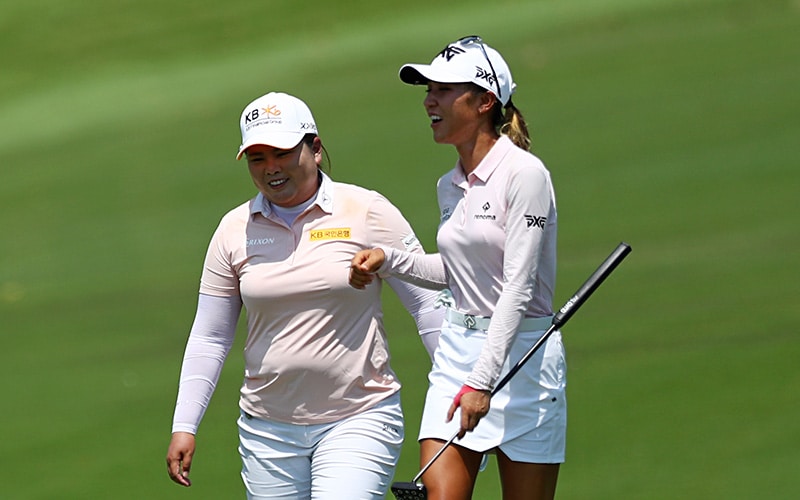 Advertisement
Sign up to our NZ Golf Updates