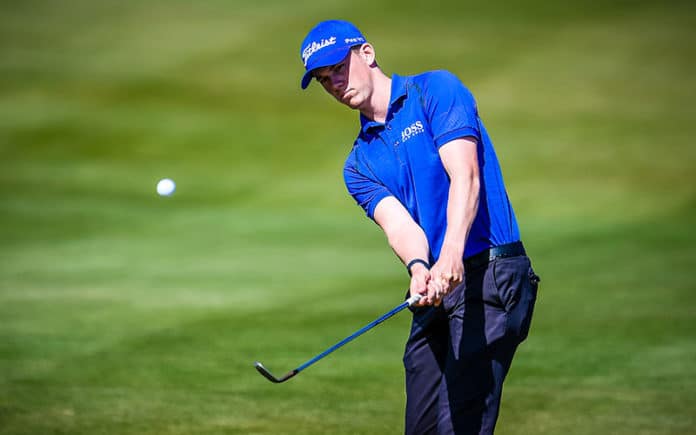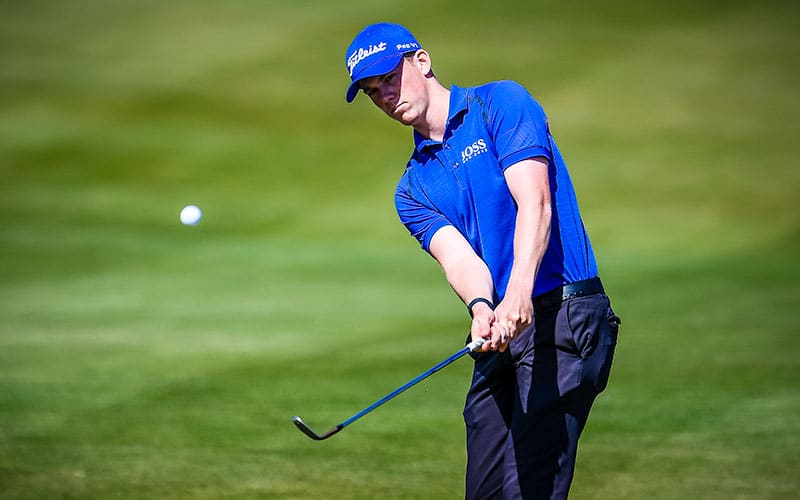 Daniel Hillier has added to his impressive Jennian Homes Charles Tour record with victory at the DVS Pegasus Open today.
The rising young professional won by two shots to claim the third Jennian Homes Charles Tour event of his career, and his second this year to go alongside the Brian Green Property Group NZ Super 6's title back in March.
Starting the day three shots back, Hillier knew he needed to come out of the gates quickly.
He opened with even-par on his opening nine and was still a handful of shots back from the lead. That all changed on the 12th hole where he made back-to-back birdies.
He parred the 14th before making two more birdies at the 15th and 16th holes and all of a sudden, he was tied for the lead.
He made a clutch birdie on the last to take the clubhouse lead and had a nervous wait ahead of him while other players finished their rounds.
Mako Thompson, who was playing in the final group, fell behind early in the day and was three over through his opening 10 holes.
He made a late charge at Hillier's lead with birdies on the 12th, 15th, and 16th holes to get back to even-par for the day and 10-under for the tournament.
Thompson then unbelievably holed his second shot for eagle on the 17th to move within one shot of the lead with one hole to play.
However, Thompson made bogey and the tournament went to Hillier.
Hillier couldn't be happier.
"It's crazy," he said with delight.
"I was playing well early on today but hit a shot out of bounds on the seventh which set me back a bit and I thought it would be a tough ask to come back from that.
"I managed to get my way to the 12th without any more damage and something just clicked, and I birdied five out of the last seven holes. The rest is history."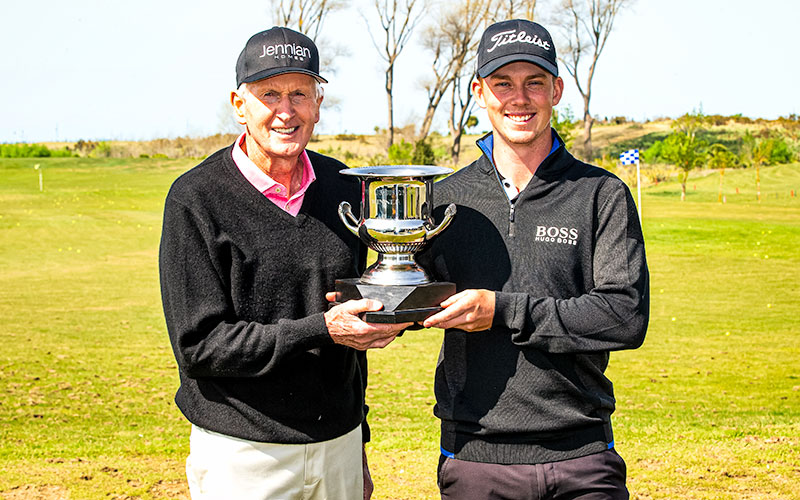 The Wellingtonian had no idea if his birdie at the last was going to be good enough and made sure he stayed in the zone after signing his scorecard.
"I didn't know what was happening until I signed my scorecard and Dave [Mangan] came up to me and let me know that Geary has had some trouble but Mako has just gone birdie, eagle, to be one shot back heading up the last which through a spanner in the works.
"That made me head straight for the range to hit balls until I was told I had won."
Hillier said his game feels good ahead of the next two events on the Jennian Homes Charles Tour, starting with The Carrus Open next week.
"I'm feeling pretty good heading into the next few weeks. This event gives me a heap of confidence moving into those. I've been hitting it really well and been rolling it nicely all week this week, hopefully, I can keep the form up and we'll see how we go from there."
Final Leaderboard
13-under 275 Daniel Hillier (PGA New Zealand) 66 70 72 67
11-under 277 Mako Thompson (Maraenui) 69 68 69 71
9-under 279 James Hydes (Gulf Harbour Country Club) 70 68 69 72, Josh Geary (PGA New Zealand) 68 69 68 74
7-under 281 Kazuma Kobori (Rangiora) 72 73 66 70, Tyler Wood (Palmerston North) 70 71 69 71
6-under 282 Gareth Paddison (PGA New Zealand) 72 66 70 74, Oscar Cadenhead (PGA New Zealand) 73 66 69 74, Luke Toomey (PGA New Zealand) 73 66 69 74, Michael Hendry (PGA New Zealand) 78 65 64 75, Ryan Chisnall (PGA New Zealand) 66 67 74 75
5-under 283 Harry Bateman (PGA New Zealand) 68 70 74 71
4-under 284 Mark Hutson (PGA New Zealand) 71 72 69 72
3-under 285 Samuel Jones (Manaia) 78 67 67 73, Fraser Wilkin (P, PGA New Zealand) 68 69 74 74
2-under 286 Caitlin Maurice (Omokoroa) 72 73 70 71, James Anstiss (PGA New Zealand) 74 70 70 72, Kieran Muir (Omokoroa) 72 69 72 73
1-under 287 Woonchul Na (PGA New Zealand) 73 71 71 72
1-over 289 Jimmy Zheng (Howick) 75 72 73 69
2-over 290 Joshua Bai (Akarana) 75 75 69 71, Sam An (Titirangi) 74 74 71 71, Vivian Lu (Royal Auckland and Grange) 70 72 74 74, Chang Gi Lee (PGA New Zealand) 78 70 68 74, Cameron Jones (PGA New Zealand) 71 74 70 75, Dongwoo Kang (PGA New Zealand) 75 72 67 76
3-over 291 Daniel Pearce (PGA New Zealand) 75 72 73 71, David Klein (PGA New Zealand) 76 69 73 73, Charlie Smail (Walton) 73 68 76 74, Nick Loach (PGA New Zealand) 73 72 71 75, Tyler Hodge (P, Gulf Harbour Country Club) 76 70 67 78
4-over 292 Julianne Alvarez (P) 81 69 74 68, John Bae (PGA New Zealand) 75 72 73 72, James Devlin (PGA New Zealand) 73 69 75 75, Darae Chung (Shandon) 76 72 69 75, Jared Edwards (Royal Auckland and Grange) 73 73 69 77
5-over 293 Jordan Pruden (Waitikiri) 75 72 78 68, Luke Brown (PGA New Zealand) 74 73 74 72, Kit Bittle (Gulf Harbour Country Club) 69 74 77 73, Taylor Gill (PGA New Zealand) 70 71 77 75, Jordan Woodall (Cambridge) 74 68 73 78, Peter Fowler (PGA New Zealand) 71 68 74 80
6-over 294 Reid Hilton (Russley) 73 71 78 72
7-over 295 Kerry Mountcastle (Masterton) 79 69 72 75, Shaun Campbell (Omanu) 72 75 72 76
8-over 296 Trevor Marshall (PGA New Zealand) 74 73 72 77
9-over 297 Fraser MacLachlan (PGA New Zealand) 76 74 74 73, Carl Brooking (PGA New Zealand) 77 71 71 78, Zachary May (Russley) 73 73 72 79, Craig Mitchell (PGA New Zealand) 71 74 70 82, Ethan Jones (Manaia) 75 68 71 83
10-over 298 Hiroki Miya (Russley) 76 71 73 78
11-over 299 Jerry Song (Queenstown) 71 79 77 72, Mason Lee (PGA New Zealand) 71 78 74 76
13-over 301 Joshua Bailey (Queenstown) 78 70 79 74, Stephen Liu (Whitford Park) 74 71 79 77, Jordan Loof (PGA New Zealand) 74 75 72 80
14-over 302 Maddie May (Russley) 77 73 74 78, Sung Jin Yeo (PGA New Zealand) 77 73 72 80
15-over 303 Michael Brodie (Mangawhai) 74 74 81 74, Thomas Woods (Miramar) 76 74 73 80
18-over 306 Matthew Grimes (Nelson Inc.) 75 72 84 75, Hayato Miya (Russley) 73 74 78 81
Advertisement
Sign up to our NZ Golf Updates