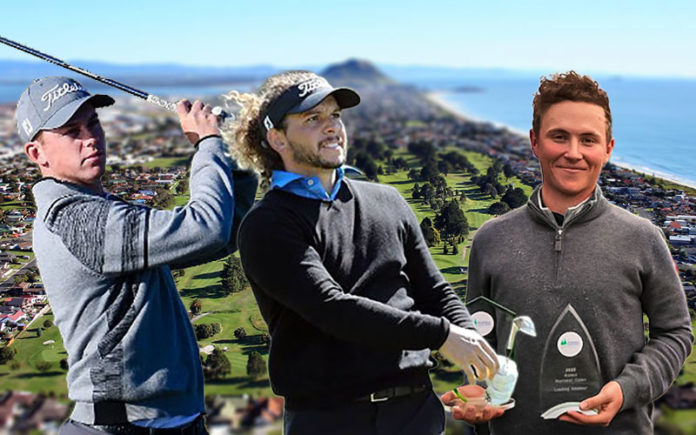 Daniel Hillier, James Hydes and Luke Toomey are set for a showdown at The Christies Floorings Mount Open starting on Thursday as the overall winner of the Jennian Homes Charles Tour 2020 will be crowned this weekend.
Mt Maunganui Golf Club is in great condition and ready to host the final round after rising youngster Denzel Ieremia shot 29-under par in four rounds to cruise to victory in the Mount's return last year.
Daniel Hillier holds the lead with 1257 points over James Hydes and Luke Toomey, who have 1011.5 and 775.5 points respectively.
If Hydes wins this week's event, Hillier can finish in solo second and still win the Jennian Homes Trophy. If Toomey wins, Hillier can still win by finishing as low as being in a tie for 51st.
Daniel Hillier has a slight edge on the trio as he has won two of the five tour events this year having taken out the opening round at the inaugural Brian Green Property Group New Zealand Super 6's at Manawatu Golf Club in March.
Post Covid-19 lockdowns Hillier went on to snatch the DVS Pegasus Open in October by two shots over Mako Thompson to give him the lead heading into the final event at The Mount.
Following that victory, Hillier said his game felt good heading into the final three tour events.
"I'm feeling pretty good heading into the next few weeks," Hillier said after his Pegasus victory.
"This event gives me a heap of confidence moving into those. I've been hitting it really well and been rolling it nicely all week this week, hopefully, I can keep the form up and we'll see how we go from there."
James Hydes etched his name in the history books, becoming the seventh amateur to win on the Jennian Homes Charles Tour at the Autex Muriwai Open in August.
In the first golf event in New Zealand in the Covid era, Hydes had to go to a playoff before he snatched victory ahead of his well credentialled professional competitors.
Hydes then went on to win the New Zealand Amateur championships so should be high up the leaderboard come Sunday afternoon.
Hillier and Hydes tee off in the same group with Mark Brown at 12.35 pm.
Luke Toomey is always in the hunt and he loves a big stage which is why his win at the Carrus Open, his second in a row, showed he was back to his best, winning at his home club.
This weekend at The Mount, Toomey will try and grab the overall tour title which he failed to do last year when he finished sixth and that allowed James Anstiss to take the 2019 trophy.
Luke Toomey will tee off at 8.20 am alongside Josh Geary and Darae Chung.
View this post on Instagram
With a victory in the Taranaki Open, Kieran Muir must also be in the hunt and don't discount the women such as Chung and Momoka Kobori who have shown impressive form during the tour and may create an upset on the weekend.
The first group will tee off at 8 am.
Jennian Homes Trophy standings
1st – Daniel Hillier, 1,257 points.
2nd – James Hydes, 1011.5 points.
3rd – Luke Toomey, 775.5 points.
4th – Kieran Muir, 661 points.
5th – Josh Geary, 516 points.
NZ Golf Magazine is the Official Magazine of the Jennian Homes Charles Tour.
Advertisement
Sign up to our NZ Golf Updates