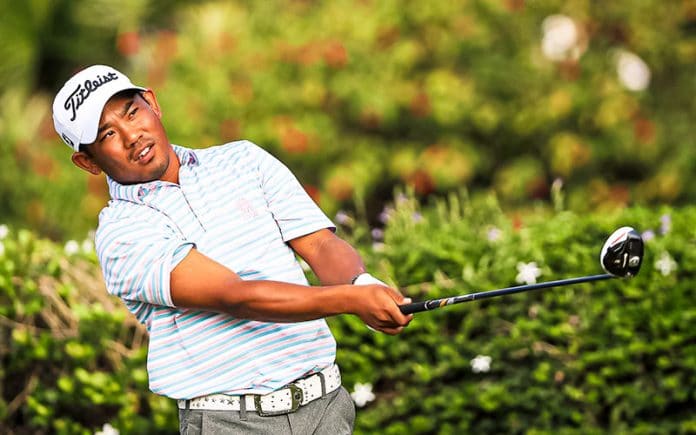 Not that is should matter one jot, but the fact that there is presently just one openly gay male professional tournament golfer out of 1,000-plus men plying their particular sporting trade around the world, whilst evidence-based statistics would suggest that very many more homosexual men are remaining in the clubhouse closet.
And while, in the women's professional game, there are enough openly lesbian players as to no longer be worthy of mention, why, as we enter 2020, do gay male golfers feel unable to come out and be who, and what, they truly are?
According to Dr. Alfred Kinsey's 'Sexual Behavior in the Human Male,' first published in 1948 and his follow-up five-years-later, Sexual Behavior in the Human Female,' a staggering 37% of post-adolescent men and 13% of women in the USA had indulged in homosexual activity.
More recent research, in particular, David Spiegelhalter, in his book 'Sex By Numbers,' concluded that Kinsey's numerical predictions were on the high side; the author concluded that, across the sexes, some 10% of the adult population is, 'Predominately gay,' thought to be more prevalent amongst men at 14% than 5% of women.
'Interesting societal research and an insight into the human condition,' I hear you say, but asking, 'What the hell has any of this got to do with golf?'
Back in September 2018, Hawaiian-born Tadd Fujikawa, who in 2007 became the second-youngest player to make the cut at a PGA Tour event, came out as openly gay understood to be the first male professional golfer to do so.
"I can't wait for the day we all can live without feeling like we're different and excluded," he said in an emotional post at the time on Instagram.
His thoughts and most personal emotions were, and remain, not only unique but also insightful and intuitive.
"I've been back and forth for a while about opening up about my sexuality," Fujikawa, now 28 and down amongst the dead men of the OWGR, continued in his post, "I thought that I didn't need to come out because it doesn't matter if anyone knows, but I remember how much other's stories have helped me in my darkest times to have hope.
"I spent way too long pretending, hiding, and hating who I was, I was always afraid of what others would think [or] say, I've struggled with my mental health for many years because of that and it put me in a really bad place," he continued.
"Now I'm standing up for myself and the rest of the LGBTQ community in hopes of being an inspiration and making a difference in someone's life."
Tadd Fujikawa's story, personally and socially courageous though it undoubtedly is, really only matters in two respects.
First, in this, the first quarter of the 21st century, the vast majority of right-minded, well-meaning people could not care less about his, or indeed anyone else's sexual orientation, their default response being either, 'Well done,' or, 'So what.'
And, for that matter, providing they are legal, any other aspects of their private, personal lives are of equally little interest and no concern to anyone other than the person themselves, their friends and families.
But second, and much more importantly, why, more than 12-months-later, does Tadd Fujikawa remain the only male professional tournament golfer to openly identify as gay?
Given there are at least 1,000 men currently plying their trade in professional tournament golf around the world, and taking even the most conservative of estimates of the prevalence of homosexuality amongst adult men, it would not be unreasonable to assume that up to 100 gay male golfers remain. 'In the closet,' and living with the same emotional challenges and anxieties experienced by Tadd Fujikawa.
Meanwhile, in other sports, openly gay athletes, if not freely abound, then are certainly more run-of-the-mill than in golf.
In 2009, Welsh rugby star Gareth Thomas, at that time a married man with children came out; in tennis, global superstar Martina Navratilova openly declared herself to be, 'Gay,' long before it was socially acceptable.
US soccer world cup star Megan Rapinoe is not only openly lesbian, but also a champion for LGBT causes, whilst, even in those 'conservative' American leagues, the NBA, NFL and MLB, a slow drip-drip of gay male players have emerged.
Even male-dominated 'Macho' sports such as boxing, wrestling, weightlifting and Mixed Martial Arts (MMA) have had prominent athletes, male and female, confirm publicly that they are gay, so why is golf so reticent?
One leading European Tour player, who did not wish to be identified said, "In theory, coming out would be a big decision for a tournament professional, who might feel compromised by the reaction of fans, sponsors, the media and even fellow professionals, whereas, in reality, after a very short time, people would say, 'So what,' and hell would not have frozen over.
"But golf is still a very socially conservative sport, with strong religious connotations in the USA, which could be a consideration for any gay player considering coming out."
For their part, golf's governing bodies talk the talk when it comes to delicate issues of inclusivity and sexuality, but fail to walk the walk, well-crafted, warm bland words, but little or no action.
When asked how many gay golfers were members of the European Tour, a spokesman said, "Personally, I don't know of any," before issuing a statement saying, "The European Tour is 'Driving Golf Further' through our guiding principles of being innovative, inclusive and global.
"We are passionate about a closer collaboration with the women's game, disability golf and promoting the health benefits of playing golf [and] we are committed to include all who share a love for our sport."
Meanwhile, an R&A spokesman commented, "It is our view that golf should be open and inclusive to all who wish to participate in the sport."
Some gay players though are more open, courageous and forthright than the ultra-cautious organisations that represent them.
Six-time Ladies European Tour and Solheim Cup star Mel Reid, now a regular on the LPGA Tour came out in 2018, in an interview with Athlete Ally, a US-based LGBT advocacy group.
"It's a serious subject," Reid said, adding, "People kill themselves over it. I just wanted to say, 'Look, this is who I am. I'm very proud of who I am.' I feel like it's 2019 and it should be normalized. It doesn't make me a bad person just because of the gender of who I love."
And PGA of America professional Greg Fitzgerald believes society in general and sport in particular, even the game of golf, are becoming ever-more socially-liberal in their outlook.
Speaking earlier this year to Outsports, an LGBT sports website, he said, "Society has changed a great deal over the last 30 years regarding the LGBTQ community and the sports industry has been coming along slowly but surely.
"Golf is now ready to make a shift in its acceptance and promotion of LGBTQ community," he continued, adding, "I think even on the PGA TOUR, the atmosphere is approaching a point where a high-level player could come out of the closet.
"The reason that that hasn't happened yet is that golf and its facilities have traditionally been the epitome of a male, conservative, 'Old boys club,' type environment."
Intriguingly, of the estimated 65m – 70m golfers playing recreational golf around the world, between 6m to 10m of them will be homosexual, and, apart from their families and friends, who cares?
Why then, when it comes to the professional game, where the same demographic statistics on sexual orientation must surely apply, has only one, relatively obscure PGA TOUR professional and several more LPGA Tour players have had the courage to come out and explain who, and what they really are?
The game of golf, one suspects, remains mired in Victorian, conservative outlooks and opinions, but the quicker it catches-up and embraces 21st-century values and attitudes, the healthier and more inclusive the royal and ancient game may become.
---
Read this and more stories by subscribing to NZ Golf Magazine here.
Advertisement
Sign up to our NZ Golf Updates