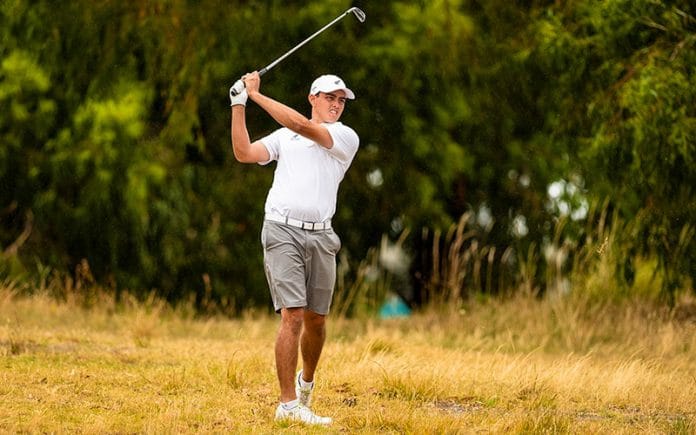 New Zealand amateur Jared Edwards has made a great start in his first tournament of the year, finishing tied for 5th place after day one of the Australian Master Of The Amateurs Championship being held at the Victoria Golf Club in Melbourne.
Ranked 108 in the World Amateur Rankings, the Royal Auckland and Grange player scored a 4-under par round of 68 to head into day two just 2-shots off the pace.
Starting on the back-nine, Edwards started well with a birdie on his second hole at the 11th and backed that up with two birdies on 16 and 18.
Turning for home at 3-under, Edwards grabbed another birdie on the first before bogey slowed proceedings on the third hole, his 12th. He remained steady over the final holes and finished birdieing his last (9th) for a great start.
England's Benjamin Schmidt (World Amateur Number 10) leads the way tied for first on 6-under with Americans Sahith Theegala (38) and Quade Cummins(19). Outright 4th is Jack Buchanan from Australia and then Edwards with four others all from different countries and all on 4-under.
Six Kiwis are in the field including Tyler Wood and James Hydes who both finished with par 72, Kazuma Kobori and Jimmy Zheng are on 1-over and Jordan Woodall on 5-over after the first day.
Women Hold There Own
In the Women's event, Fiona Xu and Carmen Lim led the 5-strong contingent after the opening day, both recording par rounds of 72.
They are tied for 10th behind South Korea's Min A Moon who scored a 5-under 67 for the round of the day. Australia's Cassie Porter is in outright second place on 3-under.
Anna An and Darae Chung are 4-over after day one while Amelia Garvey scored a 78 on day one to be 6-over the card.
The four-day event continues in Melbourne tomorrow.
Advertisement
Sign up to our NZ Golf Updates