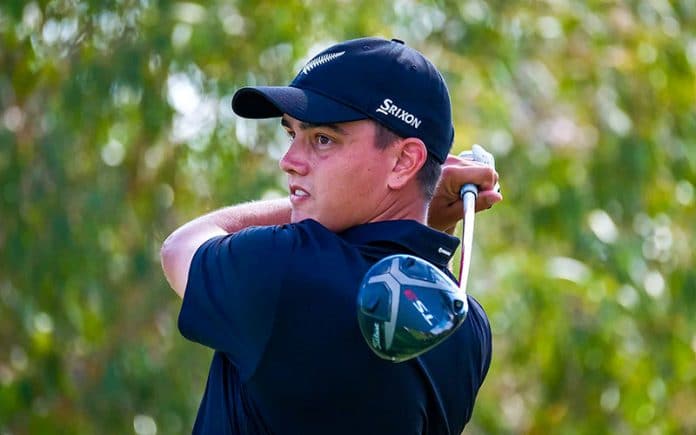 A run of birdies across holes 8,9 and 10 has managed to keep Jared Edwards in the hunt after day two of the Australian Master of the Amateurs Championship at the Victorian Golf Club in Melbourne.
After shooting a 4-under 68 on Tuesday, Edwards opened his round with two bogies in the first four holes today and that left him with a lot to do in repairing the damage.
But it was the string of three birdies as he turned for home that was the momentum shift he needed.
After bogies again on the 13th and 16th, it was left to two of the longest par fives on the course to bring him back to the pack, and in fact, with those two birdies on 17 and 18 he finished 1-under for the day and still tied for fifth place, only five shots from the lead.
Sahith Theegala and Jang Hyun Lee both carded 68 for the day allowing the American Theegala a 2-shot lead on 10-under over the South Korean on 8-under.
Australian Jack Buchanan is still the best of the locals in third place on 7-under while the best round of the day went to outright 4th, Germany's Philipp Katich who hit a 5-under 67 to be just one shot ahead of Edwards on 6-under.
The rest of the Kiwi men had a tough day with all losing shots. The best is still James Hydes who is tied for 41st place on 3-over, Jimmy Zheng and Tyler Wood are both on 4-over and Jordan Woodall and Kazuma Kobori are both on 6-over after two days.
In the Women's, Australia's Lion Higo and Stephanie Kyriacou are tied in first place with South Korea's Min A Yoon on 6-under.
New Zealand's Carmen Lim had a 74 today to finish tied for 11th place on 2-over. She leads the rest of the Kiwi ladies with Anna An (+6), Fiona Xu (+7), Darae Chung (+8) and Amelia Garvey (+10).
Advertisement
Sign up to our NZ Golf Updates