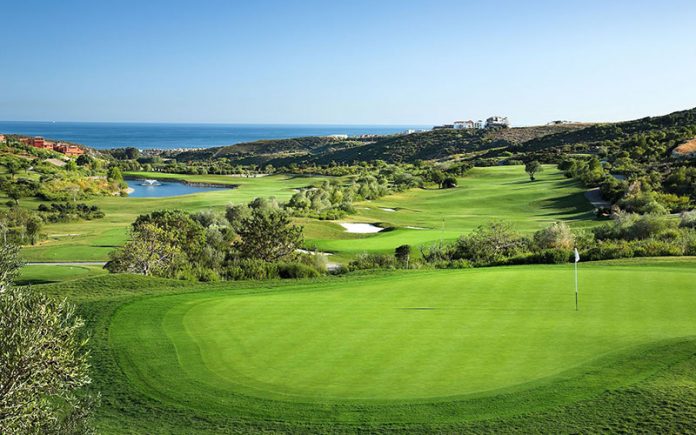 The southernmost point of Europe – colloquially known as the Costa del Sol – translated as the 'coast of sun,' is, with more than 300 days of guaranteed sunshine each year, most appropriately-named, and, with 60-plus courses stretching along the Costa del Sol between Málaga in the east and Gibraltar in the west, well over 1,000 holes to play in invitingly warm weather, it's arguably the undisputed Mecca for global golf.
And, with a range of nine and mostly 18-hole courses to choose from, the quality of courses and their condition is remarkably high, whilst such high supply levels ensure that competition for visitors' cash is intense, reflecting relatively prices low by comparison with other, rival golf destinations.
Given all of the above, it's hardly surprising that the Costa del Sol, within the Southern Spanish region of Andalusia, is, according to the International Association of Golf Tour Operators (IAGTO) not only the 2019 European Golf Destination of the Year, but is also consistently in the upper echelons of the most popular global golf tourism destinations, best in Europe by a country mile, vying with Thailand, Florida and, increasingly, the Gulf States as top dog.
There are far too many quality courses amongst the five-dozen or so facilities along the ribbon of the coastline of Southern and Southwestern Spain to review.
Choosing a golf course, or range of courses to play on the Costa del Sol depends a lot on several factors, such as how competent a golfer you and your party are (for high-handicappers, playing a championship course can be at best, a challenging, at worst, a miserable experience), your expectations, your budget, time available and whether you have a hire car at your disposal.
Like any intensive golfing region of the world, there's a broad range of courses on offer on the Costa del Sol, from a handful of highly-authentic championship courses, through a multitude of challenging, well-maintained courses tailor-made for the mid-to-high handicap recreational golfer to a number of less challenging – but equally enjoyable – high-amenity courses, some nine-hole, others 18, well suited to the occasional golfer and families too.
Andalusia may no longer be able to boast the #1 course in Spain – PGA Catalunya now lays claim to that accolade – but a 'Holy Trinity,' of three well-known, exceptional, demanding – and relatively expensive golf courses – exists, namely Valderrama, Finca Cortesín and the Real Club de Golf Sotogrande.
Valderrama is, without doubt, the ultimate golfing experience, not only on the Costa del Sol but arguably also in Spain and even continental Europe; it made its name as the 'Augusta National of Europe,' after a major makeover by the celebrated US course designer Robert Trent Jones Jnr, the owners' ultimate dream, hosting the Ryder Cup, which he achieved in 1997, when it became the first venue outside of the UK to host the biennial contest between Europe and the USA, a 'Home' victory under the inspired captaincy of swashbuckling Spaniard, the late great Seve Ballesteros, the icing on the cake.
Valderrama, previously and subsequently, made its name, established and enhanced its reputation as the host venue for the then European Tour flagship, end-of-season showpiece, the Volvo Masters, the course remains the jewel in the crown of Andalusia and the Costa del Sol.
There is not a bad hole on the 6,990-yard (6,392m) course, and many exceptional ones, the undoubted signature hole, the Par-5 17th, Los Gabilones, 535-yard (490m), long, protracted drive and approach onto an amphitheatre green protected by water and sand, surely one of the finest holes in world golf.
There is not a giveaway shot to be had, and danger lurks at every turn; water, thick rough, strategically-placed bunkers, every club in the bag, every shot in the golfer's repertoire is tested over a golf course where accuracy off the tee is paramount.
Small, saucer-like raised greens add to the conundrum and Valderrama is an authentic 'thinking golfer's golf course,' which yields nothing, every successful shot executed is hard-won and well-earned.
Valderrama is a proper, premium golf club; exceptional course, always in pristine condition, extensive practice facilities, classy locker-rooms, a five-star food and beverage offer and, perhaps unusually for an exclusive aristocrat of a club, warm and welcoming too.
It's not cheap, US$400.00-plus in autumn and spring, the best time of year to play given the Costa del Sol's searing summer temperatures, and, a word of warning, Valderrama is no place for the high-handicapper to be, as they will record a very, very high number of shots for their money.
Of the same vintage as Valderrama, if not quite the same calibre, is the Real Club de Golf Sotogrande, just 5km to the east of Valderrama, close to the Urbanisation Parque San Roque, which fronts onto the Mediterranean, although Sotogrande is far from a links-style course.
Also designed by Trent Jones Jnr, Sotogrande It is a different beast to Valderrama, wide fairways, longer, at 7,099-yards, (6,492m), more open, much more forgiving to the recreational golfer, but still a very fine and fair, test of golf, especially when the wind blows.
Real Club de Golf Sotogrande was given a significant makeover, on-and-off the golf course, in 2011 / 2012, increasing the size of the greens by around 50%, and a refurbishment of its award-winning clubhouse and extensive pro-shop.
Like Valderrama, Sotogrande is priced in the premium range appropriate for a quality course with first-class facilities; for 2010, 18-holes midweek will cost €250.00 (Approx. US$275.00) midweek, €280.00 (Approx. US$310.00) throughout the year, buggies, caddies and club hire are extra.
The third of the Costa del Sol's trilogy of outstanding golf experiences is also the newest; Finca Cortesín has only been in existence for a dozen years, but, having hosted the Volvo World Match Play Championship between 2009 – 2012, it soon made a name for itself and has been winning awards ever since.
Designed by another American, this time Cabell B Robinson, the undulations and elevations at Finca Cortesín demand that a golf cart – included in the green fee – is all-but essential for all but the fittest of golfers, but, unlike Valderrama, high-handicap or recreational golfers can still derive great pleasure by playing from the forward tees.
One of the many features of what must be one of the finest new golf courses on mainland Europe is the variety of tee shots on offer, many from highly-elevated positions offering inviting drives and spectacular views, the 10th in particular, a short, 226-yard (207m) Par-3 from an elevated tee, looking down onto a postage stamp-sized green against the dramatic rocky backdrop of mountain peaks.
Finca's 'Signature hole,' the 13th, is a relatively short Par-4, 418-yard (383m), a spectacular, strategic par-four, players are offered an appetizing drive to a wide fairway, avoiding a water hazard which follows the fairway all the way tee-to-green, on the left and across the front of a tricky green protected by bunkers right and left.
But, as a golfing experience, the undulating Finca Cortesín course is a demanding physical and mental examination of your game; it's not quite as pure, not quite on a strategic par with Valderrama, but then few courses are, but it's definitely not a course to be taken lightly, or to take liberties with, but to savour.
Where the newest of the Costa del Sol's triumvirate of world-class golf experiences differs from its two near neighbours is that it is part of a compelling, self-contained package; to call Finca Cortesín a 'Resort' is comparable to calling a Ferrari a, 'Motor vehicle,' and, even though every component part, Golf, Hotel, Spa, Beach Club and Real Estate, is exceptional in its own right, the adage, "The whole is greater than the sum of its parts," sums it up perfectly.
The 67-room boutique hotel is, put simply, best in class, exquisite interior design and gold standard service, European Tour stars playing the Volvo World Match Play Championship – who tend to know a thing or two about luxury – could barely believe their eyes or contain their acclaim.
Excellent food and beverage, from informal to haute cuisine, an out-of-this-world spa and sports club, a separate seafront Beach Club, the choice of seven indoor and outdoor pools, a state-of-the-art gymnasium and vast grounds and gardens in which to wander and ponder at leisure, all complement an outstanding golf course.
Discreet, elegant, refined, sophisticated, Finca Cortesín's multiple awards are not only prestigious but also hard-earned and 100% authentic.
But – and, yes, there's always a but – the Finca Cortesín experience does not come cheap.
18-holes in high season costs €305.00, (Approx. US$335.00) low-season €260.00 (Approx. US$287.00), but a complimentary buggy takes the edge off, and, given the overall calibre of the ambience from the moment one drives through the imposing entrance, evidence shows that Finca Cortesín delivers a high-value experience is worth every penny and more.
But autumnal offers, such as include two nights in a Junior Suite for €1,070.00 (Approx. US$1,180), or two nights in an Executive Suite for €1,441.00 (Approx. US$1,590), but with complimentary use of the golf course included, helps ease the pecuniary pain
Then, there's the best of the rest.
Close to Sotogrande, the Old Course at the San Roque Club, at 7,117-yards (6.508m), Par 72 is a staple on the Costa del Sol, as is Almenara, with its pleasant on-site hotel, an exceptional value-for-money course costing between €65.00 (Approx. US$70.00) – €90.00 (Approx. US$98.00) depending on the season, an enjoyable day's golf on a budget.
Further east along the Costa del Sol is the Westin La Quinta, close to the luxury yacht haven of Puerto Banus and the vibrant tourist town of Marbella, 27 holes of good golf, three nights in the recently-renovated 5-star Westin Hotel, including three rounds of golf are to be had for as little as €370.00 (Approx. US$406.00).
The Costa del Sol, an 85-mile (Approx. 137km) seafront strip linking Málaga and Gibraltar is a veritable Mecca for golfers, 60-plus courses, from severe, challenging championship courses like Valderrama to fun, pitch-and-putt layouts for those with less lofty aspirations.
And there's no amount of accommodation available in this tourism hot-spot, from an array of four and five-star luxury hotels to self-catering apartments, and, like everywhere in the world today, the ubiquitous Airbnb is well-established.
As for the 'après-golf,' there are more multi-cultural restaurants, bars and nightclubs than you could shake a seven-iron at, and, along the Costa del Sol, the night-time experience varies from sedate, through lively to raucous, whatever your taste.
Flying in and out, Aeropuerto de Málaga-Costa del Sol, Málaga Airport (APG) is a modern, efficient and authentic international airport, offering direct flights to the widest – and most competitively-priced – 60-plus airlines operating in and out of APG, whilst Gibraltar Airport (GIB) is restricted to mainly UK destinations, and prices can be high.
Given the number of golf courses on the Costa del Sol, a mature and highly-developed tourist industry, abundant and varied accommodation options, together with the favourable climate enjoyed by the region, its comprehensive transport infrastructure and an international reputation for golf tourism, its hardly surprising that this once sparsely-populated ribbon of coastline, routinely outperforms the majority of other recognised golf destinations in the world.
What is perhaps more surprising is the universal and unrivalled quality, condition and variety of the golf courses on offer, from big-names like Valderrama to a scattering of so-called, 'hidden gems,' the quality of the hospitality and the warmth of the welcome, the value for money on offer and the fact that courses are, in the main, far from crowded.
It's certainly a place to go, to have a ball, on and off the golf course.
Advertisement
Sign up to our NZ Golf Updates