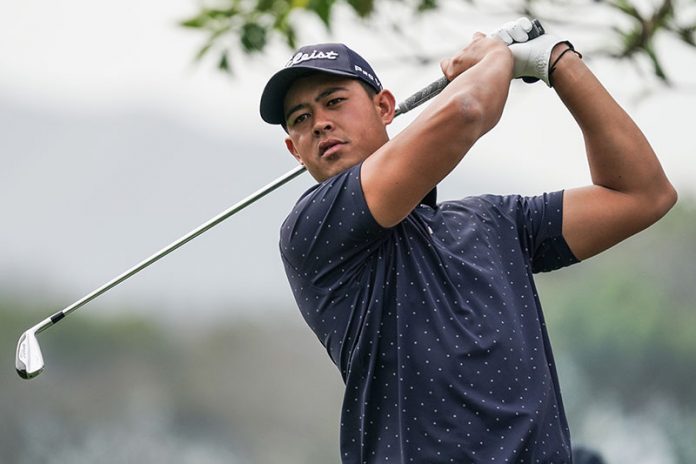 For a player that has only been a professional for just over twelve months, Denzel Ieremia exudes calmness, positivity and a strong will to succeed. After amassing more than $100,000 on the Australasian tour, most in the last month of 2019, he seems to have made the perfect start to his professional career.
The 24-year-old college graduate originally from Hamilton has enjoyed his first year but has a clear idea of where he wants to go and knows he needs to start the journey off well by performing at the New Zealand Open later this month in Queenstown.
New Zealand Golf Magazine caught up with Ieremia in January while he was back at his parent's place in Hamilton, preparing for a busy couple of months across Australasia.
"I played my first [NZ]Open last year where I missed the cut. I've learned a few new things before going back this yeah so I'm a lot more ready," Ieremia explained.
"It's such a cool place Queenstown. So every time you get there, there's always good vibes.
"You feel good playing around there. The Hills doesn't suit my style of play to a tee. I'm more like a power player I drive and I wedge good and putt well. The Hills is more of a traditional place where you have to kind of plot it around. That's what I didn't realise last year.
"But now I have so I'm excited to come to it with a slightly different strategy. There's only one round there this year and I think Millbrook really suits my game. I can get the driver out a bit more and have a few shorter clubs than most guys.
"Should have a lot of scoring opportunities going there. That would be the same every week. I think I'll be patient, but I'll be trying to get as many birdies as I can and see where that puts me at the end of the week."
Ieremia was invited to play in The Hills Pro-am in January, held as a warm-up before the 2020 season tees off in earnest, with many of the same local players that he will be up against in the NZ Open. He finished the two days on 144 shots after a 68 and 76, 8 shots behind the winner Mark Brown.
"The course looks in great condition and it's an awesome place. I'm really looking forward to playing there.
"I'd love to win a Tier 1 event on the Aussie tour and one of those being the New Zealand Open. That will be really cool."
Ieremia's introduction to golf was like many, his father and grandfather took up the game so he followed suit. His family sporting pedigree has also been linked to the reason why he has taken to the professional ranks so easily.
His second-cousin Alama played 30 tests for the All Blacks and relative April played more than 50 matches for the Silver Ferns.
But it's his Mother who suggested the main reason he picked up golf so easily was when he watched a Greg Norman video at the age of one and started hitting golf balls around the house.
But it wasn't until Ieremia's teenage years where he got the urge to follow his golfing obsession.
"I always wanted to go to college when I was going through school. I ended up doing a year, year and a bit at Waikato University and completed the Edmund Hillary scholarship.
"Then after that, we reached out to a few colleges, and Coach Jack from Iowa state was one of the ones that responded and Nick[Voke] went there as well.
"Id played with Nick once before when we were younger, we were messaging and he kind of took me through that process and I was really happy that I ended up going there in the end. It was a great opportunity."
Iowa State University is one of the biggest colleges in the US College sporting system with the golf programme having a revamp following a new golf performance centre that was built in 2013, which is classed as one of the finest of its kind in the United States.
Ieremia studied finance alongside his golf training and graduated in 2018. Fellow Kiwi Nick Voke attended across a similar period as Ieremia and currently Sam Vincent from Hamilton is a part of the Iowa State Golf Roster.
"It's quite a young program," Ieremia claimed, "Our Head Coach picked up the program maybe eight or nine years ago. And he's done a really good job of turning it around.
"While Nick and I were there, we went to two Nationals together and that was really awesome. We won a lot of events as a team and Nick managed to win 6 or 7 individually. I got one individually, which was cool.
"I learned a lot about myself and about my game, I think it has definitely shown in my professional golf. You learn how to travel and look after yourself and look after your body a bit better. I think the holistic approach at college has helped me a lot in my professional career."
The memory of Ieremia's former Iowa State College friend Celia Barquín Arozamena is never far from the thoughts of those that attended the school. The talented Spanish golfer was murdered by a homeless man while she was playing in the US in 2018.
Arozamena was in her final year of a degree in civil engineering after completing her eligibility for the university golf team. The murderer was found guilty and sentenced to life in prison without parole.
Europe's Ryder Cup players wore yellow ribbons in memory of Arozamena during their 2018 triumph over the US and Ieremia's Iowa State team-mates have carried their own tribute since with a badge of her initials CBA on their bags and wear yellow ribbons.
"She was a really good friend of both the men and women's golf teams and the coaching staff and I'm pretty sure every student-athlete on campus knew of her.
"Its a really tragic loss. I think the whole community really got behind it. The whole universe here and the whole big 12 Athletic Colleges as well so, I think that has been an incredible support for the memory of Celia, her family and all of her close friends."
Ieremia has risen to No 443 in the world rankings after his performances in Australia last year and then coming back home to The Mount just before Christmas he scored 29-under to street the field in the Charles Tour Christies Flooring Mount Open as you will read later in the magazine.
The stage is now set for the second year of advancement, a strong NZ Open tournament and then to take on other tours.
"I really enjoyed it last year. Hopefully this year I get to show up and play a few more events than I did last year and try to win as many as I can."
"The main goal was to get on the Korn Ferry Tour this year. Which I could try and get through Q-school. But I did have a good chance through some Monday qualifiers that I got through, but I know getting into the PGA Tour is my goal.
"But things take different paths. Last year I was trying to turn up every week and figure out what my routine is for the week and what my recipe looked like for a good performance. This year I've got a way better idea of that and I think we can really put that into place, improve on a few areas and hopefully be around the lead a lot more."
Ieremia aims to gain entrance onto the Canadian McKenzie Tour through Qualifying School in March with the aim of progressing to the Korn Ferry Tour in 2021 and to the PGA Tour after that.
"I'll play all of the big ones on the Australasian tour and then I'm going to head over to the Canadian Q-school and try and jump on the Canadian tour."
"After my order of merit finish last year I locked up a second stage Korn Ferry Tour qualifying school at the end of this year. So the big goal for me was the Canadian tour or pretty much to get straight to Korn Ferry Tour, by winning the money list or winning three times before the season ends."
"Then if I could be on the Korn Ferry Tour next time Id have a good chance to get on the big tour after that."
Advertisement
Sign up to our NZ Golf Updates