Kiwi James Anstiss will call upon the memories of a pre-Christmas win in New Zealand after roaring home in the third round to take a one-shot lead at the Victorian PGA Championship at Moonah Links.
Following the completion of the second round early Saturday morning, play moved from the Legends Course to the Open Course where the Peter Thomson behemoth was expected to rein in the low scores that dominated the opening two days.
That proved to be the case for most players but on the back of a double-bogey at the par-4 11th Anstiss clicked into an extra gear, playing the final seven holes in just 21 strokes with only nine putts to shoot 9-under 63 and lead the way at 18-under par.
Novocastrian Blake Windred will join Anstiss in the final group after his 6-under 66 gave him a three-round total of 17-under par, Queensland's Michael Sim (68) is in third a shot back followed by Chris Wood (66) at 15-under and Kiwi Pair Daniel Hillier (67), Michael Hendry (67) and New South Welshman Justin Warren (73) all at 14-under.
A 15-foot birdie putt across the slope at the par-4 12th was the ideal response after his mishap at 11 but Anstiss didn't stop there, making eagle at 15 and birdies at 14, 16, 17 and 18 to leave the rest of the field shaking their heads.
Daniel Hillier and Mike Hendry are tied for fifth place, four shots behind Anstiss after they both shot 5-under par rounds of 67 today.
For Anstiss it was the continuation of the good form that he first displayed in mid-December in winning the Christies Floorings Mount Open, his third Jennian Homes Charles Tour win after travelling back and forth between New Zealand and the US in 2020.
"I put my head down and worked really hard for a few months at the start of summer and that win at the end of 2020 in New Zealand was confirmation that I was playing great and I've been playing great ever since," said Anstiss, a Queenstown native who also has a base on the Gold Coast when in Australia.
"I was leading by one going into the last round and finished two ahead. It's always an uncomfortable feeling when you're leading – you've got adrenaline and nerves – but that's the feeling you want. You don't want to be not feeling uncomfortable.
"You've got to go out there and deal with it and try and play your best and hit every shot to the best of your ability. I did that well about a month ago so hopefully I can do it again tomorrow."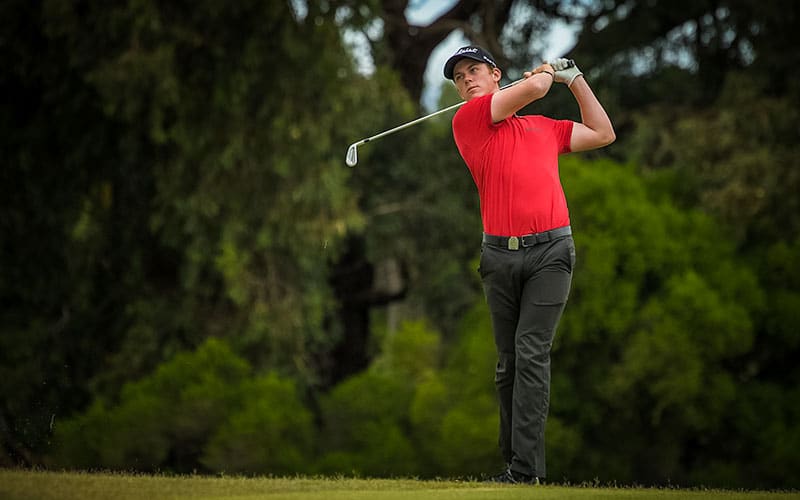 Chris Wood was amazed with how Anstiss played the back nine.
"Obviously when someone shoots 9-under you want to know what they've done and how they've finished," said Wood.
"He had a double on 11 and went crazy after that. That's awesome golf. To do that on these final holes here… He eagled 15 and birdied 16 and they were playing straight into the wind today. They were tough holes."
"I just finished and the boys told me that James shot 9-under… it's nearly unbelievable," added Windred, he and Anstiss both finishing tied for seventh at the 2019 Vic PGA at Cape Schanck.
"That's such a good round out there."
Featuring in the final group as a professional for the first time, Windred has shown that he holds no fears for Sundays, shooting 65 on the last day in both the 2017 and 2018 NSW Opens to finish top-five whilst still an amateur.
And while colder conditions and wind gusts of up to 35km/h are expected on Sunday, Windred is not ruling out a low final round score coming from somewhere in the field.
"It's inevitable that someone in the field will go low, usually people who go out early and shoot something pretty awesome," said Windred, who was tied for 12th at the Gippsland Super 6 a fortnight ago.
"If the wind gets up, I can't see anything better than 10-under. I could see someone shooting 59 on the Legends Course but this is just different. Nine-under is awesome. Eight-under tomorrow would be another great score. It all depends on the conditions.
"If I can play tomorrow like I did today, I'll be very happy."
Time spent on the practice putting green late on Saturday afternoon paid dividends for Wood on Saturday as he made birdie at the opening two holes on his way to a bogey-free 66 to sit three back through 54 holes.
"It's always nice to hole a few putts early on because you know you can do it and I rode that momentum all day," said Wood, whose home club is Wynnum Golf Club in Brisbane.
"If you miss a couple of shortish ones early you start doubting everything and soon as you have that doubt in your mind you start searching for answers.
"It doesn't matter what round it is, you've got to stay patient, especially on a course like this where it can so easily come up and bite you on the arse.
"Just patience tomorrow, try and keep it in play, dump it on the greens and try and hole as much as I can."
Outside the top four there are 18 players all within four shots of each other, setting up an intriguing final day on one of the country's most challenging layouts.
Thanks to PGA of Australia
Advertisement
Sign up to our NZ Golf Updates