James Anstiss has shot a 4-under round of 68 to win the Christies Floorings Mount Open by two shots from Daniel Hillier at the final Jennian Homes Charles Tour event for 2020.
After starting the day just one shot ahead of Hillier, Anstiss shot six birdies and two bogeys to increase his final margin by one finishing on 19-under.
Hillier, who has already won two tour events this year, also had six birdies in the final round but with just one extra bogey meant he couldn't narrow the gap by the end of the tournament finishing with 17-under.
Outright third place went to Kit Bittle who also had a great tournament finishing on 14-under after 2-under 70 final round.
The final results had no bearing on the overall title, Hillier only had to stay ahead of his nearest rivals James Hydes and Luke Toomey and that's exactly what he did. Hydes finished in 5th with 11-under and Toomey finished tied for 31st on 1-under par.
The victory by Anstiss was good enough for the Queenstown professional to join an elite group of players with three Jennian Homes Charles Tour victories, winning by two at 19-under par.
He said he's elated to get the job done.
"This is an awesome feeling. It's never easy to win a golf tournament and I had a real battle on my hands with Dan [Hillier] and Kit [Bittle]," Anstiss said.
"Dan put it on me early. I think he had the lead through the first six or seven holes and I just kept pressing. I made a couple of really good saves along with some key birdies late in the back nine and managed to get over the line."
It wasn't all smooth sailing for Anstiss as Hillier flew out of the blocks this morning with three birdies in his opening four holes to snatch the lead from Anstiss.
However, bogeys at seven and eight gifted the lead back to Anstiss who went into the final nine holes with a one-shot lead.
Anstiss then made birdies at the 10th, 12th, and 13th holes to pick up another shot over Hillier and Bittle who had stormed back into contention with a handful of birdies of his own.
However, Anstiss showed his winning pedigree with a clutch birdie at the 15th followed by an uncharacteristic bogey at the 16th for Hillier, and the tournament was in his grasp.
A textbook par up the last was good enough to get over the line. Anstiss said it's a relief to get over the line after struggling earlier in the year.
"I was nervous out there. The adrenaline was pumping, and I was trying to pull off some big shots and hole some putts; it's never easy. I managed to get the ball in the hole today and to get the win feels awesome.
"I lost a bit of form in the middle of the year and I put in a bunch of hard work in the gym and on the golf course. It's awesome to see that hard work pay off with a win at the final Jennian Homes Charles Tour event of the year."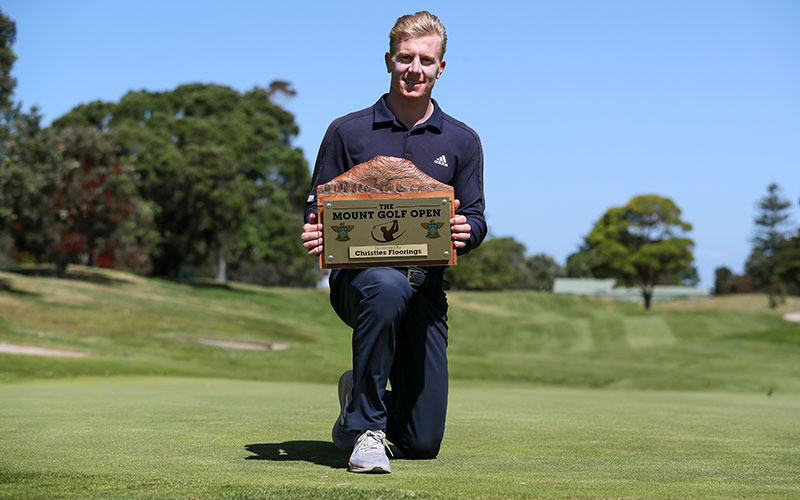 While Hillier fell just short of the title this week, he still walks away with a piece of silverware of his own.
Hillier has captured the season-long points race for the Jennian Homes Trophy after a stellar year on the circuit.
Despite coming up shy today, Hillier said he's still really proud of his efforts in what has been a tough year for professional golfers.
"It's a bittersweet feeling for sure," Hillier said.
"I wanted to put up a good fight but I had a bit of a slow patch in the middle of my round and made a costly mistake on 16, which I actually kind of got away with but that dropped shot made it extremely hard to win the tournament.
"Big credit needs to go to James though, he played really solidly all day and forced me to hit some aggressive shots and I couldn't pull them off so full credit to him.
"It's an honor to be crowned the Jennian Homes champion. It's great that I was able to put up a good fight to finish off the season on a high. I'm really happy."
Final Leaderboard
Advertisement
Sign up to our NZ Golf Updates