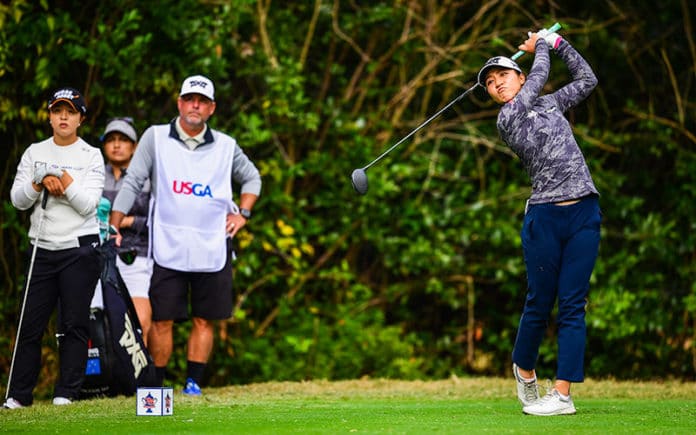 Lydia Ko is only four shots back from leader Hinako Shibuno going into the final round of the 2020 U.S. Open Championship at Houston's Champions Golf Club on Monday morning.
As rain overnight made the Cypress Creek course soggy and muddy in places and the wind changed direction from previous days, Lydia Ko held firm and posted a 1-over par round of 72 to be sitting tied for 5th place on even par.
The day wasn't as easy for outright leader Shibuno who bogeyed the first hole and then struggled for the rest of the day to finish with a 3-over 74 and opened the door for the rest of the field including Ko to make a run for the title on Monday.
"I made mistake at the very beginning and because I'm not doing well today my premise wasn't good today, so all the holes seems to be very difficult for me," Shibuno explained after her round was complete.
"I myself was very nervous…because I was on top of everybody, that's why.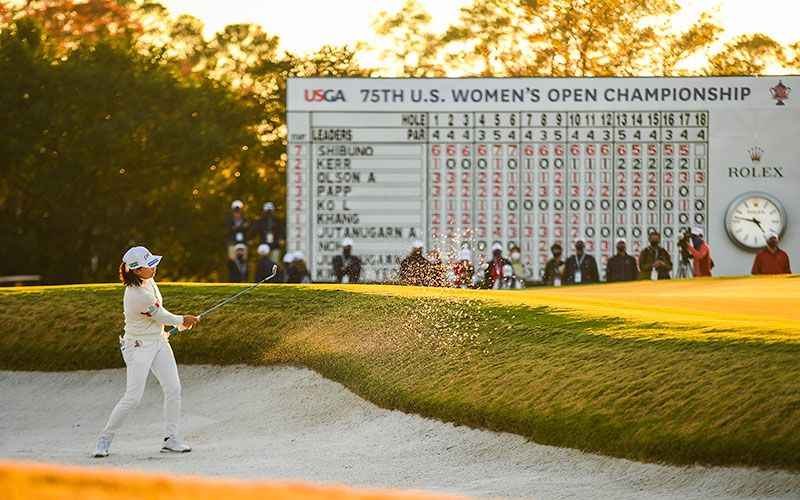 Shibuno won the first major title of her career last year when she won the British Open so she knows how to perform on the highest stage, but this year with Covid-19 restrictions in place and no crowd to pump her up she is finding it a little tougher.
"Last year when I won the major, there was a large number of people out in front of me and because of the audience that gave me power and also it's easy for me to get on a momentum as well.
"However, now there's no people, no audience and it's very difficult for me to get on a momentum, because when I get a run of birdie, when I get the birdie, it's silence."
Ko is striving to become the first U.S. title winner for New Zealand since Michael Campbell won the U.S. Open in 2005 and knows she needs to be aggressive to take on a former major winner such as Shibuno.
"I think definitely coming from behind you're playing with a little bit more of an aggressive strategy compared to somebody that's probably trying to protect the lead or run off with the lead," Ko said.
"But she seems like she's doing an incredible job and she's also a major champion, so she's been out there being out there like a smiling Cinderella, so I'm sure at points it's going to feel like it's going to be tough to catch her, but I just got to go out there, focus on my game and play the best golf I can and what happens outside of that is, I just got to accept what comes my way.
"She, I feel like it's either a great poker face or she's that smiling assassin. I feel like I smile quite a lot out there, but like I'm like pretty grumpy compared to her.
"I think she's stayed pretty calm and you saw her at the British Open, I'm sure, going into that Sunday there were, there might have been doubts, because not many people have heard of her compared to some other players but she showed them who is boss and she's clearly doing that right now.
"So, yeah, I think that we're all just trying to focus on our game, but, yeah, definitely her demeanor and how calm and cool, calm and collected she's been is definitely an impressive part."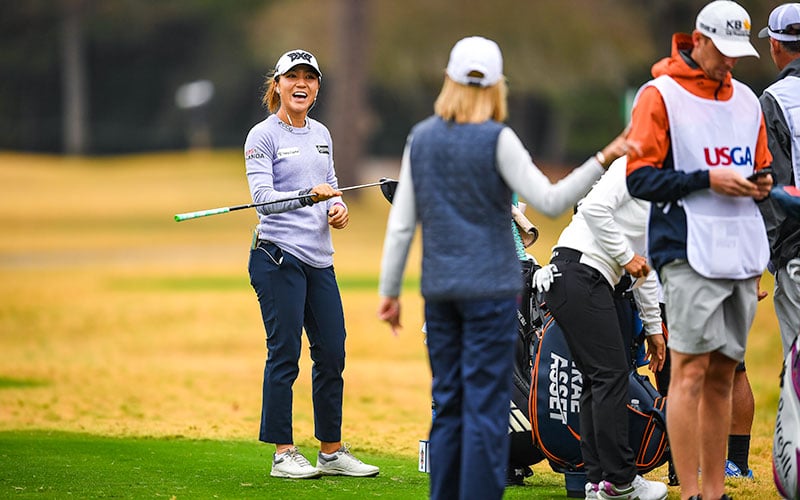 The conditions will again play a huge part on the final day and to overcome some of the inclement weather the USGA has come out and brought tee times forward to try and avoid the expected thunderstorms which are forecast for later in the day.
Ko will tee off in the second last group at 9.25 am Houston time when temperatures are expected to be hovering around 17 degrees with rain falling, a challenge to try and stay warm before and during the round.
"I wore a lot of layers today," Ko laughed, "No, I have a former prime minister in New Zealand gave [me]a nickname called "onion" because I played with him once and I kept stripping off my layers and he was like, Man, you're like an onion, like taking a layer off, taking a layer off.
"I think you just have to stay as warm as possible, but still be able to swing freely, obviously because there's a lot of rotation, you don't want to feel like you're really restricted. When it's super cold I'll have a hand warmer or something just to keep the hands from getting tense and feeling cold.
Could tomorrow be Lydia's day as she is the only player in the field who's been top 20 in the three previous majors this year? Four of the last five U.S. Women's Open champions trailed entering the final round. However, a big comeback has been rare in this championship over the years: 24 of the last 30 winners were at or within two strokes of the lead entering the final round.
"I think this is probably the best stretch I've had in the majors outside of probably in 2016. But I think the more times you put yourself in that position and in those kinds of pressure conditions I think the more you get used to it and things go your way you could be the one that's hosting the trophy at the end of the Sunday.
"I think it is really important, not only in majors, but in other events, to just keep playing consistently and if you keep putting yourself in that position, I feel like at some point if it is your time it's going to fall your way."
Ko tees off at 4.24 am NZDT and will be screened live on Sky Sports 6 from 5 am.
Advertisement
Sign up to our NZ Golf Updates