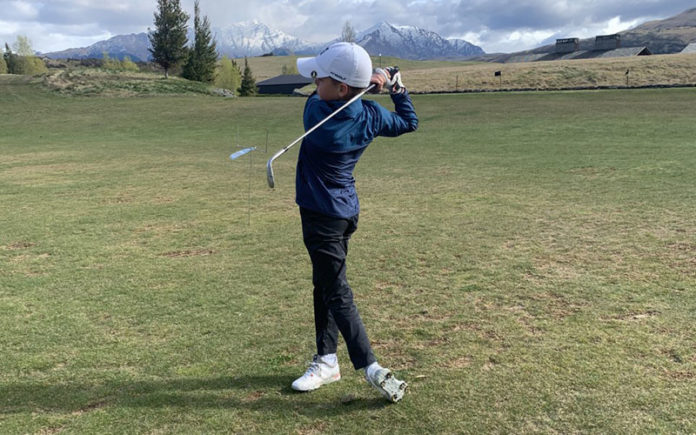 Wakatipu Junior Golf Club member, 12-year-old Josh Harris hit the headlines in Otago recently when he scored his first hole in one. Still an 11-year-old at the time, he scored it on members day 22nd August at the Arrowtown golf club's 162-metre first hole.
"I used my 5 wood and it bounced off the slope and tracked nicely and slowly into the hole," said Josh. However, there is much more to this diminutive 140cm tall youngster than one moment of glory.
So New Zealand Golf Magazine went to meet Josh and mum Anne at the Arrowtown golf club.
First, we spoke with his coach, Arrowtown Professional Micah Dickinson who said he had been working with Josh for a little over a year now. "Josh is good. We spend a couple of sessions a week together," Dickinson said. "He has gone from about a 20 handicap down to 8.9 in that time. (He is now on 8.6).
"We have integrated him into the Arrowtown Club nicely and the members have taken a shine to him which is very encouraging. When he scored his hole in one the members had him stand on a table and explain how it happened. Josh said it was just another day on the golf course although it was neat to get his first one."
Dickinson further added, "He is very talented and while he is still a little boy for his age it will be interesting to see what he can do when he shoots up a bit in height and growth.
"His Mum said he was eating much more so maybe a growth spurt is on the way. The next couple of years will be very interesting."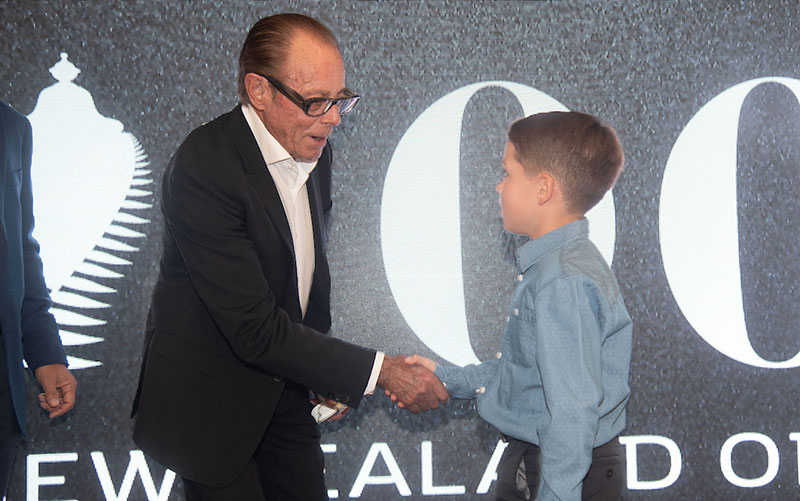 So how did Josh come to this point in his short but busy life?
His mother Anne is from Capetown and father Grant is from Christchurch. Anne explained the two met in London while living there before coming to New Zealand.
"When I was pregnant with Josh we moved to Christchurch where we lived for four years," Anne explained. "Josh's younger sister was born there. She is nine and is a ski racer. After the earthquakes, we moved to Queenstown which suits Grant who loves mountain biking and skiing. "The family lifestyle here is great."
With neither parent a golfer what attracted Josh to golf?
"When he was 3 ½ one of the fathers at kindy asked if he wanted to come down to Saturday morning golf," Anne continued.
"So we took him there and Jamie McIsaac was running it before Simon Boland instigated the forming of the Wakatipu Junior Golf Club which he is Coordinator.
"The next Saturday Josh was up at 7 am all ready to go to golf again. With him so keen I started to play golf too.
"I play at Queenstown Golf Club. Grant does not play golf but is a huge support for Josh."
It was time to talk to Josh and what a delight it was. We asked the questions and his replies were thoughtful and measured…..more than you would normally expect from many 12-year olds.
WHAT DO YOU LIKE ABOUT GOLF?
"I like it because it is not boring like say tennis where you play and practice on a confined court. With golf, you don't really know what is going to happen on each hole. You can't be sure where the ball will go. I like the space and the outdoors."
ANY FAVOURITE COURSES?
"I like Jack's Point because it is on the lake with nice views. The greens are good and you can get spin-off them. Also because I volunteer for the NZ Open each year I have been able to play The Hills twice. I would love to play Tara Iti and maybe Cape Kidnappers one day."
DO YOU HAVE A FAVOURITE PLAYER?
"Jordan Speith. First time I saw him I liked how he plays." I wonder why I was not surprised by that choice.
WHAT ARE YOUR GOALS? SHORT TERM?
"I would like to get my handicap under five by this time next year. I would like to play in the USA IMG Junior World Champs again and other Junior events which I couldn't do this year because of COVID. I am enjoying being coached by Micah as the regular lessons are improving my game a lot."
LONG TERM?
"When I grow up I would like to play on the US PGA Tour. If that doesn't happen there are always the Asian and Australasian Tours which should still be good fun." It is so easy to see why this delightful youngster likes Jordan Speith.
WHICH TEES DO YOU PLAY FROM?
"I usually play off the white tees but at Jack's Point I play off the yellow tees (forward) as I like to practice my irons to the green."
HOW FAR DO YOU HIT DRIVER?
"I drive the ball between 180 and 190 metres. As I grow I hope my length will too." Nothing could be surer than that. On that note, it is time for Josh to get ready for his tee time with the Saturday members.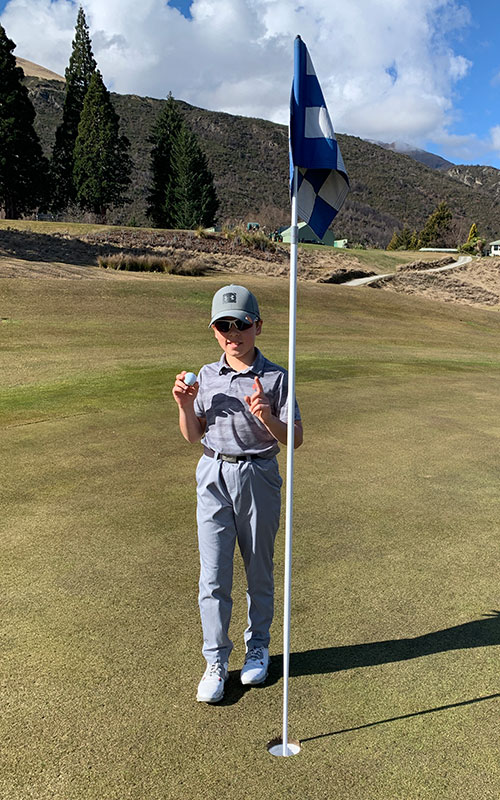 Worth Noting some of his recent notable achievements.
At the 100th NZ Open in 2019 when still a 10-year-old he shot 28 (1 over par ) to tie first with Ricky Ponting in the 9-hole Amateur par 3 event on the new Farm course at The Hills. 105 amateurs competed and out of 30 plus professionals who also played only seven shot better than 28.
Josh captained the NZ team to victory against Australia in the Sean Foley World Stars of Junior Golf Trans Tasman Cup at Gulf Harbour In March this year.
He won the Under 13 Boys Lydia Ko Age Group Championship at Gulf Harbour in February this year.
He also won the Age 11 US Kids Golf 2019 NZ Open at Millbrook in October 2019.
A final endorsement from Simon Boland, the Coordinator of the Wakatipu Junior Golf Club is appropriate. "Josh has a massive passion and healthy dreams," Boland said.
"His commitment and enthusiasm are admirable and he is a good role model for other youngsters. He is an excellent ambassador for the WJGC and is reflective of the talent coming through the club."
It will be a pleasure to watch this talented and extremely likeable youngster pursue his dreams.
Most importantly it seems certain that, succeed or not, he will be a no less likeable young man and a credit to the game he loves.
Advertisement
Sign up to our NZ Golf Updates