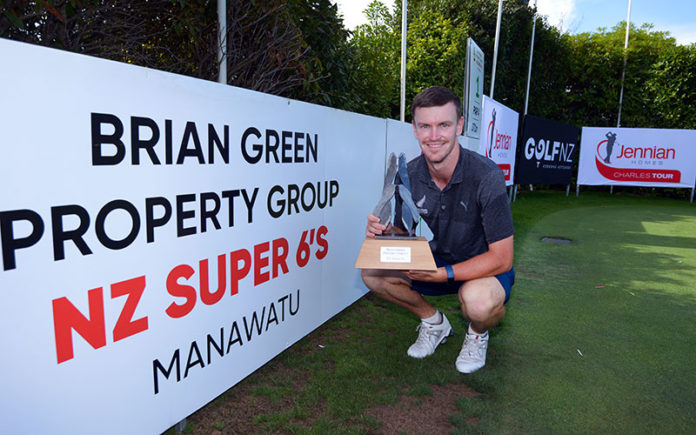 Kerry Mountcastle has won his second Jennian Homes Charles Tour event in style defeating professional Josh Geary in a tense final at the Brian Green Property Group NZ Super 6's.
The pair battled it out over six holes at Manawatu Golf Club, teeing off on the 10th and playing the 12th, first, fourth, fifth, and 18th holes.
The six-hole layout wasn't enough to separate the two who needed extra holes to decide the tournament after both players finished three-under-par in regular play. Mountcastle prevailed on the first playoff hole with a birdie to win his second Jennian Homes Charles Tour event after winning the Carrus Open back in 2018.
Mountcastle said it's a dream come true to be a dual winner on the tour.
"This feels amazing. Just to be back out here and get a win after having a bit of break is very surreal," Mountcastle said.
"It's nice to show everyone that I still have it, golf has it's ups and downs so stepping back and taking a break has turned out to be a great decision."
Last year, Mountcastle took a step back from the game to ply his trade as an electrician and bring a little more balance to his life; a decision that has clearly paid dividends.
He had a target on his back all day having qualified in first place after the first three rounds of the stroke play portion of the event and managed to hold off the charges that everyone made at him making plenty of birdies of his own.
The Masterton golfer was simply outstanding all day. After having a bye in the first round, he dispatched of the reigning New Zealand Amateur Champion James Hydes by shooting three-under, and then Jordan Loof in the quarterfinals with two-under.
Crunch time had arrived in the semi's and he was faced with Cameron Harlock who he beat by shooting two-under to book his place in the final against Josh Geary.
The win could sway Mountcastle into giving golf another go, which is something the 25-year-old is excited about.
"I'm not too sure if my boss will be as happy about it as I am," Mountcastle laughed.
"We'll see how we go. He might be a little more lenient about me taking some more leave and playing a few more of these."
Runner-up Josh Geary still takes home the first-place prize purse, and Cameron Harlock locked up third place after shooting five-under in the third and fourth playoff.
Advertisement
Sign up to our NZ Golf Updates