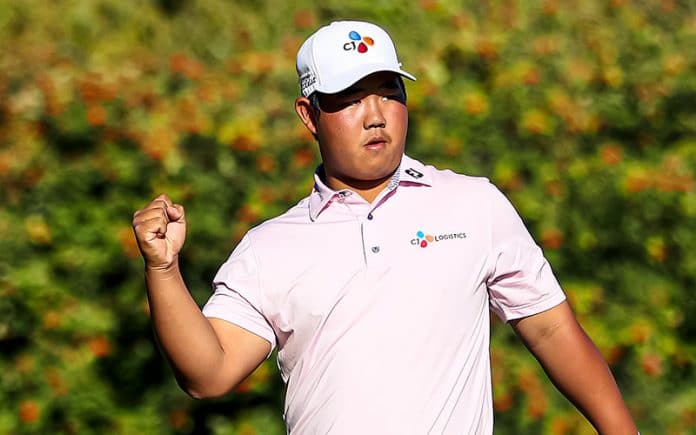 Joohyung Kim birdied the 18th hole on Saturday to join Australian Lucas Herbert at the top of the leaderboard heading into the final round of the 2020 New Zealand Open.
Herbert accelerated his way to the top of the leaderboard with three birdies over the final five holes to sit alongside South Korean teenager Kim at 15-under with 18 holes of regulation play remaining at the Millbrook Resort, near Queenstown.
Kim made up for missing a good look at birdie on 17 to convert on the final hole, just as Herbert was contemplating having the honours to himself.
"I played really well today," Kim said.
"I played well off the tee and my approach to the greens but I did leave a lot of shots out there on the greens to be honest. You can't have all day that it goes your way.
"Tomorrow is going to be fun to be honest. Playing with Lucas is going to be really enjoyable.
"Obviously he is a European Tour winner so it is going to be wherever it goes, whether I win or lose tomorrow, I am going to enjoy myself and give it everything."
For the 24-year-old Herbert, who won the Dubai Desert Classic in January despite trailing by six shots heading into the final round, he is relishing the opportunity for a second victory in as many months.
"Dubai, teeing off in the final round, winning wasn't in the forefront of your mind given how far back we were and it was pretty bunched that leaderboard too," he said.
"Tomorrow is going to be a different story. I don't think I've ever been as ready as I am right now to go and do it. I'm looking forward to it."
The 2011 New Zealand Open champion Brad Kennedy from Australia closed strongly with back-to-back birdies to trail the pair by two shots at 13-under, in outright third place.
Like Herbert, US player Chan Kim also carded a six-under-par 65 joint low round for the day for a share of fourth place with Australian Nick Flanagan, three shots behind.
"I played about as good as I could play and left a few out there, but you just can't complain, it's six-under and up at the top of the leaderboard, it's a pretty good feeling," Chan Kim said.
"From the looks of it I'm going to have to go pretty low tomorrow, especially if the weather stays like this, so I will be playing fairly aggressive. I just hope that the putts drop and we'll see how it goes."
New Zealanders Harry Bateman and Michael Hendry carded four-under rounds to share sixth place with Japan's Ryosuke Kinoshita at 11-under.
Hendry will draw on the experience of his New Zealand Open title win at Millbrook Resort in 2017 as he chases the leaders in the final round.
"The beauty of being three or four back is you don't really feel as much pressure as the other guys," Hendry said.
"I don't care how experienced you are, you are going to feel pressure and nerves when you go into the final round with a lead or close to it.
"It gives me the opportunity to go out there and play my game and hopefully I hit the ball like I did on the back nine not the front nine, and make a few putts and put some pressure on the leaders."
Bateman was making the most of playing in front of a supportive home crowd.
"It was awesome to get that support. It was the most we get anywhere in the world and it was fantastic," Bateman said.
"I had six or seven putts of 6 to 7 feet and I made them all which kept me going and then there was the miracle shot on 17 – it was an impossible putt but it went in."
Australian Ben Eccles, who started the day trailing Kim by one shot, struggled to an even par round to sit in ninth place alongside New Zealand's Kieran Muir and Thai player Pavit Tangkamolprasert.
Defending champion Zach Murray came home with two birdies, but trails the leaders by seven shots in 16th place.
Advertisement
Sign up to our NZ Golf Updates