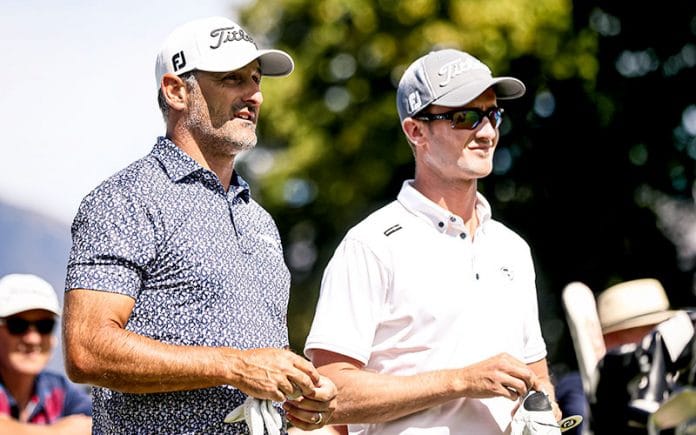 Mike Hendry and Harry Bateman are hovering just below the leaders with real chances of winning the 101st New Zealand Open on Sunday.
Both Kiwis shot 4-under par 67 rounds to end the day on 11-under, only four shots behind joint leaders Lucas Herbert and Joohyung Kim. Kieran Muir is just one shot behind them on 10-under.
Bateman has been very consistent all weekend with a 67, 69 and another 67 today.
He dropped a shot on the par-four 5th hole but more than made up for that with a brilliant eagle putt on 17 that put him right back in the mix for Sunday.
Bateman was making the most of playing in front of a supportive home crowd.
"It was awesome to get that support. It was the most we get anywhere in the world and it was fantastic," Bateman said.
"I had six or seven putts of 6 to 7 feet and I made them all which kept me going and then there was the miracle shot on 17 – it was an impossible putt but it went in."
For Hendry, his round hit a major snag on the front nine when he double-bogeyed the par-five 6th hole and that led him to a 1-over par front nine.
But after a change in attitude, Hendry picked up the two shots straight away with an eagle on five 10th and then three more birdies on 11, 13 and 18 saw him back on track.
Speaking after his round, the former champion Hendry said it was great to fight back after an earlier stumble.
"It was obviously unfortunate to double-bogey on six the way I did it, but great to fight back," Hendry said.
"I said to my caddy as we were walking from nine through to ten let's just try and go 5-under the back nine and lo and behold we went 5-under on the back nine."
Hendry played alongside Bateman in Saturday's round, a great opportunity for Kiwi fans to support the local hopes.
"It's awesome when you make a birdie and there's a big cheer going regardless of whether it's me or Harry it's great to have all the kiwi support down here and hopefully we can get close enough to maybe lift the trophy tomorrow.
"I've got a lot of experience now, but you know you just go out there and play the game and if the golfing gods are smiling on you it might be your day and if they're not you come back next week and try again."
Muir who started on 8-under would've been right in the mix if it wasn't for two bogeys in the first three holes and another coming home on the 15th. He sits at 10-under par but is playing well enough if he can hold on through Sunday.
Other Kiwi movers on day three included Ryan Chisnall who had a 68 today and is now at 6-under for the championship, Denzel Ieremia who had a 70 for 5-under and James Anstiss with a 68 also on 5-under.
New Zealand Player Scores after three days.
| | | |
| --- | --- | --- |
| Player | Saturday score | Overall |
| Harry Bateman | -4 | -11 |
| Mike Hendry | -4 | -11 |
| Kieran Muir | -2 | -10 |
| Ryan Chisnall | -3 | -6 |
| James Anstiss | -3 | -5 |
| Denzel Ieremia | -1 | -5 |
| Gareth Paddison | -1 | -4 |
| Nick Voke | -4 | -4 |
| Jimmy Zheng | -3 | -3 |
| David Smail | +5 | Ev |
Advertisement
Sign up to our NZ Golf Updates