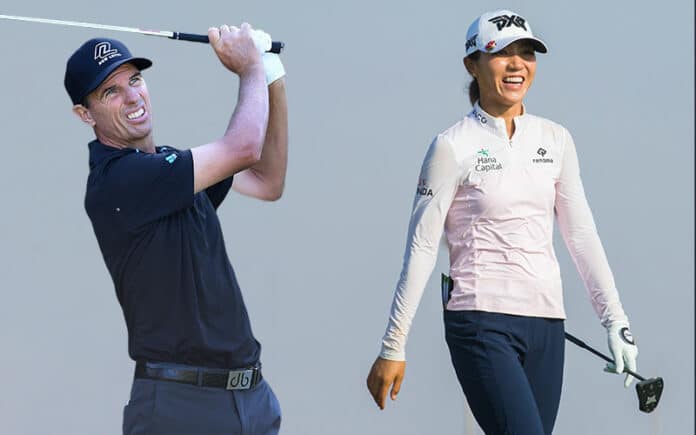 At one point on Monday morning, it looked like New Zealand golf was going to see two victories on the world stage just like the previous week, but unfortunately, two American superstars held back their best golf until the end and denied our Kiwi heroes.
Lydia Ko ended up in a 4-way playoff on the final day of the penultimate tournament of the LPGA in Florida after a 4-under 66, the best of the final four. While at the PGA Champions Tour finale, Steve Alker also shot 4-under par to finish with a 67 and was beaten by one shot by 2021 PGA Champion Phil Mickelson.
Though Nelly Pelican Women's Championship Korda ended up lifting the trophy after burying a 22-foot birdie putt for the win, it's hard to ignore just how good Ko has played of late.
It was just seven days ago that the 24-year-old won the Aramco Saudi Ladies International by five shots. Before that, it was a share of third for the Kiwi at the BMW Ladies Championship. Her finish of a tie for second at the Pelican Women's Championship rounds out a stellar month of golf for Ko and sets her up nicely ahead of the CME Group Tour Championship.
"I played really solid this week," she said after rounds of 67-66-64-66.
"I think my ball-striking overall was really good. I felt like I left a lot of putts out there. But this is a really tricky golf course, especially on the greens. I feel like a lot of the distance putts that normally you would think are pretty good birdie range you're looking at it double, looking at it again, and again. It's hard. You've got three-, four-footers and playing like a cup of break and still misses low. Overall, I played solid. Hopefully, I will be able to keep the positives from this week going into next week. Hope for a few more putts to drop."
As Ko looks ahead to Tiburón Golf Club, her confidence can't help but be bolstered by her performances over the last couple of weeks. Sitting at third in the Race to the CME Globe, the New Zealander has as good a chance as anyone to take home the title, maybe even more so after the tear she's been on as of late.
"Tiburon I think is a golf course where you can go low, but at the same time it can get away from you as well," Ko said of next week's event.
"The weather looked pretty similar to this week, so that's nice there is not a huge change in temperature. Other than that, just going to enjoy it and see what the week ahead is going to be like. Tiburon there are some holes that you need to be pretty accurate off the tee. Then the greens are pretty big. Probably the most similarity is just the grass being Bermuda, the run-off areas. In the past, I felt like your short game needed to be really on at Tiburon, so hopefully, that will be the case for next week. I think when you kind of get into tournament mode the week goes by pretty quick. It's only four more competitive rounds until the season is over. Hopefully, I'll be able to finish off in a solid way."
View this post on Instagram
Alker's Dream Continues
For Alker, it was a dream finish to his first PGA TOUR Champions season.
The New Zealander, a PGA Tour Champions qualifier just three months ago, shot 67 to finish second at 18 under.
He had no status after turning 50 in July and qualified for the Boeing Classic in August. Alker put together top-10 finishes every week to keep playing and become eligible for the postseason, including a win last weekend at the TimberTech Championship in Florida.
He kept the roll going on Sunday, overcoming a bogey on the par-3 second with five birdies to finish one behind Mickelson.
Alker was playing on his home course in Phoenix, Alker was so excited for his big finish to the year.
"It's huge. I didn't think I would be here to start with. To have a win and then get here, a home game, it's pretty special. We kind of talked about it loosely a few weeks ago, but I had to do a lot, but yeah, it's just great to be here."
Advertisement
Sign up to our NZ Golf Updates