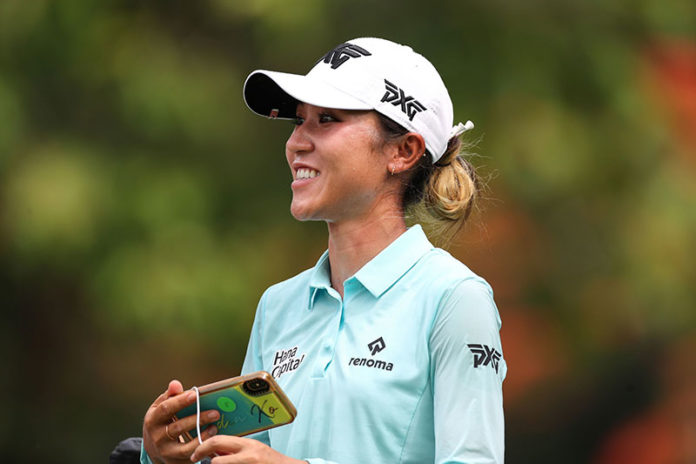 Lydia Ko will take a three week break away from the game after finishing just outside the top ten at the Honda LPGA Thailand event at the Siam Country Club Pattaya in Chonburi, Thailand.
After knocking on the door of the leaders all weekend, Ko's final round was her worst for the weekend, a 1-under 71 to finish on 17-under, five shots behind eventual winner Ariya Jutanugram.
Since the start of April, Ko has played five tournaments with three top-ten finishes, including a second at the ANA Inspiration and winning the Lotte Championship, a 7th last week in Singapore and 11th in Thailand. Her only blemish was in LA following her Hawaiian victory where she missed the cut.
"It's been a long stretch of events, so I'm looking forward to taking three weeks off and getting ready for the next stretch," Ko said
"I think we're first off very grateful that we managed to get over here.
"I just would probably want to say thank you to everyone involved with IMG and LPGA and the government for keeping us safe and allowing us to come here.
"Always love coming to Asia, so it's been a really fun trip."
Ko's next tournament will be the second major of the year, US Women's Open to be played at the Olympic Club in San Francisco.
"I played Olympic Club once a few years ago. I love San Francisco and I know it's going to be a great golf course, so I'm looking forward to that challenge.
"I'm sure it's going to be in pristine condition, so, yeah, it's exciting.
"I love playing in California in general, and San Francisco is one of my favourite cities and obviously a place where I have a lot of good memories.
"Hopefully drawback on some of that and hopefully just enjoy my time there."
A First for Thailand
In a dramatic finish to the tournament, Jutanugarn closed with a final-round 63 and was sitting with the lead at 22-under as the final two groups took on the 18th hole.
At that moment the horns rang out, causing a delay for over an hour due to inclement weather. Waiting in the 18th fairway was 18-year-old Atthaya Thitikul in the final grouping, who needed an eagle to win or a birdie to force a playoff.
When play resumed and she finally landed her approach to the green, a three-putt on the final hole meant Jutanugarn had earned her first victory in 1,507 days.
"Jutanugarn, in the third-to-last grouping, recorded three consecutive birdies in her opening holes, and closing the front nine with a 30 while hitting every green and fairway.
"I want to say honestly (I felt confident) after first hole, because, you know, like the green is pretty narrow 1st hole, and normally I'm going to be struggle to hit it on the green because I not really have good commit," said Jutanugarn.
"I'm thinking about miss the shot, but somehow today I'm not thinking about miss the shot and I hit it so good on the green, two-putt, birdie. And second hole I miss my second shot and make long putt, and third hole I hit it like this close. I'm like, you know what, today is going to be good day because I just have to keep do what I have to do, keep commitment."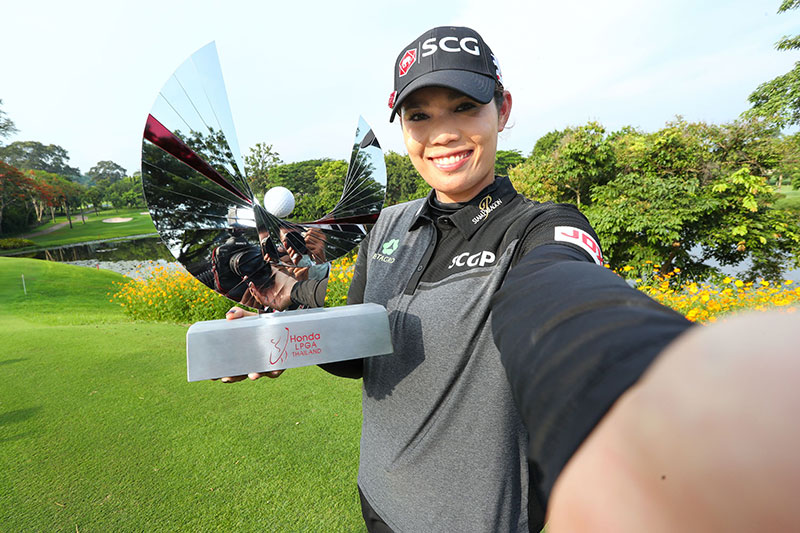 Jutanugarn becomes the first Thai player to win in her home country on the LPGA Tour, a moment not lost on the 25-year-old.
"It just feels so good, not only for Thai player to win, but I would say I have really tough time last two years. I'm thinking about like, you know, I don't know how many time I told my psychology, like, you know, what I want to rest, no more. I want to stop for a while. "Every time when I look at all the kids and I want them to — give them inspiration. So I feel like you know what, don't give up. Do your best. Try harder. Keep trying. One day you will get it."
Thitikul closed with a 68 to ultimately finish at 21-under in solo second, her career-best finish on the LPGA Tour.
54-hole leader Tavatanakit faded from the top after bogeys on No. 6 and No. 9 wiped out the three birdies she had made on Nos. 3, 5 and 7. A double-bogey on No. 12 further derailed the major champion, but two closing birdies left her in a tie for third place with So Yeon Ryu, Amy Yang and Angel Yin at 20-under.
Advertisement
Sign up to our NZ Golf Updates