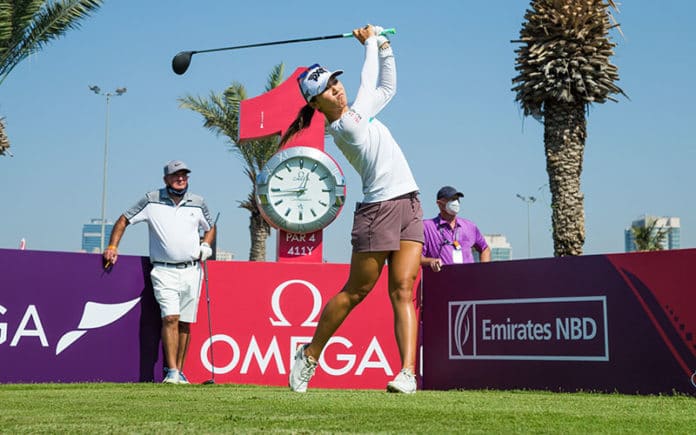 Lydia Ko continued her superb form in Dubai overnight to finish only three shots from the lead with one day to play at the Omega Dubai Moonlight Classic.
After shooting a 4-under par 68 on the opening day, she followed up with a round of only one bogey and three birdies on the second day to finish with a 2-under 70 and an overall score of 6-under.
Ko is tied for fifth place, three shots behind current leader Caroline Hedwall of Sweden.
The Moonlight Classic is somewhat of a novelty on any tour. It is a bit of a coup for the Ladies European Tour to have Ko in the field at Dubai where daytime temperatures are in the vicinity of 33 degrees each day of the event.
The two-times major winner has been showing fascination by the day-night concept of the event, where shotgun starts mean half the field compete under floodlights each day at the Emirates Club.
"This is a unique event," Ko said to The Guardian. "I haven't seen anything like this before and I have always wanted to visit Dubai.
"I've been fortunate enough to have opportunities before but time-wise it has never worked. I'm excited to have found the perfect time to come here, enjoy the golf course and enjoy Dubai.
Ko is using a local caddy this week to help with the "green reading feels" which she hasn't had much trouble with after looking at some of her putts overnight.
"You have to be very focused because you aren't playing under sun where you can just hit the ball out there. You just have to keep it straight so it's within the floodlit line and beyond that, trust your game and your swing."
Sweden's Caroline Hedwall added a bogey-free round of 70 (-2) to yesterday's effort of 65 (-7) to maintain a narrow one-shot lead at nine-under-par from England's Meghan MacLaren heading into the final round.
With only 18-holes to go, the Swedish star might not have had her best golf on display but again looked in control tee to green as she returned her second successive bogey-free round including 16 pars and two birdies.
"I have been playing very steady, hitting a lot of greens and I've been good within two metres of the hole. Today I had a lot of putts that didn't drop so maybe five-under would have been a fair score but I'm in a good position for tomorrow and I am happy with my game."
With all 56 players having enjoyed one round under the floodlights, tomorrow's draw sees the format change from a pro-am to a regular three ball shotgun start, with the leading group of Hedwall, MacLaren and Minjee Lee teeing off from the first.
Lydia Ko tees off from the first hole with Celine Boutier (France) and Laura Fuenfstueck (Germany) at 5pm local time (2pm NZT)
Advertisement
Sign up to our NZ Golf Updates