Mako Thompson has extended his lead to four shots after the second round at the Brian Green Property Group NZ Super 6's held at Manawatu Golf Club.
After opening with a seven-under 64 yesterday, he backed that right up with a five-under 66 today to lead by four shots heading into the weekend.
Despite turning up with a very different golf game to what he did yesterday, he said he's enjoying being back out on the golf course in a tournament capacity once again.
"Golf's a funny game. I felt a little uneasy this morning and I was struggling on the range and on the course early in my round, but I managed to putt the lights out there which was great. Long may that continue," Thompson said.
He began his round with a par at the first before making two birdies in a row at the second and third. He made another at the eighth to make the turn at three-under and at the time, have a commanding lead.
The Golf New Zealand National Academy member made four more birdies on the back alongside a couple of dropped shots to keep his nose out in front.
Thompson has been close to winning on the Jennian Homes Charles Tour before, coming up just shy at the DVS Pegasus Open last year.
Although winning is the ultimate goal, the first order of business is ensuring he is in the top-24 to make the Super 6 medal match play portion of the event.
"Obviously it'd be a dream come true to be able to lift the trophy on Sunday afternoon, especially as it's the first event of 2021 for me. The goal is to make the 24 first and then it's anyone's game, so we'll see what happens," he explained.
Sitting in second place are Josh Geary and Dongwoo Kang at eight-under par.
Geary shot a second round of seven-under 64 to catapult himself up the leaderboard after shooting a one-under round yesterday.
He said it was a weird day where not a lot clicked early but managed to make a barrage of birdies in the middle of his round.
He birdied the first and then made pars all the way until the seventh where he made birdie which appeared to kick him into gear. Geary then made birdies at the eighth, 10th, 11th, 12th, 14th, and 17th holes with his only blemish coming at the 15th to sign for the round of the day.
He said it was a funny day out there.
"It was a weird day, I thought I was playing well enough to shoot a good score and it wasn't happening, so I was getting a little frustrated. Then it all clicked in the middle there.
"Overall, it was a good day."
Geary is hoping this tournament will give him some momentum going into a six week stretch of golf, and hopefully a trip to Europe in the middle of the year.
"We've got a solid six weeks of golf coming up so it'd be nice to get off to a good start and have some momentum going into those. It's been a little while since we've had a solid stretch of golf so hopefully the form continues.
"I was going to try and get over to Qatar and Kenya for a couple of events but the quarantine hotels are all booked out until June or July or something like that so It's unlikely I'll be travelling anytime soon," he explained.
A shot further back of Geary and Kang is the leading female Darae Chung who made waves in this very event last year after beating Michael Hendry in the Super 6 medal match play.
Chung shot a flawless six-under round today to find herself in contention once again.
She says there is something about the Manawatu Golf Club that clicks with her.
"I had no bogey's which is always a great achievement. I made plenty of putts and kept my calm and hit plenty of good shots. I'm really happy.
"Maybe it's because I only live two hours away or something, I'm not sure! There seems to be something that clicks between me and this golf course."
Lining up against the males and the professionals isn't something she shy's away from either. Chung says it's a great indication to see where her game is at.
"It's always great to be on their level and compete against the professionals. It's great being a female in this field and knowing that I can compete with these guys on a similar sort of level."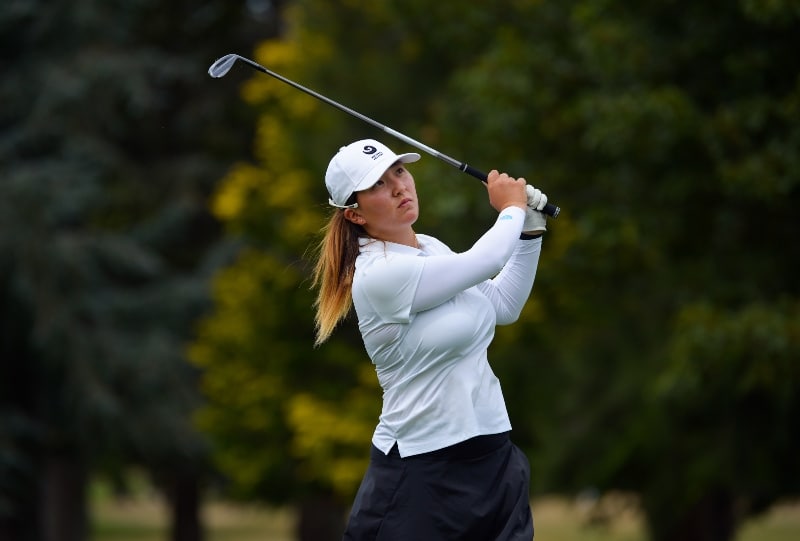 Leaderboard after Round 2
130 Mako Thompson (Maraenui) 64 66 -12
134 Josh Geary (PGA New Zealand) 70 64, Dongwoo Kang (PGA New Zealand) 67 67 -8
135 Darae Chung (Shandon) 70 65, Tae Koh (Windross Farm Golf Course) 68 67 -7
136 Kazuma Kobori (Rangiora) 69 67, Tyler Hodge (Gulf Harbour Country Club) 68 68, Caryn Khoo (P, Whitford Park) 67 69, David Klein (PGA New Zealand) 67 69, Kerry Mountcastle (Masterton) 66 70 -6
Advertisement
Sign up to our NZ Golf Updates