Known for his exploits on the cricket pitch and his vocal opinions on the AM Show and The Project, Mark Richardson openly admits his golf game could be better but like many of us feels he's on the right path.
In this month's cover story, Richardson talks about his passions, his golfing highlights, lowlights and his theory about cricketers and their ability to be good at golf.
Mark Richardson starts his days early, very early, 4 am in fact, every weekday to get into the TV3 studios in Eden Terrace in Auckland in time for the start of the 6-9 am Three breakfast programme The AM Show.
His morning on-air consists of banter with fellow host Duncan Garner and Amanda Gillies, question popping to guests that arrive in the studio and the regular sports reports and the regular opinion pieces that usually set the agenda of the day. He is out of the studio usually by late morning and if it's not a day where he needs to prepare for his regular weekly spot on The Project he has his days usually mapped out, with enough time to catch up and watch some recorded sport from overnight, a nap or the demands of his two teenage children.
But Richardson also looks forward to indulging in his passions when he has free time. Post cricket career, the former Black Cap who played 38 tests between 2000-2004 scoring 2776 Test runs at an average of 44.77, including four centuries and 19 fifties, has found new loves, fishing on Hauraki Gulf, grabbing a wave when the surf is up or pulling out his golf clubs for a round or more likely a practice session at the Remuera driving range.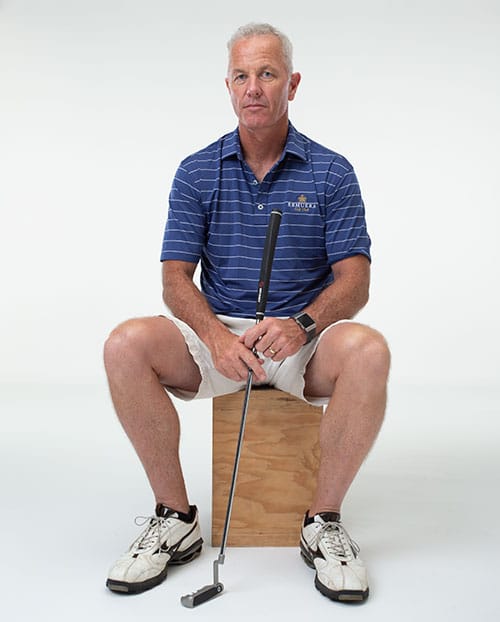 "Well, the order of importance for me is, if a day with waves lined up, with a nice calm day on the Hauraki Gulf, and the chance to play golf and time off, I would always go surfing, then fishing, then golfing. But what you find is, the surfing days aren't that often, you can't really plan for them. The still days for fishing are few and far between, so you get more golf appropriate days."
Richardson caught up with NZ Golf Magazine during one of the breaks in his day and explained even though he may finish his main job on air at 9 am he really doesn't get much time to hit the fairways.
"I have a youngish family, and there's always something that needs to be done with the kids," Richardson explained,
"While I have the best of intentions of trying to play at least nine holes once a week, it turns into 18 holes once every couple of months."
Richardson remembered taking up the game back in third or fourth form before his cricketing talents had come to the fore.
"I can remember hitting some balls when I was really, really young with my old man at Hastings Golf Course where he was a member. But I didn't really start getting into it until I was about 13 maybe.
"I joined as a junior member when my old man joined up at Remuera. He put me up as a junior member there and in those days it was dirt cheap as well. We had our Sunday morning tea time and played once a week with practice after school but I never got as good as I wanted to."
Even though the school Richardson went to had a golf team, where they actually won a tournament as a team, his promising form as a cricketer and the fact there was no golf coaching 'you just played', meant golf was more a pastime than a sport.
"I was always showing promise as a cricketer, I was a bowler in those days not as a batsman. But, the cricket was definitely what I had the most potential at.
"I remember I joined Lochiel for a wee while when I was at Waikato University and then down in Dunedin I didn't really play. Then when I started playing for the Black Caps it just wasn't relaxing."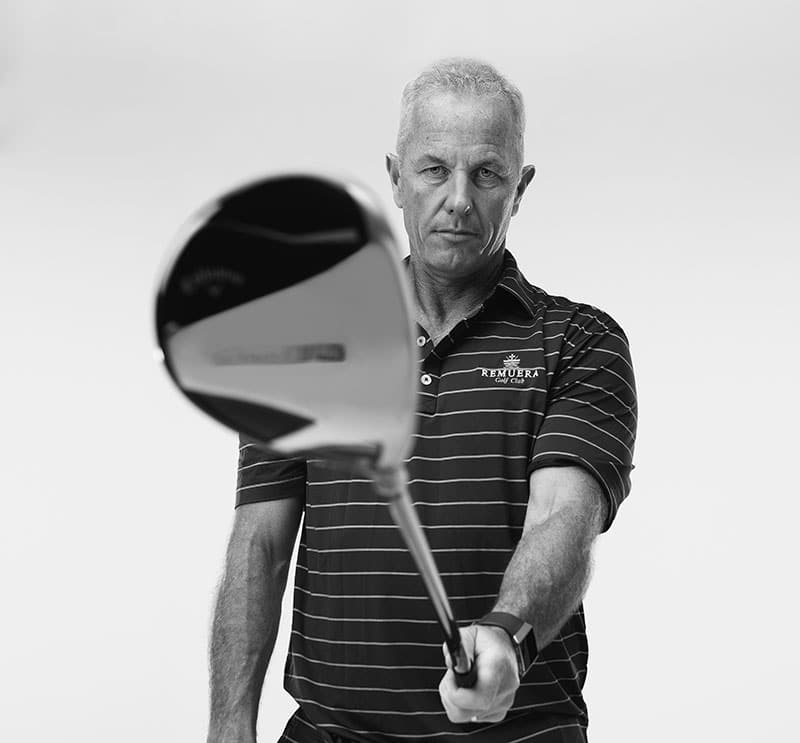 It was once he got embedded within the New Zealand cricket team that his theory about cricketers and their golfing ability started to marinate. Richardson said he got sick of playing golf on their days between playing cricket matches because he would always lose his daily allowances in the haggles.
"Jeff Crowe was our manager and he was a really good golfer and a really serious golfer. I think he played off about a one handicap. But the rest of the guys they loved it, guys like [Stephen]Fleming and [Scott]Styris.
"One thing with cricketers is they all get down to 8, 9, 10 handicap pretty easily. Then struggle often to go past that, or better than that because the actual striking of a cricket ball is quite different to swinging a golf club. We always have great hand-eye but it means that we also don't really address a lot of our technical issues, you can get to a reasonable level without having to do it.
"I actually have a theory. From a hitting perspective balance and footwork is really the key. So when it comes to footwork in golf, it's probably your balance.
"Cricketers who take up golf, the better ones, the ones who get better at golf, the ones that go on to low and scratch are often bowlers. I think that the mentality of golf fits a bowler better because when you bowl, you initiate the play, something happens, you get the ball in your hand, you walk back to your mark with a plan in mind. Then you've got to execute the next ball.
"So with golf, you hit the ball, something happens then go to the next shot. You walk up, think about it, you initiate the play and hit again. So I think for bowlers it's actually mentally a lot closer the two games.
"If I get under pressure in cricket (as a batsman) I could just go right into my shell and let the ball go or just tap it. You can't do that at golf you've still got to whack it."
It was here that Richardson talked about one of his most memorable moments playing for the Black Caps in a match in 2003 Test match in Colombo against Sri Lanka and one of his most feared opponents Muttiah Muralitharan.
"I remember in Colombo when myself and Stephen Fleming put on a decent stand, we faced him (Muralitharan) a lot. We both weren't good enough to actually use the bat so we just used our pads, we kicked the hell out of it, with two Australian umpires (Darryl Harper and Simon Taufel) who didn't like Murali and they wouldn't give us out LBW. That worked really well, but Murali was amazing without a doubt."
Richardson has a handicap of 3.9 but would like to shoot par more often. His gauge is that if he doesn't break 80 he's had a shocker.
He had his golf clubs stolen and now has a set of Srixon Cavity Backs with a Callaway Rogue Driver and some Callaway wedges but feels he probably needs to tinker with his set, but this will have to wait as he has other priorities at the moment.
"I figure if you play well with a set that doesn't quite suit you then you can go and get the clubs you want to justify getting them," he explained.
"I've always been a very, very good mid-iron player. It's always been my strength."
"I have an on and off relationship with the driver, I've always whacked it pretty well from the natural timing that a cricketer generally has and if my timing is on I generally get it out there and I can actually be straight all day. If the timing is off it can be a bit of a battle, but I've always been a very good 6, 7, 8 iron player."
He remembered when he had taken a break from the game and got back into it to film a game-changer segment for Sky and got to meet Craig Dixon from the Institute of Golf.
"I had to get my game in order and then I had to play Mike Hendry, who I've known for a long time. He was a good cricketer in his time.
"We had to play him at Gulf Harbour but my game wasn't anywhere near where it probably is now. Definitely, Craig got me thinking and got me on the right path."
These days Richardson grabs any chance he can get to go and practice, spending quite a few hours a week on the Remuera driving range or taking to the course on a Summer evening after dinner.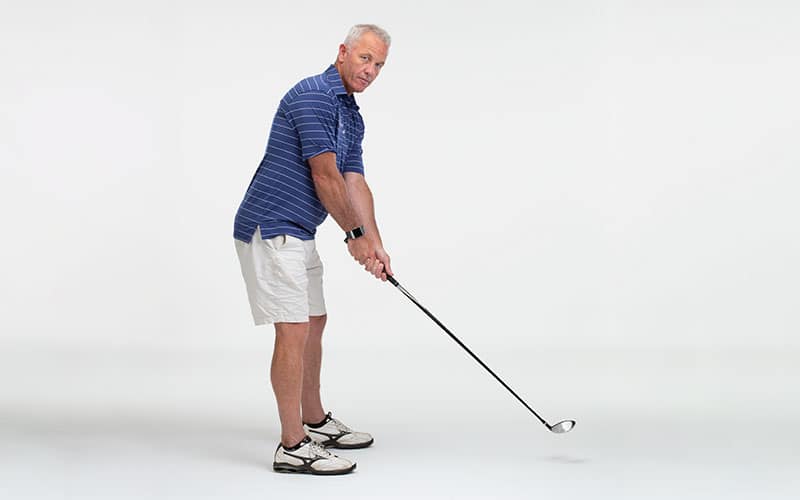 "I practice heaps, I'll have weeks where I'll practice four days a week. I'll get an hour to two-hour window in the middle of the day quite often with my work. I just love just hitting balls down the end of the Remuera driving range. Never many people around, I have a few chips down there as well, and pitches and it's just my chill-out time.
"I find my ball striking gets up to a really good level on the range, but often that's just timing because you're not under pressure. It never really translates to the course. I'm slowly getting better, I'm getting a lot more consistent."
As far as big-game performances, Richardson has had his fair share of pressure situations in cricket but he has also teed up quite a few times in the New Zealand Open pro-am and has had quite the experience.
"I don't really get the invites any longer," he laughed. "But I think I played about six or seven years. I started when it was the PGA when they did it for the first time and then played about four or five years, maybe five years when it was the Open.
"I was in the last group on Sunday one year which was quite exciting and we were winning. "We got to 16 and my mate was one behind in the tournament and we were leading the pro-am and then both of us choked, both of us made double bogey on that horrible little par three 16th.
"My mate, a guy called Chris Muir he recovered and made birdie up 17, I was gone."
It was his PGA Tour playing partner Rocco Mediate that left Richardson stranded in the 2014 New Zealand Open pro-am when after missing the Open cut the day prior, he was a no-show despite qualifying for the weekend in the $50,000 tournament.
"We were sitting fourth in the pro-am but he had double bogeyed 18 to miss the cut in the main event so he stormed off disgusted with himself," Richardson recalled. "He didn't realise that because we made the pro-am he was meant to turn up the next morning and we would go off before the field, with your pro who is just playing for the love of it.
"So we're standing there on the tee at about eight o'clock in the morning and my brother in law who was caddy said, "mate I don't think Rocco is turning up". So I called Michael Glading(Tournament Director) and said, "Mate Rocco's not here, should I just go and play the golf day at Jack's Point" and Michael said, "No you're still in the tournament, you've got to play by yourself." So I got to play a neat little round in the NZ Open.
"I've got to 16 and I was just holding on and I think I've gone from about 4th to 10th. I had two shots on the last two holes and on that horrible little par three 16th and I said to myself, 'you know what if I just par it, I might actually make the cut in the top 10 for the final round'.
"Of course I dumped it in the hazard again. I don't have a good relationship with 16th or the 18th hole."
Funnily enough, it would be that same 16th at The Hills that would produce one of Richardson's golfing highlights, a hole-in-one.
"Think it was about an eight iron, it's sort of a dubious as to whether it was a genuine hole in one because, well, I was playing a warm-up round with a bunch of guys. Three of them left after 13 holes and I wanted to play the whole 18 so the guy who was just carrying my bags, just because he wanted to wander around and be part of it said, 'I'll carry on, I'll carry your bags for you'.
"So we carried on with the round properly and we were playing properly. I remember talking to him and said [on the 16th] 'What shot? What about if I sit it out over the bunker and just let it drift down, down with the wind. What do you reckon an eight iron.' So we talked through the shot and then I hit the shot, and it's exactly what we were talking through, hit it up, eight-iron over the bunker, drifting down on the wind and when it was probably about still about 30 ft in the air. I just said, "That's how you play this hole," the ball landed and went bounce, bounce and into the hole.
"There was no one around. Some of the pros were practicing on the range, probably 200 metres away. No one could see what's going on so I had to work pretty hard to get people to believe me afterwards."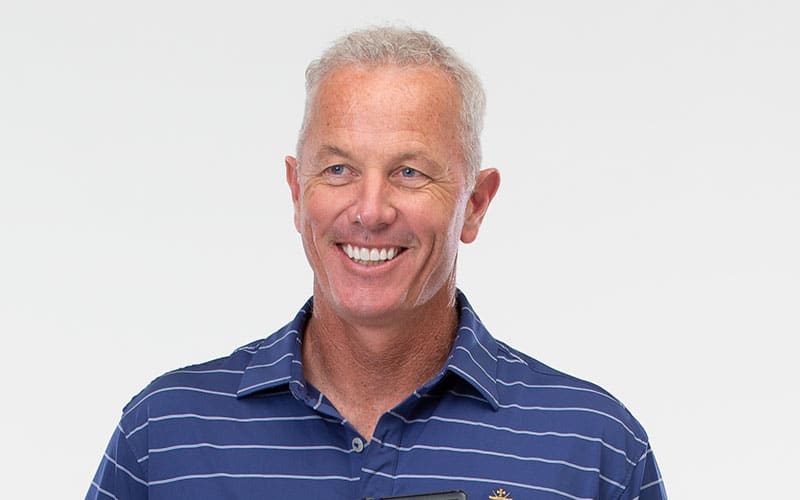 The Sky Sports cricket commentator isn't sure if he will be commentating this summer due to Spark getting the Black Cap's broadcasting rights but he will still keep in touch by watching it on tv as he does with each of the PGA Tour events including the majors.
He said he feels he relates mostly to someone like John Daly on the golf course, "I'm a bit of a whiner, I get a bit frustrated," but he also said his game is very much like a Kiwi golf pro. I am a technical thinker actually, which is probably why I think most players tend to lose the game, our technical thinking just gets in the way. I am very much a technical thinker when it comes to the golf swing but not quite at Bryson Dechambeau's level."
He also said his game is very much like a former Kiwi golf pro.
"Maybe I'm closer to Craig Perks. A pretty golf swing, every now and then plays well but then it just falls to bits."
As for our very own current batch of Kiwi golfers, Richardson has some wise words.
"I think it's at a point where it could go one of two ways. I know he had a bit of a meltdown the other day, but Danny Lee is getting quite consistent and, he's becoming a regular on that tour which is great, I think he's doing really well.
"Foxy[Ryan Fox] is starting to consolidate his place wherever he plays, on that European tour he's pretty solid there and doing a really good job, and that's all you can do at his age is become consistent, belong where you play and then the big wins will probably come from that point on.
"We've got a guy doing well on the PGA Tour and a guy doing well in Europe, I think as far as New Zealand is concerned I don't think we can ask for too much more.
"And then of course Lydia. I know we get stuck into her but shes regularly round top 10 now and you can't expect too much more. She's been a raging success and still is a raging success as far as being a professional golfer.
"She wants to win I've no doubt. If her goal in life was to become a successful professional golfer well shes done that in spades hasn't she."
See Mark Monday to Friday on The AM Show and at a golf driving range near you.
---
Read this story in the latest NZ Golf Magazine here.
Advertisement
Sign up to our NZ Golf Updates