As the end of February loomed, usually, all eyes would have been on Queenstown to see who was lining up in the New Zealand Open, but for Michael Glading, the Tournament Director of the event for many years, there was a huge gap left in his schedule due to the Open being cancelled in 2021.
While in other years we would cover the latest golfing stars playing in Queenstown, this year NZ Golf Magazine decided to profile the man behind the tournament and sent Neville Idour to find out why Michael Glading is a man for all seasons.
The venue was the Hole in One Café at one of Michael Glading's favourite places, Millbrook, during one of his successful Coronet Golf Tours.
Michael's Father Bob is a dual NZ Open winner and Bob Charles is a long time close friend so this was sure to be time well spent for this writer. But where did it all begin? His parents were living in England in 1953 and decided to return to New Zealand by boat.
"Mum was eight months pregnant with me when we arrived after several weeks at sea and I was born in Hamilton," Michael explained.
"When I was seven we went to live in South Africa. Most of my schooling was completed over there. Dad who was a good golfer did not have much of a profile over there. While living there I got to know Bob Charles and with Bob's wife Verity being South African they used to come to Johannesburg a lot and we would hang out with them. We also got to know Gary Player of course," Michael related.
The family returned to New Zealand when Michael was 18. He gained his Bachelor of Commerce degree in Commercial Law, Accounting and Economics in 1976 after a year overseas in 1975. He started his working life for a year as an accountant at an engineering company. Then he joined Sony (CBS Records in those days), as an accountant for eight years.
"I was appointed Managing Director and had the pleasure of running Sony Music Entertainment in New Zealand for 18 years. They were some of the best working days of my life, when men were men and people actually paid for their music. I worked with some incredible artists. My favourite and most loved signing was Bic Runga. It was also a great privilege to work with amazing talents such as Brooke Fraser, Boh Runga, Strawpeople, Dave Dobbyn and many more."
Time to move on and with his experience he set up the New Zealand office for Australian concert promoter Andrew McManus Presents. For three years Glading would tour 12 world-famous artists such as Pavarotti, Stevie Nicks, UB40, INXS, Simple Minds, Deep Purple, Kris Kristofferson and Russell Watson. He also personally successfully toured UK artist Paul Potts.
A complete change would come next as General Manager for struggling Gourmet Food Publishing in 2006 for a little over two years. He oversaw a re-structure and return to profitability.
At this point, one of his sporting loves would be his next challenge. Appointed CEO of NZFA in July 2008 he would lead NZ Football through a period of significant change. Essentially insolvent, a rebuild returned them to profitability in that same year.
He is an unabashed fan of Arsenal so his time with the NZFA resonates. Amongst other things, he has served on the FIFA Disciplinary Committee, plus on the boards of Play it Strange, NZ on Air and now the NZPGA.
Michael left the NZFA in April 2011 as he explained, "When I left football I had no intentions of working in golf. I had an approach from Michael Hill. He asked me if I would be interested in getting the NZ Golf Open up and running at The Hills. That sort of coincided with John Hart and the NZPGA being run at The Hills. Michael connected John and myself and that was how I became Tournament Director for the NZ Open with John as Chairman. So began this ongoing partnership with this premier sporting event."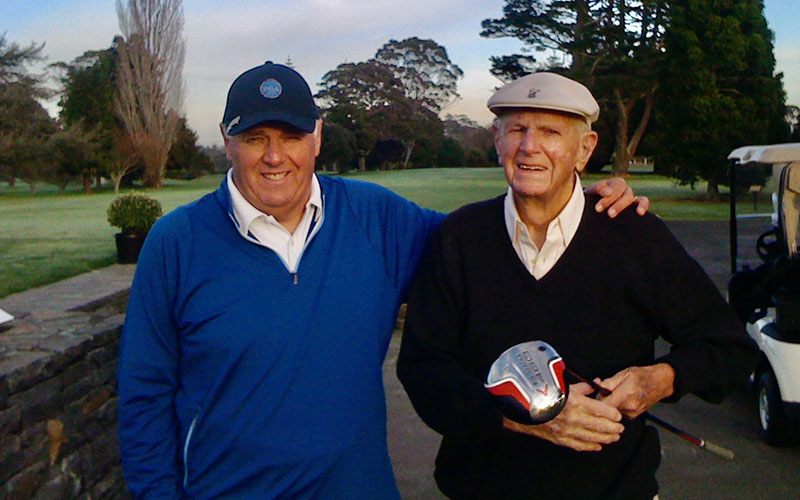 Michael's father Bob was a prominent golfer but that never swayed Michael to follow in his footsteps.
"As a kid, you don't really know, he is just your father. I did not play much golf with Dad as a child as he would always try to coach me and no child likes to be continually told what to do. He was only trying to help but halfway round I would say I'm not going to play with you anymore if you keep doing it. I played more with him in later years when he had stopped coaching me.
"Of course, all parents want their children to do better and Dad was no different."
Michael's handicap is now 11 but 20 years ago it was four, he said a little ruefully.
Asked if he ever caddied for his father Bob the answer was no. Bob Glading won the NZ Open as an amateur in 1946, turned professional and won it again in 1947.
Bob was a remarkable person. His first time playing the NZ Open was in 1937 as a 17-year-old where he finished tied 28th. Two years later he finished 7th. A measure of the man was he actually made his own clubs to win the 1946 NZ Open.
"He was Assistant Professional under head Pro Gerald Melvin at Hamilton. He was a clubmaker and taught Dad how to make clubs. We actually still have a set of clubs that Dad made for Mum. Allan McKay who worked at Millbrook and latterly at The Hills, restored them for us some time ago so they are at home safe and sound. Dad probably used the Facilities at Hamilton Club to make these, "Bob Glading Signature Clubs" as we call them."
"Now that Dad is gone my one big regret is, and many will say something similar, that I never asked him enough questions about his golf, especially his NZ Open wins. Questions like 'did you sleep well the night before' or, coming down the stretch 'did you get nervous'."
"However, Dad was never one to talk about himself. You would have to prise it out of him. Typical of his generation, he never talked about the war till near the finish, having served on aircraft carriers as a pilot. In hindsight, I should have sat down with him and talked those things through."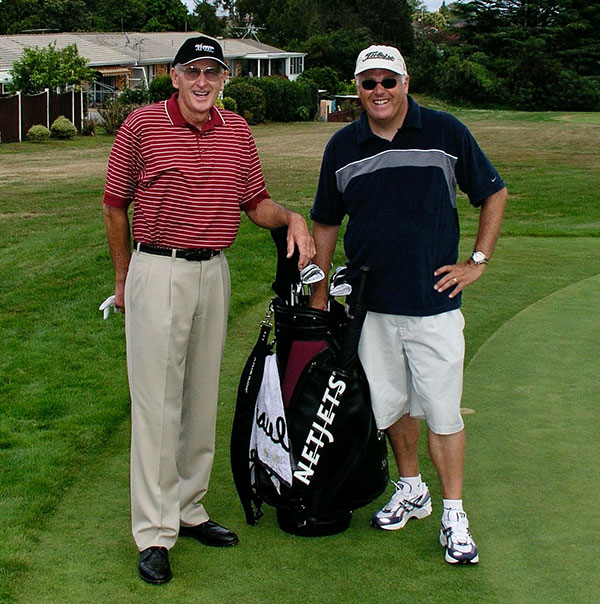 These were precious times and Michael built up a great relationship with Sir Bob Charles.
"I caddied for him in 26 NZ Opens beginning in 1972 at Paraparaumu until I finally 'retired' as a caddy in 2009. There was one win in 1973, while there were many other close calls, especially one at Shirley when he needed a par on the 18th to win. Unfortunately, he couldn't get up and down from the bunker and lost in a playoff to Bob Gilder ( USA ). Not one of my happiest memories. I would always take leave from work so I could be Bob's bagman each year. It was also a real highlight to caddy for him at the NZPGA at The Hills in 2007.
This is an everlasting memory as he made the cut as the oldest player to make it on the European Tour."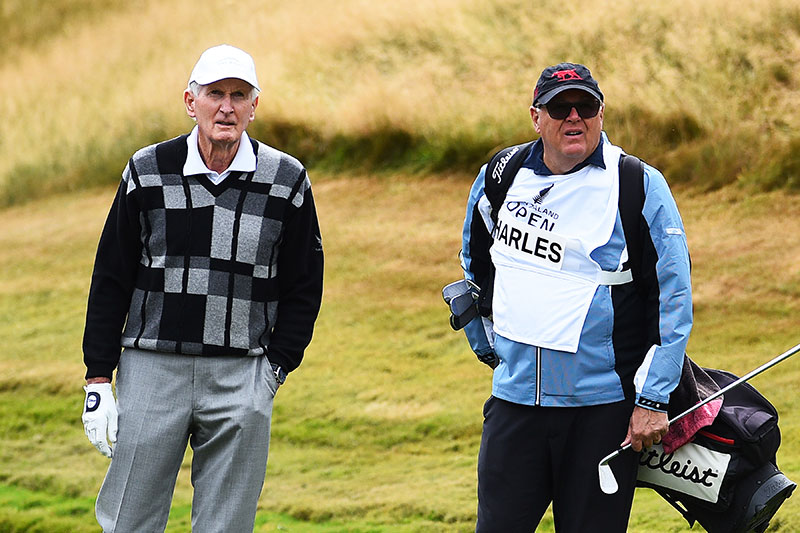 Michael has played golf in many places in the world so what courses resonate with him in New Zealand?
"Tara Iti is a very special golf course. If I had to pick one it would be Wairakei. I have played it many times and always enjoyed it for its ambience, peaceful environment and the nature reserve which makes it a special place."
"There is no question that the three courses in Queenstown are all outstanding in that they each present different challenges. Jacks Point is probably the most difficult and I love the challenge."
"The Hills presentation is first class and you could play a major tournament there any day of the week. The Coronet 18 will be a standout when it is ready for play. I think the peaceful environment of Millbrook extends onto the golf course. If you aren't happy golfing at those three courses you will never be happy."
Overseas courses? "I have played St Andrews. I liked and clearly remember Congressional in Washington as an outstanding layout. But go back to when I was young and NZ didn't really have any courses rated as world-class. Now we have several. Yes, we are very fortunate in NZ."
Michael pays tribute to his wife Lynley's support over the years. "We have been married 33 years and were privileged when I was in business, as she was able to stay home and bring up the children. In today's society that is a rarity. We have three great children and that is a testament to her and the role she played in our family. Or course behind every successful man there is a successful woman (chuckles)."
With such a successful and varied working life, Michael has made his mark and left any business or organisation in better shape from his presence. The many people who have paid tribute to his leadership are proof of that.
NZ Open Chairman John Hart reflected on his association with Michael. "I first met Michael after I took the concept of starting the NZPGA Pro-Am Championship to Sir Michael Hill in 2011," Hart said.
"This led to us working together for the past 10 years on a tournament which became the NZ Open as we know it today. Michael has been an outstanding Tournament Director over this time. He is a man of huge integrity, dedicated, hard-working and fun to be around.
"He is hugely respected by both our Professional and Amateur players, our international Tour and Commercial partners as well as the team of people that work with him in delivering the NZ Open each year. I am fortunate to be able to call him my friend."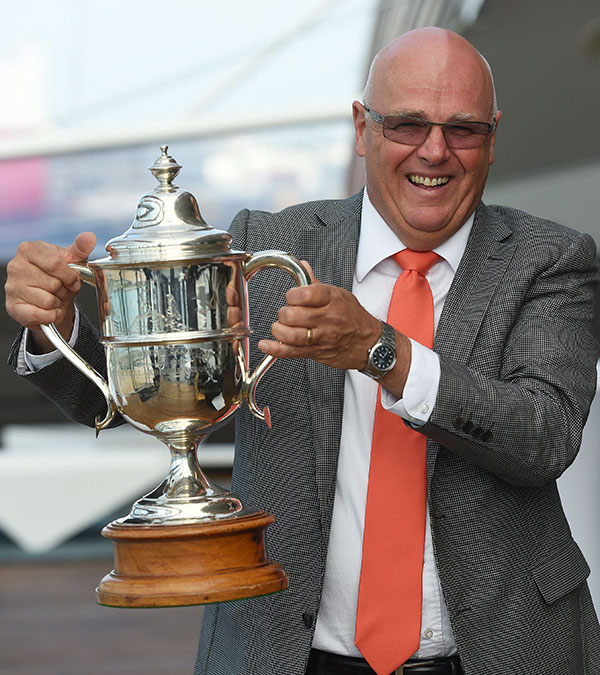 Currently, Michael is enjoying hosting his Coronet Golf Tours with March and April tours coming up. So we close our time together asking ' Looking back on your life so far are there any seminal moments or vivid memories?'
"I guess the reality is how fortunate I have been, in that most of my working life has been in fields that I love….music, football and golf…..three of my greatest loves."
Not too many people can look at their working career and say 95% of it has been spent in fields they have a passion for outside of work. It has been a real joy," Michael concluded.
For this writer chatting to Michael Glading, 'the man for all seasons', has been a real joy too.
Advertisement
Sign up to our NZ Golf Updates