Michael Hendry had already won the New Zealand Open and the New Zealand PGA Championship but now he has the Renaissance Brewing NZ Stroke Play to add to his trophy cabinet after a four-shot victory today at Paraparaumu Beach Golf Club.
Hendry started the final day four shots ahead and he was never headed starting his round with a birdie and finished with five birdies and three bogeys to finish the round with a 3-under 68 and 13-under overall.
Best mate Mark Brown finished the same way with 3-under and was four shots behind Hendry, Josh Geary was one shot behind Brown on 8-under.
The Renaissance Brewing New Zealand Stroke Play has been elevated to Jennian Homes Charles Tour status for the first-time allowing professionals to play in the event alongside New Zealand's elite amateurs.
Hendry said it's a real honour to have all the premier stroke play titles in New Zealand to his name.
"This is really cool. I'm not too sure there is many people that have done something like this and I'm really proud to have etched my name further in New Zealand golfing history," Hendry said.
"I've been playing really well for a while now and I've come up short. To get across the line is really pleasing."
He started the day with a four-shot and despite winning by four, it wasn't all clear sailing for the Japanese Tour player as his lead was reduced to a shot after 10 holes.
With Brown and Josh Geary firing shots at him left right and centre, Hendry drew on his many experiences in closing out Jennian Homes Charles Tour events on the back nine at Paraparaumu Beach.
He made birdies at the 12th, 16th, and 18th holes to seal the deal and win his seventh Jennian Homes Charles Tour event, the most of anyone in the tour's history.
"I was very aware of what was going on. Josh [Geary] caught fire through the middle part of the round after a slow start and [Mark] Brown was knocking on the door all day.
"The game plan I had worked all week and I wasn't going to change it just because a couple of the guys were getting close. I just kept playing the right shots at the right times and being able to execute those shots certainly filled me with a little more confidence that I would be able to get over the line," Hendry explains.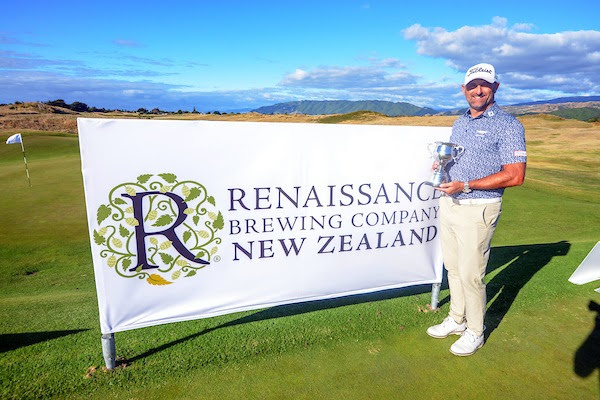 The next few weeks look a little unclear as he could be on a plane back to Japan, or he could be teeing it up at the next two Jennian Homes Charles Tour events; The Clubroom Gulf Harbour Open and the Autex Muriwai Open.
Hendry wasn't the only winner on the day with Kazuma Kobori taking out the New Zealand Men's Amateur Stroke Play Championship and winning the prestigious St Andrews Salver, while Vivian Lu took out the New Zealand Women's Amateur Stroke Play and winning the sought-after Mellsop Cup for her efforts.
Final Leaderboard
1 Michael HENDRY        -13 65 70 68 68 271
2 Mark BROWN              -9 65 69 73 68 275
3 Josh GEARY                -8 71 70 67 68 276
4 Kazuma KOBORI         -7 68 70 72 67 277
T5 Mark HUTSON           -5 67 73 74 65 279
T5 Kerry MOUNTCASTLE -5 71 69 69 70 279
Advertisement
Sign up to our NZ Golf Updates