Michael Hendry takes a four-shot lead into the final day of the Renaissance Brewing New Zealand Stroke Play Championship after shooting a 3-under round of 68 on day three to put some distance between him and day two leader Mark Brown.
Hendry had a round that included five birdies and two bogeys that enabled him to make the break on the field and finish on 10-under for the tournament.
Hendry's score of 68 was one of the best of the day in the conditions, beaten only by Josh Geary who managed a 4-under 67 to move up 17 places on the leaderboard sitting in outright third position one shot behind Brown and a shot ahead of new Pro Kerry Mountcastle.
Brown finished with a 2-over 63 on day three but managed to hold onto second place and will be hoping he can bounce back tomorrow and give Hendry a run for his money at Paraparaumu Beach Golf Club.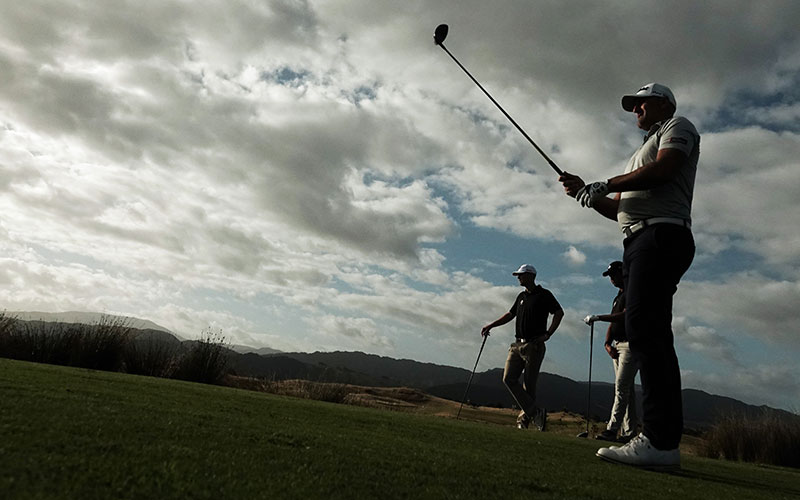 Hendry started the day two shots back and was faced with blustery conditions as he looked to make a charge up the leaderboard. He opened the day with five straight pars and found himself in a tie for the lead after Brown double-bogeyed the tough par 3 fifth.
The Japanese Tour player fell a shot behind with a bogey on the sixth but made back-to-back birdies at the seventh and eighth to take the lead going into the back nine.
Hendry then opened with a par and two birdies to begin his back nine and pick a further three shots up on Brown to make his lead four. He made a bogey on the 15th and go that right back with a birdie at 16th.
He parred his way in and will enjoy a four-shot buffer going into tomorrow's final round.
Hendry says he is pleased with his day in tough conditions.
"It was tricky today. The course was playing really hard," Hendry said.
"There was enough wind to make it really awkward because of where it was coming from, particularly early in the round. The greens are really firm and it's hard to stick the ball close to the hole.
"It was tricky, and I managed to make a lot of pars, I had one annoying bogey on six but when we turned around and started playing the holes that went in the opposite direction, I managed to make a couple of birdies."
Hendry had a short amateur career before he transitioned into the professional ranks. He now has an opportunity to win a tournament he previously thought had passed him by as Golf New Zealand has elevated it's premier stroke play event to be a Jennian Homes Charles Tour event.
A win on Sunday would see Hendry become the most prolific winner on the title with seven titles.
He said he's looking forward to the challenge.
"It'd be really nice to get this title. It'd be some nice vindication for the way I've been playing recently as well.
"There is still a lot of golf to be played and this course can pull you back down to Earth really quick. I'm just going to play the same way I have and try and hit lots of greens and hole the odd putt; that'd be the way I'd like to play tomorrow but we'll see what the weather brings.
"I'll take it easy and hope for the best tomorrow."
The race for the St Andrews Salver which is awarded to the New Zealand Men's Amateur Stroke Play champion is heating up ahead of the final round, with Kazuma Kobori taking a one stroke lead over Sam Jones who is looking to add the stroke play title to the New Zealand Amateur title he won back in 2019.
Jones sits on the same total as local Adam Church.
Kobori carded a round of one-over to finish at 3-under going into tomorrow's final round.
Despite not being happy with his day out there, he's looking forward to the prospect of adding a national title he's yet to win to his repertoire.
"It was kind of hard to tell if it was just playing hard out there or if my golf was just bad; nevertheless, I'm one ahead and I'm looking forward to the challenge of trying to get the job done tomorrow."
Kobori will have to hold off Church and his teammate Sam Jones if he's to get the job done.
Jones has been acting like an older brother to Kobori this week, and he's keen to get one over his good friend.
"He's been taking care of me this week and I'm very thankful for him so far. But I really want to beat him," Kobori said.
"I just want to keep my head in the game, keep hydrated and eat a lot as that's something I didn't do a lot of today and I made a few stupid mental errors out there. It's really hard to make birdies out here so I just want to make sure that I'm keeping the soft bogeys off my scorecard, that's what I want to try and do tomorrow."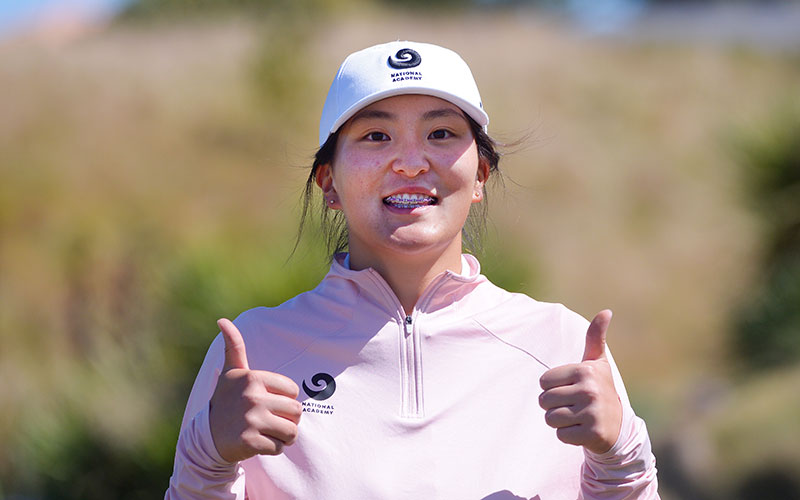 A similar scenario lies ahead of Darae Chung as she also takes a one-shot lead over her National Academy teammate Vivian Lu for the Mellsop Cup which is awarded to the New Zealand Women's Amateur Stroke Play champion.
Despite carding a round of 5-over to fall to 1-over for the tournament, she's in good spirits and looking forward to what lies ahead tomorrow.
"I'm a little nervous because I've never been in contention for this title before, but I think these nerves are good and will set me up for a great day tomorrow," Chung said.
"I'm also battling it out with my friend Vivian tomorrow which will be another challenge in itself, but I'm going to go into tomorrow with the same game plan I've had all week and try and learn from my mistakes as best I can."
Leaderboard Day 3
1 Michael HENDRY       -10 65 70 68 203
2 Mark BROWN             -6 65 69 73 207
3 Josh GEARY               -5 71 70 67 208
4 Karry MOUNTCASTLE  -4 71 69 69 209
T5 Mason LEE               -3 67 73 70 210
T5 Taylor GILL              -3 71 69 70 210
T5 Kazuma KOBORI      -3 68 70 72 210
T5 Luke TOOMEY          -3 69 67 74 210
Advertisement
Sign up to our NZ Golf Updates