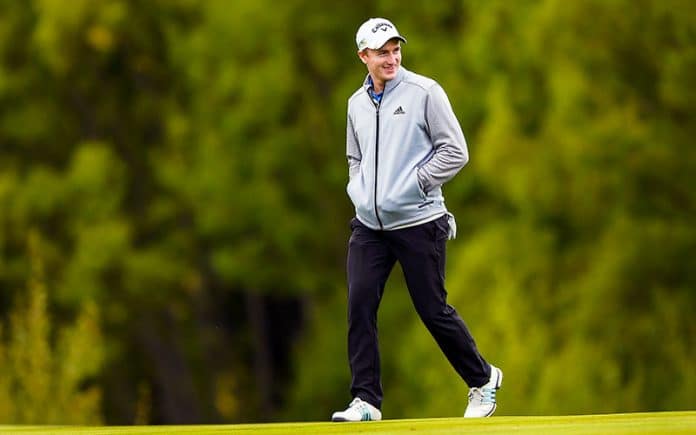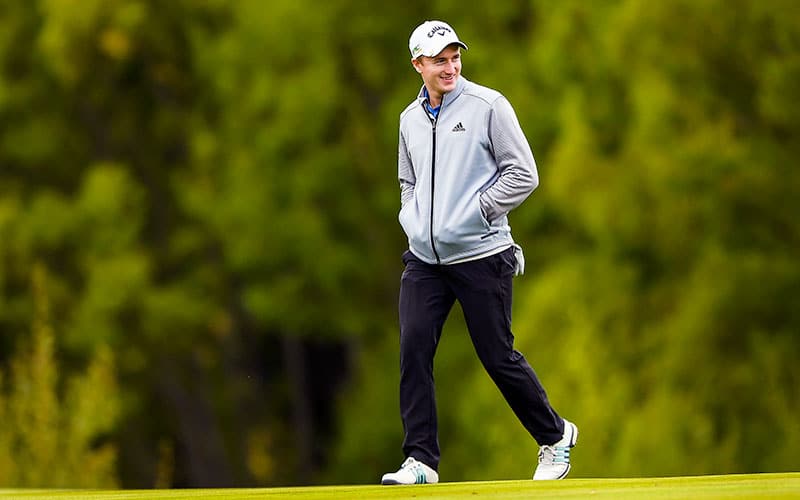 He has been hunkered down in the US State of Iowa through the Coronavirus pandemic but for Kiwi Nick Voke it's been a blessing as he has been able to still play golf and train throughout the lockdown period while his mates back in New Zealand had to stay away from the course during Lockdown Level 4. As the resumption in tour events are still a few months away, today we have a Quick Round with Nick Voke.
How old were you when you started playing golf and who got you started?
I was introduced to the game quite late (in comparison to these young phenoms nowadays); age 11. It wasn't until I was about 13 when I got my first handicap and I really started playing frequently. My best friend growing up, Daniel Masiutama and his father Ray, used to go out for a "cheeky 9" on the weekends and they dragged me along one time. I loved it so much that I didn't want to leave.
Where did you start playing golf?
My love for the game developed at the Wattle Downs golf course (Auckland); a neat 9-hole course up the road from where I lived. It was the greatest place to learn the game. We had a flourishing junior programme run by the greatest man in Jock Patterson, and we were given the freedom to explore and experiment around the course with our game. With hindsight, it was a unique growth environment that was rare among the more posh/private Auckland tracks.
What was your lowest round and where did you play?
In the final round of the NCAA regionals at the University of Texas golf club in 2017, I shot a career low 61 (-10) to win individual medallist honours. More importantly, however, it helped propel our team to a 3rd place finish and a berth at the 2017 NCAA National Championship.
How many hole-in-ones have you had?
I've had two: one at Wattle Downs and the other in Nebraska at a US Amateur qualifier.
How far do you hit your 7-iron?
A stock 7-iron, for me, goes 185 yards (169m).
What is the strongest part of your game?
My stats with a "flat stick" (putter) in hand, have been crazy good recently. It hasn't always been that way though! All that time on the practice greens is certainly paying off.
What is your biggest frustration (or pet peeve) when playing golf?
The shot that really grinds my gears is a double-cross off the tee; that means I hit a pull draw when trying to hit a baby fade. Very rarely does a double-cross find safe ground for me (ha ha).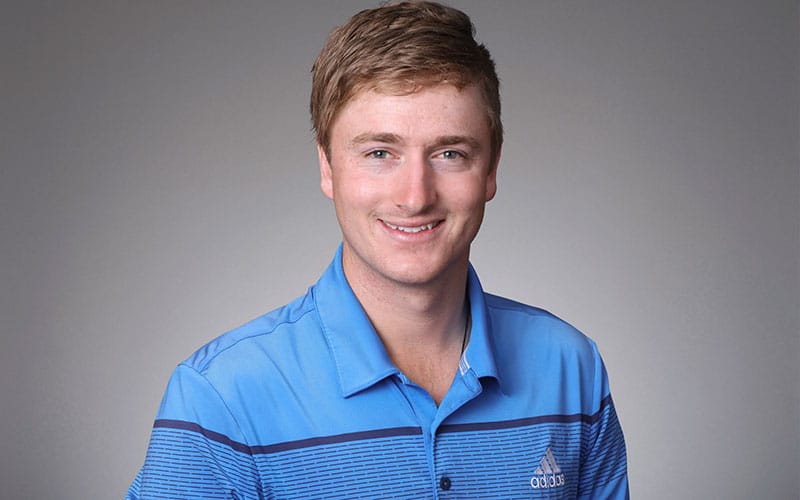 What do you most love about playing golf?
That feeling when you absolutely strike a mid-iron out of the screws – when it launches high, holds its flight against a cross breeze, comes down soft and trickles close. When you stump a mid-iron like that; the strike, sound, feel and flight all combine into this feeling when you can say to yourself "Yep, that's as good as it gets". I play golf for those special moments.
What is your most memorable golf moment or tournament?
I remember heading into the final round of the 2017 NCAA Austin regional; Iowa State was tied 5th with the Top 5 teams at the end of day's play advancing to the National Championship. As a graduating senior and my potential last event for Iowa State, the pressure could not have been higher – Sam shot -3, Tripp -3, Denzel -5, Ruben -6 and I came in with my cheeky -10. We went from a bubble team to nearly contesting for the team win. To deliver our best ever team round in the moment was incredibly special.
What is your favourite golf course?
No question – the Harvester Golf Club (Iowa State's home course) is out of this world. Hands down, it has the best putting surfaces I have seen anywhere in the world. It is just a treat to play.
Who is the most famous person or best golfer you have played with?
Very few people have 'wowed' me; to the point where all I can do is take my hat off and say, 'that's what the next level looks like'. In college, it was Jon Rahm, I played with him twice. More recently at the Aussie PGA last year, it was Min Woo Lee. I saw things that Jon and Min did that wasn't even close to being in my arsenal at the time – it gets me excited to get onto their level!
What is the most memorable time or experience you have had on the golf course?
Apart from the 17' NCAA regionals with Iowa State, the only other experience that comes close was my six-week stretch in Asia in 2018 where I travelled around with one of my best mates in Luke Toomey. I went on the craziest golf runs I've ever had – finishing T4, 1st, 3rd, 1st, 16th and 1st.
If you could pick any three people, alive or dead, to play in a four-ball with, who would they be and any reason for your choices?
I'd pick Tiger (the greatest golfer of this generation), Roger Federer (the ultimate ambassador for the world of sport and a bloke with so many good stories) and John Mayer (my favourite musician/artist).
Who would you get the most satisfaction out of beating on the golf course and why?
Honestly, any time I beat my roommate, Denzel Ieremia, is a great day. We have this incredible rivalry where we want to absolutely smash each other on the golf course every day (whether that is playing or in practice games). The free dinner that comes from a victory against Denzel tastes that much better.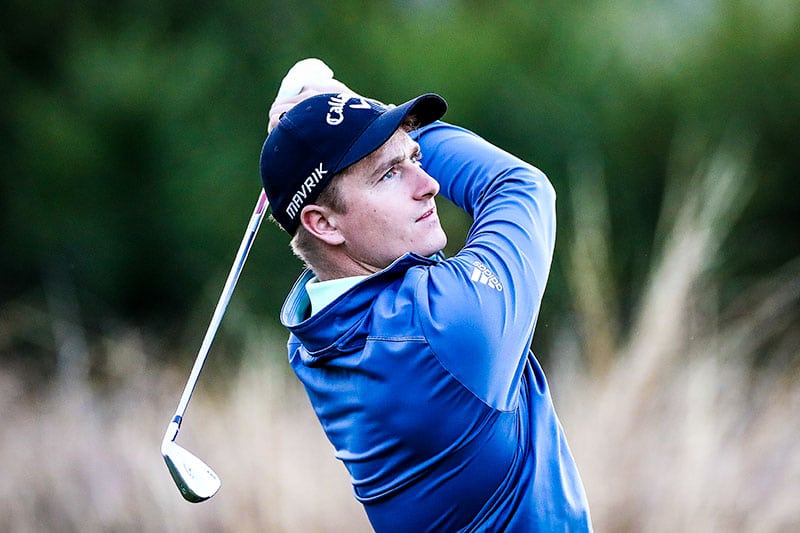 What did you most enjoy about your time living, studying and playing golf on scholarship in the USA?
I enjoyed being part of a golf family and community over there the most. Most of those guys will be at my wedding – they're just good quality people that had such a profound influence on me in my life as a young adult.
What would your "Champions Dinner" menu look like?
I would pick that stock standard winner: "steak, mash and vege". The only special thing on the menu would be the dessert – a dish from the Outback Steakhouse called the "Thunder from Down Under". It's a 1500 calorie monstrosity of a dessert, pretty much diabetes on a plate. (To quote the Outback Steakhouse Chocolate Thunder from Down Under. Menu Description: "An extra generous pecan brownie is crowned with rich vanilla ice cream, drizzled with our classic warm chocolate sauce and finished with chocolate shavings and whipped cream. A chocolate lover's dream.")
What is your favourite golf movie?
I've never been big into movies, but I did enjoy Happy Gilmore.
What is your favourite thing to do away from the golf course?
I really enjoy playing other sports; tennis, basketball, surfing and squash (the only sport my old man still has me at). As for the more casual stuff – I love listening to live music. Listening to the likes of John Mayer, Paolo Nutini and Michael Kiwanuka with nothing but a guitar in hand is special. I'm learning to play the guitar; one day I hope to get up on stage and play myself!
---
See also, the Quick Round with Tom Walsh here.
See also, the Quick Round with Stephen Fleming here.
See also, the Quick Round with Sean Fitzpatrick here.
Advertisement
Sign up to our NZ Golf Updates