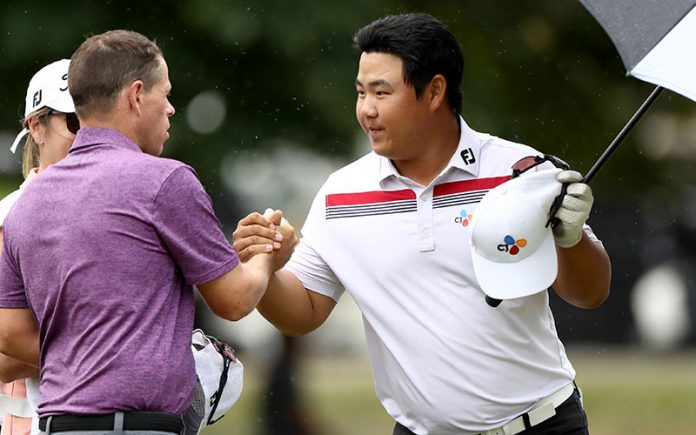 South Korean teenager Joohyung Kim made the most of great early conditions and holds a one-shot lead after the opening day of the New Zealand Open in Queenstown.
In windy and at times squally conditions, the 141st ranked player in the world looked like he had the ball on a string dropping six birdies and an eagle on his way to a 7-under 64 at Millbrook Resort.
Kim, 17 years of age, got out onto the course before the weather really picked up but even as the squalls pushed through, the 2019 Indian Open winner was still managing to sink birdies when he needed them.
"I managed myself really well, I was very fortunate that the wind was falling where I thought it was going to be and I just gave myself a lot of good chances and I made a lot of good putts," Kim explained after the round.
In the last 12 months, Kim has played 20 tournaments in which he has won three times and only once finished outside the top 30. After a month break since his last tournament, a fourth place at the Singapore Open, Kim was excited that his form had returned.
"I've been very fortunate to play well, I've been working very hard, and it's nice to see that after a month break I can see improvement and I can still post a good round.
"Tomorrow it really depends on the wind at this course but I will go in without any expectations, play the way I played today and hopefully if I can play like today I can possibly shoot the same numbers."
Former NZ Open champion Brad Kennedy was close behind Kim on 6-under the card after a fun-filled round of 7 birdies, 3 bogies and an eagle. Tied with Kennedy are fellow Australians Ben Eccles and Wade Ormsby.
Eccles was named as a reserve for the ISPS HANDA PGA Tour of Australasia, Asian Tour and Japan Golf Tour co-sanctioned tournament just yesterday, the late call up was a welcome surprise for the Victorian.
"It's pretty awesome. I said to my best mate who's caddying for me that I just want to enjoy the week whether I get in or not," Eccles said.
"We got in yesterday morning so it's a big bonus and to play like I did today was just awesome."
Then a group of players on 5-under the card, led by in-form Australian Lucas Herbert, Terry Pilkadaris and Japanese duo of Tatsuya Kodai and Kazuki Higa.
Best of the Kiwis was former top 10 finisher Harry Bateman. He managed a 4-under 67 in a bogey-free round and is tied with Australian Nick Flanagan.
Ryan Fox shrugged off the jetlag and at one stage led the field on 5-under but 3 bogies on his inward nine at The Hills sealed his fate and he finished with a 2-under 69.
"I don't think I've had a day like that for a long time," Fox said.
"I think we started with a pretty strong nor'easterly and when we were standing on the 15th tee it changed to a nor'westerly. When we were putting out on 14 a signboard blew over on 11. It was just a strange day."
"I felt like I played pretty good all day. I had three bogeys in a row on the front nine and didn't really feel like I'd done much wrong. I think I maybe started to fade a little bit mentally towards the end, which is a little bit understandable. It's a solid start in those conditions."
Fox was joined on 2-under by David Smail, Ryan Chisnall Gareth Paddison and Kieran Muir in a Kiwi quintet.
Advertisement
Sign up to our NZ Golf Updates