Taieri Lakes Golf Club, just 15 or so minutes from downtown Dunedin has flown under the radar for too long. A recent visit and enjoyable round on the course confirmed that it really does live up to its name.
A reconfiguration of the course including the closing of the former 16th and 17th holes which were on steep land and opening the new 7th and 8th holes on flat land has made for a much less taxing walk and a more playable experience. The new holes include another couple of lake areas so that there are now five water features that are in play on six holes. A par 72 of around 6,000 metres from the championship tees, it is a true test with some lengthy holes particularly on the back nine.
My group played from the white tees and the opening hole a par 5 which plays to a 50-metre rise to the green is an excellent teaser as well as visually pleasing. At only 402 metres it sounds not too difficult but don't be too short or long with the second shot or it can easily end in the creek 50 metres from the green. The second hole is a short 117metre uphill par 3 which is no pushover if accuracy is lacking.
From there the course has many visually attractive holes with a great variety of environment and elevations. You experience the parkland feel and the wetland areas, particularly around the new holes which when fully grown and developed over the next couple of years will be an ecological asset.
The 3rd and 12th holes are sharpish doglegs with others having gentle movement. Don't be fooled by the short par 3's of 117 and 112 metres or the par 4's of 264 and 256 metres. They all have their challenges. From the white tees the front nine is just 2,455 metres but the back nine raises the bar to 3,165 metres. Long par 4's and two 500 metre par 5's, including the 18th can make for a punishing finish if you get into too much trouble.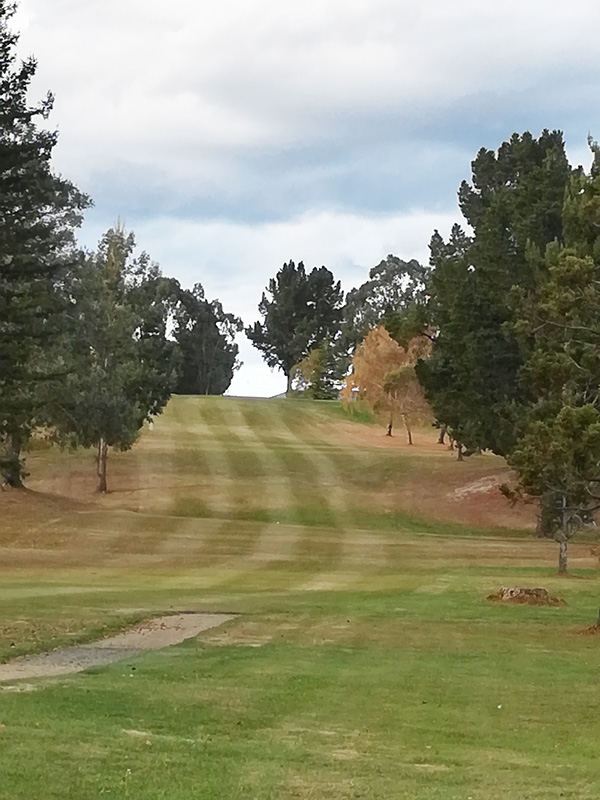 Taieri Lakes has its very own niche as a perfect complement to Dunedin's other three top 50 ranked New Zealand courses. Otago, St. Clair and Chisholm links all have their own distinctive character but none have water featuring as does Taieri. Play all four courses and you will struggle to find any similar hole designs at all.
It is easy to see why the annual Taieri Classic has attracted such fine fields since 1988. The winners include Phil Tataurangi, Tony Christie, Steve Alker, Martin Pettigrew on three successive occasions, and Jared Pender plus entrants who haven't won, such as Michael Campbell.
The two new holes were very much an in house project although former NZ Open Champion Mahal Pearce did have a hand in the design. The 7th is a 117 metre par3 from the white tees but requires accuracy in direction and length as trouble lurks short and long. The 8th a 256-metre par 4 again seems a breeze but it also presents a need for accuracy.
GRAND HISTORY
The new holes were officially opened in December however they hogged some of the limelight at the club's 100th Centenary which was celebrated on the third weekend in March with a host of special events. The 100th year was actually in 2020 but had to be rescheduled because of Covid 19.
There was a large gathering of current and former members with 130 attending the dinner on the Saturday. As for the golf, a Stableford event on Saturday was followed by an Ambrose on Sunday and a nine-hole event on Monday.
The club had very much of a nomadic existence during its first 50 years before moving to its present site in Milners Road, Mosgiel in 1969. The club began life on John Allan's farm "The Holmes" at East Taieri in 1920. Little is known about the course and only two years later the Dunedin Jockey Club at Wingatui was asked if the inside enclosure of the racecourse could be used. This was granted by DJC at its monthly meeting on 17th August 1922.
Unfortunately, this course had to be vacated after numerous complaints from horse trainers about wayward lost balls causing lameness to horses. (Probably from landing on them as they ran). However, the club still used the racecourse function rooms for its annual ball.
After only a year the next site on the Sheenan property would be home from 1923-1928 when it was sold and the club was forced into recess for two years. The club had around 20-25 members at this stage.
In 1931 the club was re-activated at a meeting attended by 30 members plus for the first time 12 women. The land was leased from the Coughlan brothers of Salisbury Estate and the club was officially opened on 26th September 1931. A reporter from the Evening Star reviewed the course in April 1932 and it is well worth relating an excerpt. I have added the modern-day club equivalent in brackets.
"The first hole is 434 yards. It carries two full woods and a mashie niblick. (mashie/5 iron. niblick/9 iron)……The 4th is one of the best holes on the course, the wise will play a spoon (5 wood)……then the 6th hole demands a nbr 1 or a brassie (3 wood/ wooden head with a brass plate on the bottom)." There were also mid mashies(3 iron) and spade mashies (6 iron). Spoon named because some older clubheads were concave in shape. Can you hear the PGA commentators saying "Dustin Johnson is playing a niblick approach shot" or "He is taking a mid mashie off the tee on this short par 4."
By 1933 most of the greens had been fenced to keep roaming stock off. Membership increased from 60 to 80 in the first year, however, the lease ran out in 1935 and the club once again had to find a new home.
This it did in 1936 when it leased the site where Gladfield Golf Course is now situated, from William Kirkland who was the club's first President in 1920. Two professionals designed the nine-hole course which opened in 1936 with 50 men and 30 women members, a stronger ratio of women than seen today. The war decimated activity and membership, but the club survived and by 1953 prospects were brighter.
By 1959 restrictions had to be placed on memberships including where members lived however in May 1967 the club was open to all of Dunedin. In 1968 the total membership was 353 and the nine-hole course could not cope with that number so a new development was necessary.
Sensibly the club had begun proceedings to buy 70 acres in Milners Road where the current course is. There was only room for a 14 hole course which was professionally designed by Commander John Derring Harris RN who was reputedly one of the leading planners in the world back then.
The course was officially opened on 11th October 1969. In 1967 and 1974 more adjoining land was acquired allowing the completion of the original 18 hole design. Interestingly the course had no bunkers or rough until 1973. So finally Taieri had found its home and developed the property to the fine facility it is today.
There are so many memories from bygone years. One from John Sudel will resonate with many and even stir yearnings for "the good old days". "During the '70s and '80s the clubhouse was usually full. The bar would stay open to 9 or 10 pm on a Saturday. The social side was great with prizegiving dinners and calcuttas." Another from greenkeeper Stew Taylor "In 1973 greens were mown with two walk-behind mowers, which took six hours three times a week. Each man walked 7Kms a day."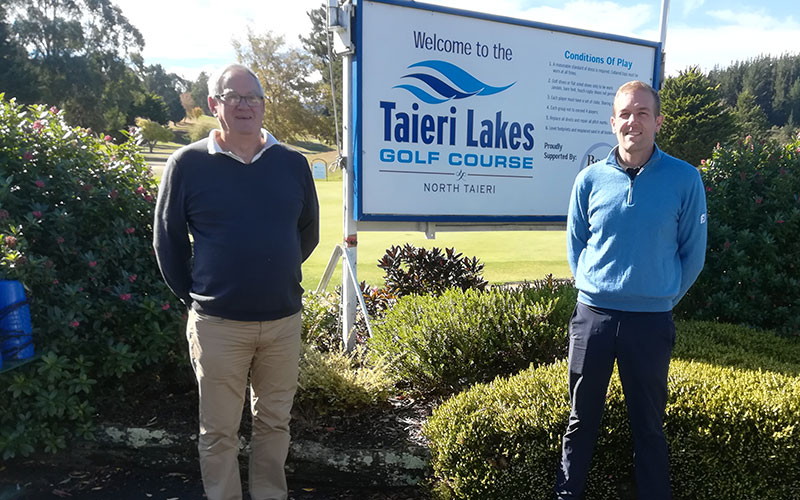 2021 has been a significant year and it has also seen a change in management. Paul Barlow has been General Manager for the last nine years, after previously spending 15 years as Manager at St Clair. Barlow who hails from Balclutha decided it was time to retire and play more golf. When he told us he looked at his replacement, PGA Professional Michael Ormandy and said, "I hope someone will teach me to play properly."
Ormandy, an Oamaruvian sees his new role as an exciting opportunity to grow his golf experience. He represented Otago as a junior and was the Otago Junior Golf Development Officer from 2015. He then enjoyed working with Shelley Duncan at the Otago Club as an assistant professional. He said about his new role, "There is potential for development here. I would like to grow the revenue of the club and membership. Mosgiel has a large and growing population so I would like to see the golf course activity as evidence of that. It will be important to work with Taieri College and the local community. There has been steady growth in the last two years and the current membership is 380."
It has certainly been a tale of grit and determination over the 101 years for the Taieri Club but it has been more than worthwhile and today it is in excellent hands as it looks to the post-Covid future.
Advertisement
Sign up to our NZ Golf Updates