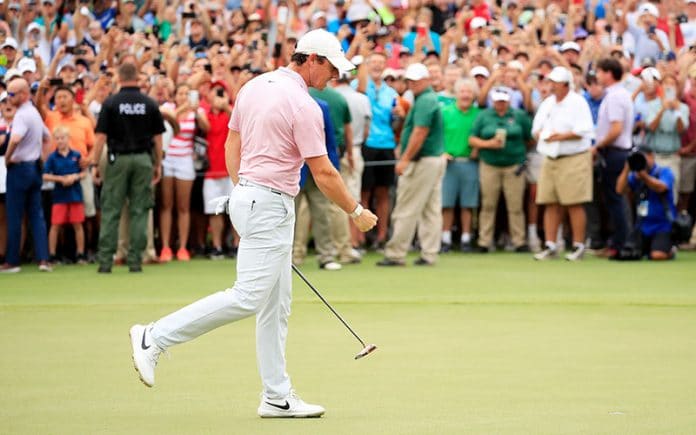 Phil Mickelson offered no grand predictions for Rory McIlroy's future that Sunday evening in 2010 at Quail Hollow Club. There were no prophecies of future FedExCup titles or major championships and certainly no claims that the next generation's premier golfer had officially arrived on the scene.
There were just the facts. Plain and simple.
"For him to win here on the PGA Tour before his 21st birthday, I just think sets his career off," Mickelson said, fresh off a victory of his own at the Masters Tournament. "He's obviously an impressive player. Everybody knows how great he is and sees some of these shots that you just look at in amazement."
Long before he would cement himself as the No. 1 player in the world, McIlroy was a pudgy-faced, curly-haired teenager still introducing himself to casual golf viewers. Though word had begun to spread about this prodigy and his miraculous exploits on the course, fans were still eager to see firsthand just how well he could hold up against the game's best.
Then came the Quail Hollow Championship.
May 2020 marked the 10-year anniversary of that day in Charlotte, N.C., where McIlroy cemented his status as the Tour's next budding star after beating Mickelson by four shots en route to his first Tour victory.
"I've still got a long way to go," McIlroy said afterwards. "I just want to concentrate on getting a few more wins and learn as much as I can at the majors."
"I'm looking forward to getting that next win," he added. "This has been a great day, and hopefully I'll look forward to a few more."
He's certainly added a few more since then. Seventeen on the PGA Tour alone, to be exact, which have thus far culminated in a pair of FedExCup titles and three Player of the Year Awards. All of those victories trace their origins to the Carolinas, nearly 6,000 kilometres away from his hometown of Holywood, Northern Ireland.
To be clear, McIlroy was no surprise champion that day. His first stateside victory was a matter of if, not when. His legendary prowess off the tee was well known by then, and the sport was eager to anoint its next star.
The hype reached a fever-pitch 15 months earlier, when he proved his professional mettle at the European Tour's Dubai Desert Classic, beating Justin Rose by one shot at the Emirates Golf Club. The 19-year-old rose to No. 14 in the Official World Golf Ranking afterward, which further helped ease the pain from stinging defeats at the European Masters and the Hong Kong Open, each coming in playoffs.
"Your success only makes you more motivated to do better," he said at the time. "I have become a very good player, but I still have a lot of years to progress, and I just want to keep improving and hopefully one day I will be able to compete with Tiger (Woods)."
But a landmark Tour victory was elusive, with lower-back issues plaguing McIlroy prior to his arrival at a tournament now known as the Wells Fargo Championship. He missed the cut in each of his two starts before that week and was looking for his first top-10 finish since mid-February at the World Golf Championships-Dell Technologies Match Play.
And none of that looked to change over the first two rounds at Quail Hollow. McIlroy opened with a Thursday 72, marred by a double-bogey at the par-4 16th. And his second round began with many of the same troubles, as he carded three bogeys over his first nine holes before posting two more, on Nos. 5 and 6.
He was two strokes over the cut line at that point with only three holes left to alter his fate.
And that's when the trajectory of the PGA Tour changed forever.
At the par-5 seventh hole, McIlroy stuck his 4-iron from 206 yards to six feet, setting him up for eagle. He played the final two holes even-par and made the cut on the number.
"The rest is history," he later said.
McIlroy decimated Quail Hollow after that, going 16-under on the weekend and posting the lowest score on both Saturday and Sunday. It began with a third-round 66, highlighted by six birdies in an eight-hole stretch, and continued Sunday with a course-record 62, where he went bogey-free.
He started the final round four strokes behind Billy Mayfair and ended up beating him by 10 shots.
The comeback started when McIlroy made the turn at 4-under. It would end with a back-nine 30 that saw him play the final five holes in 5-under.
He brought the crowd to its feet with an eagle at the 15th—where his approach shot settled three feet from the hole—then kept the momentum going at the next when his shot from the bunker landed inside five feet.
But none of that compared to his closing shot, a highlight that remains enshrined as one of the signature moments of his star-studded career. From 43 feet out, McIlroy sealed his dominant victory by rolling in a no-doubter for birdie. The crowd surrounding the green burst into a frenzy, and McIlroy responded with a rousing fist pump into the sky.
"I just got in the zone," said McIlroy, who became the first player since Woods to win a Tour event prior to his 21st birthday. "I saw my shots and just hit them, and I saw the line of my putts and they just went in. I don't think I've ever played a better round in my life."
Most know the story from there. More than U.S.$52 million in career earnings, the world's top ranking for 100 weeks, those four major championships and three World Golf Championships titles, the three Player of the Year Awards, the pair of FedExCup titles and, of course, that wild final-round triumph at the 2019 Players Championship. And, for good measure, another win at Quail Hollow in 2015.
But before the coveted wins at East Lake and TPC Sawgrass, before the epic Ryder Cup comeback or that surreal three-win summer of 2014, there was simply Quail Hollow.
Jim Nantz, calling the win for American network CBS Sports, summarized it best when the final putt rolled in. At the place where it all began, 10 years ago next month, Nantz both summed up the week that was and previewed the decade of dominance that was yet to come.
"Welcome to the big time, Rory McIlroy."
Advertisement
Sign up to our NZ Golf Updates