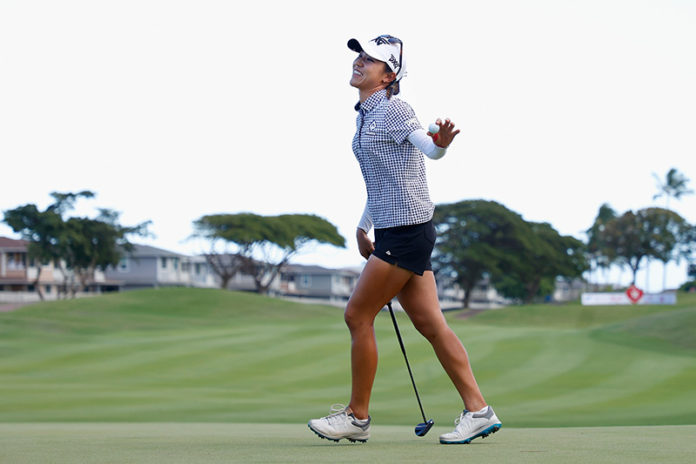 Lydia Ko has come under incredible scrutiny over the past three years and yet she has always been pleasant with the media, answers every question with as much detail and clarity as she can and has been known to handle defeat with the utmost class no different than when she was on top of the world.
Below is a transcript of part of her extended media conference following her victory in Hawaii.
Q. I REMEMBER HEARING YOU ON THE GREEN AND YOU SAID, I'M TRYING NOT TO CRY, I DON'T WANT TO CRY, I DON'T WANT TO CRY. HOW MUCH DOES THIS WIN IN HAWAII MEAN TO YOU?
LYDIA KO: It means a lot. I think there were times I think it was harder and sometimes when — it's not about other people's expectations, but when you put expectations on
yourself and you feel like you're not reaching it. And I think I was putting more pressure on myself and doubting myself, and I've been very fortunate to have a very supportive family and team and friends that have just built the confidence in me. Sean, I feel like gives me so much great wisdom and builds that confidence in myself where at times I didn't feel like I had it.
Just makes me grateful that I just have loving people around me that are just supporting me no matter what. I think it's more I was proving it to myself than to anybody else. And I know this feels great, but obviously playing next week, and I think it just says at the back of my mind. It takes away that doubt that I can do it. And when you stay patient and keep working on the right things, everything naturally follows.
Q. I KNOW ON THE GREEN THEY SAID LYDIA KO IS BACK, BUT WE'VE SEEN SOME IMPRESSIVE PLAY FROM YOU ALREADY IN 2021. AS YOU WERE GOING THROUGH TODAY AND YOU WERE MAKING BIRDIE AFTER BIRDIE AFTER BIRDIE, DID YOU REALIZE HOW YOU WERE INCHING CLOSER AND CLOSER TO HISTORY?
LYDIA KO: There aren't that many leaderboards from like 8 onwards so I didn't really see the leaderboard actually since No. 6.
So I was just trying to give myself good looks for birdies. I made a really good up and down on 4. I was just kind of making pars and making that good momentum birdie on 9. Then 10.Then 11.Then 12. It kind of builds that confidence. So I was just trying to play
the best golf I can at that moment and not think about what position I was going to be.
I saw that I had a six-shot lead when I was on 15 green, so that was kind of the first time I had seen it. On a golf course like this where someone has been shooting very low —
multiple players have been shooting low scores throughout the week, you just can't take anyone out of it.
I was quite a ways back a few week ago at ANA and put myself right into it, so I knew that could be the case today. So I said to myself, even seeing that I had a six-shot lead, You know what? You just got to focus and do a good job with each shot. You don't want to make careless mistakes. I think I played smart and felt like I focused until the last
putt dropped on the last hole.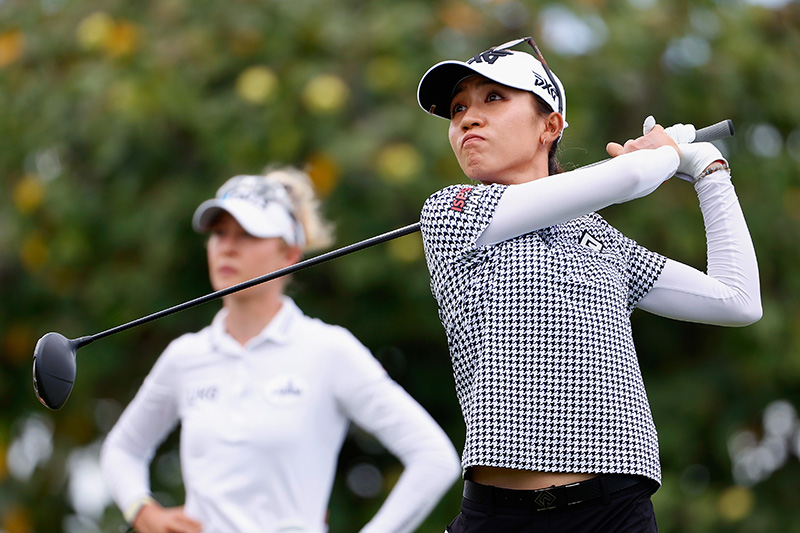 Q. AMAZING PERFORMANCE. MY FIRST ONE IS JUST HOW DOES THIS ONE FEEL DIFFERENT THAN ALL THE REST, SWEET 16?
LYDIA KO: I remember when I was Sweet 16. (Laughter.) Not so long ago actually. No, I don't — like it's really hard to compare one to another. I think every single win is so different. Obviously waited a little while from my last one in San Francisco to this one,
and I had waited a while for my 15th win at Mediheal as well.
So, yeah, definitely nice. I think this week I've just had such a good time going out, going on hikes, just enjoying Hawaii that you golf was kind of a natural thing. That was also the case on my 15th win, where my friend surprised me because it was my 21st birthday, and I just enjoyed spending time with him. San Francisco is obviously a place where I have a lot of special memories, so I was obviously focused on my golf, but just enjoying everything.
And I think sometimes you just — like because golf is such a huge factor in my life, that I just looked down one road. This week I've kind of had my blinds open and just enjoying
being here. I think that's almost helped me to be a little bit more relaxed, just accept what — if things go great, that's great. If not, I can't do much about it.
Q. IF I COULD JUST ASK ONE FOLLOW UP. HOW DOES YOUR GAME NOW — DOES ANYTHING FEEL LIKE IT DID WHEN YOU WERE 15 AGAIN?
LYDIA KO: I don't even remember when I was 15. I can't even remember what I had for dinner last night. Yeah, you know, I think this week I felt like I hit each shot, like my
drives or my putts, with confidence. I feel like when I'm hitting it with confidence and an
aggressive kind of mindset, that's when I hit it the best and play the best because it's more free and I'm controlling it less. I don't know why I did that better this week than others,
but I think I was being less tentative just sticking to my game plan. And if it was a tough driving hole, just hit it more aggressively. I felt it was — felt great hitting a really solid
drive down the last.
Yeah, so I guess things just clicked, and I don't mean like it clicked in a technical way, but I think it just clicked I think sometimes between the ears. I think just having my team kind of always remind me of my keys, key aspects have really been helpful for that.
Advertisement
Sign up to our NZ Golf Updates