Lydia Ko is set for another LPGA top ten finish after shooting a 4-under 66 on day three of the Pelican Women's Championship in Florida and is in 4th spot, seven shots behind runaway leader Sei Young Kim who shot a 6-under 64 including four birdies in a row on the back nine to lead by five.
Ko's round and final score of 4-under 66 are all the more exciting given she had a double-bogey six on the par-four 13th hole, otherwise, she could easily have been sharing second place with Ally McDonald.
Ko got back on track with birdies at 14, 17 and a lovely long putt for birdie on 18 that sets her up for a shot tomorrow.
"Yeah, overall I thought I played really solid," Ko said.
"I made a lot of really good up and downs my first few holes, so it was nice to — especially because that was probably the windiest part of the day — it was nice to be even, steady.
"You know, a little careless; maybe loss of focus on the double where I had few too many putts. Other than that, I feel like I putted really well and hit the ball really solid."
American Ally McDonald was right on Kim's tail after the 12th when she hit her first hole-in-one in tournament play but it seemed that was the catalyst for Kim to do what she does best and put a gap on the field.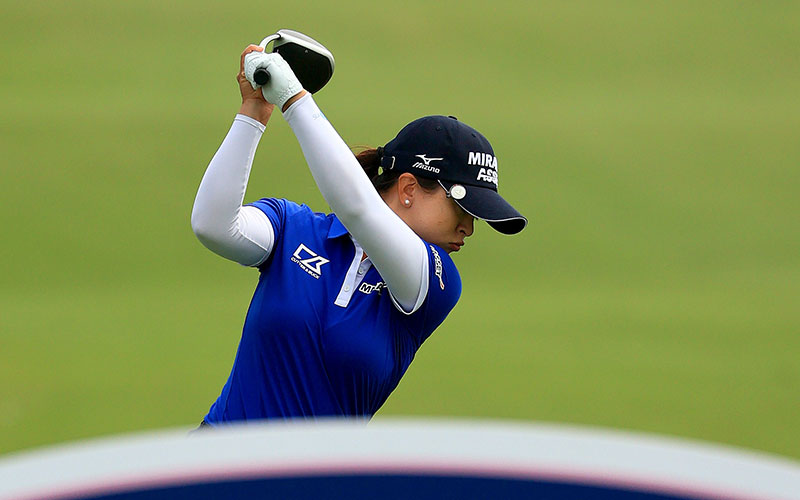 Brit Stephanie Meadow is in third place one shot behind McDonald and a shot in front of Ko.
Ko knows Kim's game only too well but also knows what it's like to be in her position going into a final day.
"I actually haven't played with her in a while. It's probably because I haven't put myself in these kinds of positions as often this past year or so," Ko explained.
"What she's done is super impressive. Her first major I guess was at KPMG, and when there is that kind of pressure I know what it feels like to be in that position, and the way she finished was absolutely incredible.
"So I'm sure right now all she's seeing are like good shots and putts going in, which is always a great mindset to be at. I think 2 was probably one of the toughest holes out there with or without wind. She hit I think a really good shot in there, and I was on the tee and I said to Les, that's why she's leading right now."
For Ko, tomorrow is shaping up to be her fifth top ten finish this year and a great test before the final major of the year, the US Open which is only two weeks away.
"I'm just going to go out there, play my game like I did today. This is a golf course that it really, depending on the wind, can make a huge difference around here and obviously with the way they set it up.
"So I just got to focus on me, try and shoot the best score I can, and if somehow I can catch her, or be in that kind of I guess reaching range, that would be cool."
Ko tees off in the second group of players of the Pelican Women's Championship at 5.04am NZT with coverage beginning on Sky Sport 8 at 7am.
Advertisement
Sign up to our NZ Golf Updates