James Anstiss has joined Jennian Homes Charles Tour overall leader Daniel Hillier on the top spot after two days of the Christies Floorings Mount Open.
Hillier has managed to have two 66 shot rounds to be on 12-under for the tournament, tied for first with Anstiss who had an 8-under round today which included 8 birdies and no bogeys.
Kit Bittle had 6-under par today to move to outright third place on 11-under three shots ahead of Tae Koh on 8-under.
Overnight leader Zachary May had even par for the day and is tied for 5th on 7-under while the other overnight leader Mark Hutson dropped 22 spots today with a 4-over par 76.
The two players that could take the overall tour title from Daniel Hillier, James Hydes and Luke Toomey both had better days today. Hydes finished with a 3-under 69 to be 5-under for the tournament while Toomey picked up four shots today but is still ten shots behind Hillier going into the weekend.
Both Hydes and Toomey need to win in order to steal the trophy away from Hillier, however he has the goal in mind of winning this week and winning the Jennian Homes Trophy in style.
Although he began his second round with some speed wobbles, he's happy with his second round which sent him up the top of the leaderboard.
"I had a three-putt on the first hole [seventh] and then managed to get myself into a bit more of a groove and capitalise on some chances and kept building a score throughout the round," Hillier said after the round.
"I've been pretty aggressive so far this week. I'm hitting a lot of drivers and hit some good ones today; I drove a couple of the par 4s and having two-putt birdies on those was a little bonus so I've just got to keep doing what I'm doing and hopefully the putts will drop and we'll make a couple more good numbers over the weekend."
He's played with Hydes over the opening two days and has managed to keep an eye on his good mate as he looks to spoil his party. Hydes needs to win and Hillier needs to finish lower than second for Hydes to capture the Jennian Homes Trophy.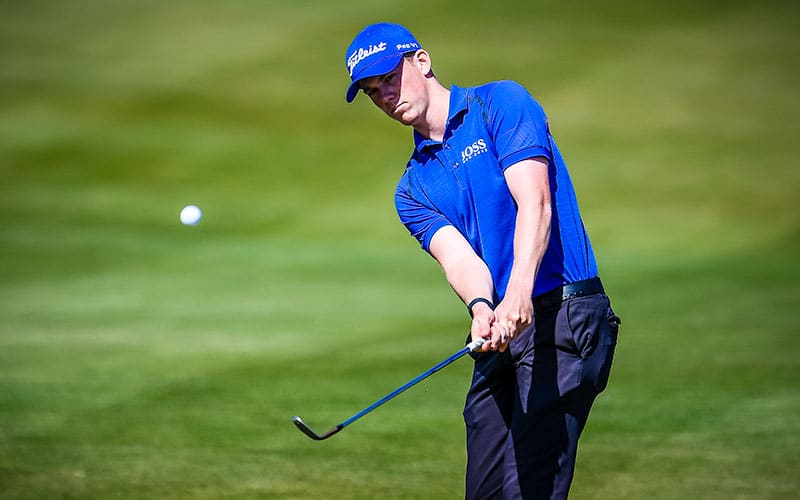 Hillier said if he's able to finish the event off in style, it will be a special year.
"It's special to be in contention for the Jennian Homes Trophy. I guess that shows that I've been playing really well the entire season and it's nice to get off to a good start here and I've just got to keep my head down and execute the game plan for the remainder of the tournament."
"Jimmy [Hydes] and I are good mates and it's always fun teeing it up alongside him. He's a phenomenal player and he could easily fire up over the weekend. I could see that he hasn't hit his straps quite yet but is still there or thereabouts so he could definitely go low over the weekend and keep me on my toes."
Joining him at the top is James Anstiss after a scintillating round of eight-under 64.
Anstiss, a former winner of the Jennian Homes Trophy, got off to a hot start in blustery conditions this afternoon. He birdied the opening two holes and made three on the trot from the fifth to the seventh and made the turn in five-under-par.
He added three more from the 13th to the 15th to cap off a stellar round in challenging conditions.
Anstiss said it's nice to see his name at the top of the leaderboard again.
"It's nice to be in contention again at one of these events and it puts me in a nice place for the weekend. I'm looking forward to it," Anstiss said.
"It was really windy this afternoon. I took advantage of the holes that were downwind as they were playing fairly short and managed myself well on the holes that were playing into the wind. I got out of position a few times but managed to scrape a few pars, it was fun."
Mt Maunganui Golf Club is a familiar stomping ground for Anstiss having spent a lot of time with his college teammate Bailey Smith who is a member.
He said he gets a few of the members bounces now, and hopes to get a few more over the weekend in his showdown with Hillier.
"I've hit driver everywhere. My good mate Bailey Smith used to live on the course, both his parents live on the course, so I've been up and played here quite a lot with them and other events like the Grant Clements Memorial held at this course.
"Dan's obviously in some pretty good form to be leading the Jennian Homes Trophy. It'll be a fun weekend playing with him and I think the forecast is for more wind."
View this post on Instagram
Leaderboard after Round Two
Advertisement
Sign up to our NZ Golf Updates