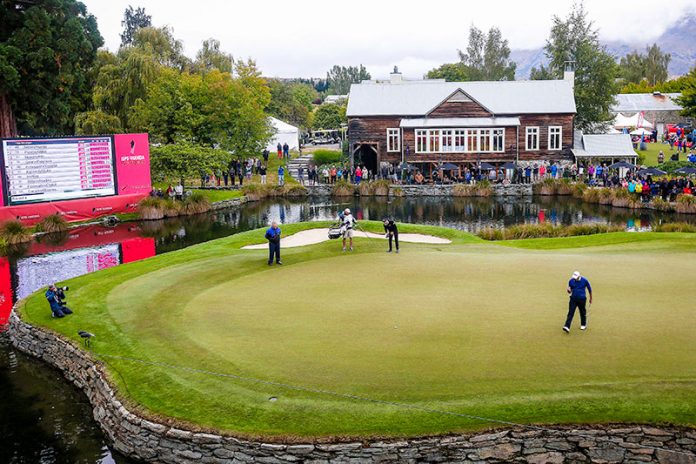 This March, the New Zealand Open will celebrate the 10th event being staged at The Hills near Arrowtown.
The Hills is closing in on the record as the course to host the New Zealand the most times – that currently sits with Paraparaumu Beach which has famously held the event 12 times from 1959 – 2002.
To mark the milestone of a decade in the sun, we look back on some of the memorable moments from the NZ Open in Queenstown in the third part of the series.
Advance Australia Fair
For five straight years, the New Zealand Open Trophy headed across the ditch to our Aussie neighbours.
In 2011 and 2012, amateur Jake Higginbottom and Brad Kennedy won in respective years at Clearwater in Christchurch. The tournament took a break in 2013 due to rescheduling but when it returned south in 2014 the Australian dominance resumed. It seemed like 'Groundhog Day'.
You could have written the headline before the event began: 'Young Australian makes a name for himself at NZ Open'.
Dimitrios Papadatos turned on a masterclass in 2014 to win by four shots for the biggest win of his young career – in the process denying Mark Brown who finished runner-up in back to back New Zealand Opens.
Jordan Zunic picked up where Dimi left off when he edged David Bransdon by a shot and Matthew Griffin, a more established tour professional, secured a significant win the following year.
2017- Hendry ends the Hoodoo
It had become a talking point that no New Zealand golfer wanted to talk about. Year after year, the media would ask 'Will we finally see the end of the NZ drought at our National Open?' It happened in 2017 and the man to get it done was Michael Hendry.
The North Harbour professional, a two-time NZ PGA Champion, became the first Kiwi name engraved into the Brodie Breeze Trophy since Mahal Pearce in 2003. It had been 14 years. Hendry's performance was class.
Everyone will remember the playoff where he made a par to beat fellow Kiwi Ben Campbell and 2011 champion Brad Kennedy on the par-three 18th at Millbrook, but it was on Saturday afternoon which was the defining moment.
He holed back-to-back eagles on the 16th and 17th at Millbrook to get in contention and when he had his chance, he finished it off.
Advertisement
Sign up to our NZ Golf Updates