Josh Geary has finished tied for second at the Kaskáda Golf Challenge in the Czech Republic after a 4-under par round of 67 which included an eagle, six birdies and four bogeys to leave him one place short of gaining an exemption into the 149th Open Championship.
Geary finished tied with Dimi Papadatos from Australia and Lorenzo Scalise from Italy on 15-under a shot back from the winner, German Marcel Schneider on 16-under.
It was Geary's best Challenge Tour result for the year and lined up with two second-placings in he had in 2019.
Marcel Schneider birdied the last three holes to secure a one-stroke victory at the Kaskáda Golf Challenge, and with it a coveted spot in The 149th Open Championship.
The German looked to have slipped out of contention after a double-bogey at the par-five 15th hole at Kaskáda Golf Resort, but he bounced back incredibly to post a four-under par round of 67 for a 16 under par total.
The 31-year-old, who finished second on the Road to Mallorca Rankings in 2020, was overjoyed at securing his second European Challenge Tour title in such stunning fashion.
"At the moment, it feels great," he said. "I have to say, with the way I finished, it feels even more special now. I'm super happy.
"I made birdie on 14 and then there was the par-five coming up so just hit a good drive it was right in the middle of the fairway, and from then on I don't know what happened.
"I hit a purely bad shot to the right and lost the ball, made double bogey and my thoughts were, before I saw the leaderboard, 'that's it, I've got no more chances to bring it back home'. Then I saw the leaderboard and I was just one shot back because Dimi birdied 15 so I knew there was a small chance of birdieing the last three. I tried to do it and I did."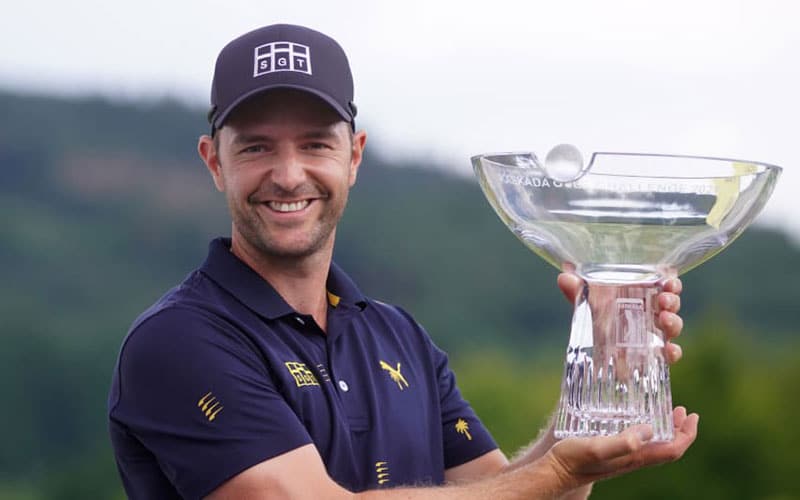 Schneider will now make his Major Championship debut at Royal St George's after securing the additional qualifying spot offered by The R&A for the leading non-exempt player at the Kaskáda Golf Challenge.
"I heard about The Open spot on Friday during the round, I hadn't thought about that before," he said. "It feels even more superb now.
"It means a lot. I've not had chance to play in it before and I will definitely enjoy it and I'm already looking forward to it."
Geary moves up 87 spots on the Challenge Tour Rankings into 34th place.
Other Kiwi's to play this week included Ryan Fox and Danny Lee who both missed the cut.
Advertisement
Sign up to our NZ Golf Updates