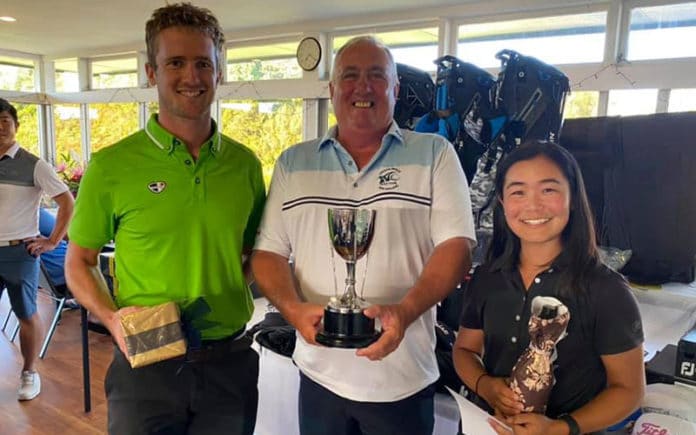 History was made at the Cardinal Logistics Whitford Park Pro-Am over the weekend with the first female winner since the introduction of the mixed field events.
The joint winners of the event were Momoka Kobori and Harry Bateman with Bateman starting the day with a 4-shot lead over Kobori.
Kobori started with a bogey but made three birdies she turned at 2-under while Bateman mixed in two birdies with two bogeys to turn at even par.
Neither knew where the other stood so it was a matter of play what was in front of you and try to get to the finish line first.
Unfortunately for Bateman, he stumbled, making bogeys on the 16th and 17th holes before a par on the last to sign for a 1-over 72 and an 8-under total across the two days.
Kobori on the other side of the course made a crucial birdie on the 8th hole (her 17th) and signed for a 3-under 68 and an 8-under total.
Dongwoo Kang, Tae Koh, and Kieran Muir all tied for third place with a total of 7-under. Koh had the round of the final day with a 6-under 65, while Kang and Muir shot 67 and 68 respectively.
Whitford Park once again turned on a stunner of a weekend for the players and with 29 pros shooting under par they didn't disappoint those that came out to support the event.
Pre-tournament drawcard Ryan Fox finished two shots back from the leaders on 6-under and Mike Hendry finished on 1-under par.
It was a brilliant start to the 2021 season with great support from Managing Director of Cardinal Logistics Tony Gorton. The next Pro-Am is on January 25 with the Guthrie Bowron 125th Birthday Hastings Pro-Am.
Thanks to NZ PGA.
Advertisement
Sign up to our NZ Golf Updates