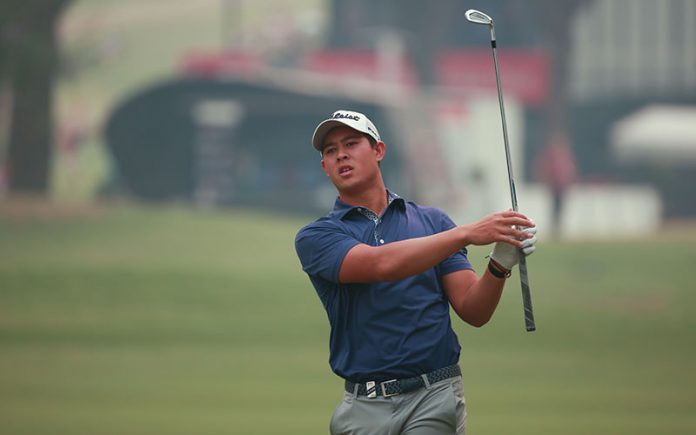 A quartet of Kiwis are tied at 2-under par after the first round of the Emirates Australian Open in Sydney.
Following a 6th placed finish at the NSW Open last week, Denzel Iremeia held outright second on the first day at The Australian Golf Club, before succumbing to a tough last few holes and dropping three shots to fall from 5 under to 2 under in four holes.
Locked with Iremeia on 2-under is James Anstiss who scored two birdies and a bogey on both back and front nines and Campbell Rawson who turned at the halfway mark at even before scoring three birdies in five holes to be tied for 21st place.
Late in the day, Fraser MacLachlan came home with a back-nine 2-under to join the other New Zealand boys in the clubhouse at 2-under.
It was a tough day for all players as New South Wales bushfire smoke moved into another gear almost smothering the city by lunchtime causing breathing difficulties for spectators and players alike.
Air pollution had reached such critical levels that breathing it is the equivalent of smoking an entire pack of cigarettes. The levels of life-threatening particles in the air was worse than those seen in Beijing, Tehran and Karachi.
The Bureau of Meteorology said heavy smoke billowing from bushfires surrounding Sydney would linger in the city basin until Saturday.
Leading Australasian Order of Merit Ryan Fox had a tough day, finishing even with the card after the first 18.
Two of the world's top amateur players Takumi Kanaya from Japan and Chun-An Yu from Taiwan finished with 65, two shots clear on 6-under.
Tournament favourites Louis Oosthuizen from South Africa had a good start on 3-under along with Brit Paul Casey and Australia's Cameron Smith.
Advertisement
Sign up to our NZ Golf Updates