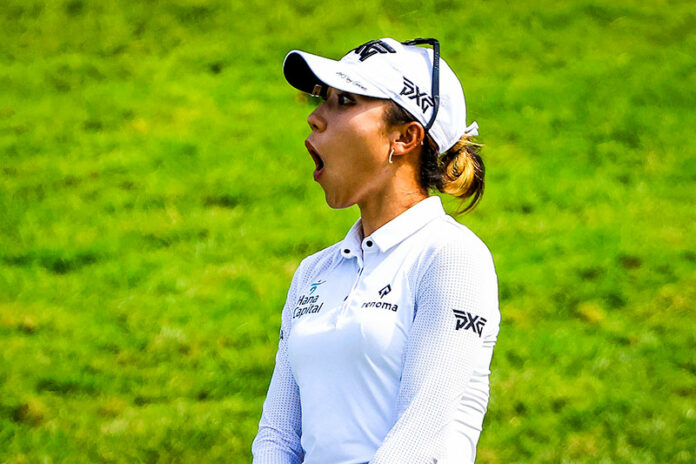 Team 'Sisters from another Mister", Lydia Ko and Danielle Kang are three shots back from the lead after the opening day of the Dow Great Lakes Bay Invitational teams event in Michigan, USA.
The 72-hole, stroke-play team event, played as a lead-up to the Evian Championship next week, was played in foursomes (alternate shot) on the opening day with Ko and Kang finishing with a 2-under round of 68.
The remarkable golfing sisters Nelly and Jessica Jorda are tied for the lead with three other teams on 5-under.
After the round, Ko was happy with their opening hit out which saw them shoot seven birdies.
"I knew how good Danielle's ball-striking is, and especially her iron shots, so I was, ok just hit it into a place where she has a shot and doesn't have to hit sideways or anything crazy," Ko explained what the plan was for the opening round.
"That was my plan and that makes it a little less stressful for me.
"I think almost when you're playing in this kind of format I'm taking a little longer because I want to do better for her and just for the team."
Kang was also complimentary of Ko's short game which helped them move into tied for tenth.
"It's easy to attack pins when I know she has the short game," Kang said of Ko's game.
"So it's easier to go at pins from short-sided places, and I know how her putting is. We just keep giving ourselves opportunities and like she said, we know each other so long everything was really casual.
"We hit some good shots. We hit some weird shots. We're just kind of going with the flow, sticking to the game plan, and keep playing the golf ball that's in front of us.
"This is the first time I probably showed up on the golf course on time. Warm up with a lot of time left, didn't want to be late.
"Everything was in order. I was super excited to come out to the golf course today because I'm not just playing for me, I'm playing for Lydia, and that's exciting for me."
The second round begins for Sisters from another Mister at 11.52pm Thursday night NZT with coverage beginning on Sky Sport 9 from 7am Friday morning.
Advertisement
Sign up to our NZ Golf Updates