After the best round of the day, Lydia Ko sits only 3 shots behind the lead going into the final day of the Scottish Open being played The Renaissance Club in North Berwick Scotland.
Spain's Azahara Munoz closed out a round of 2-under 69 with a 20-foot birdie putt at the 18th on Saturday and takes a one-stroke lead at -7 into Sunday's final round, one of only two players with three sub-par rounds for the tournament. Munoz is one shot ahead of Stacey Lewis on 6-under and Jennifer Song is a further shot back on 5-under.
Ko carded a 4-under par 67 to be tied for 4th place on 4-under with America's Cheyenne Knight and after a bogey-free round looks to have her game back together after her devastating final round last weekend.
"Almost having a tournament right after makes you focus on what's right there in front of you and I think maybe less think about what happened at Marathon[Last week's event]," Ko said after her third round.
"Obviously I would have loved to have had one more higher finish in the end. There's a lot about what happened to me on the last hole.
"But you have to talk about what amazing golf Danielle [Kang] played. I just think it really wasn't meant to be."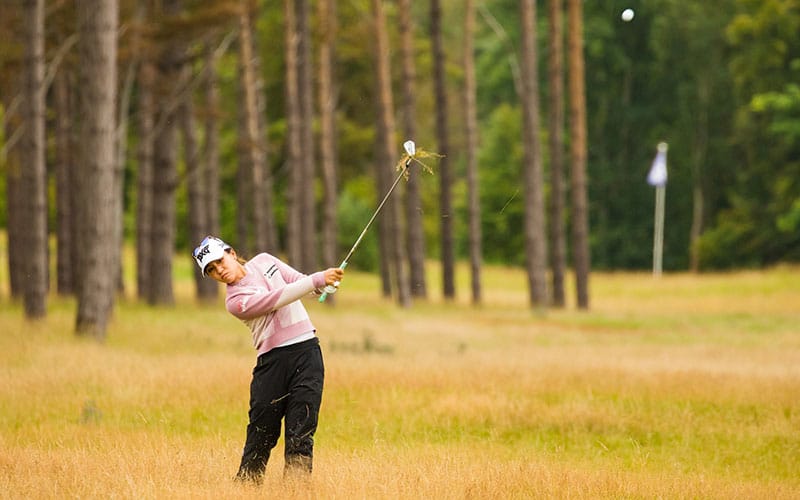 Sean Foley has taken over coaching duties of Ko with an emphasis on her remembering and channelling what made her great in her teenage years.
During this event Foley has again helped Ko work on the mental as well as physical components to her game.
"We had a long call yesterday," Ko explained after being asked about Foley's advice this weekend.
"He told me to write a certain word on my yardage book. A lot of times, we don't talk about too technical things and he's able to give me, talk to me about like his experience and obviously because he's been around so many players and coached for so long, it's just great to hear stories and his feedback and his philosophy on things.
"So yeah, I think he's definitely helped, not only just technically being better and being more solid but just kind of clearing some things inside here, too," Ko laughed as she pointed to between her ears.
The plan for Ko in the final round will be to manage the links course well and continue to be aggressive with every shot.
"I think course management is such a big key with links golf, and this is such a big lead-up going to Troon, even though they are two different style of golf courses," she said.
"I'm thinking the more times you're in the fairways and greens, the better the score, so hopefully I'm going to keep doing into that.
"I've said multiple times and it's something that I've talked with Sean is hitting every shot aggressive, and aggressive doesn't mean I'm going to every pin position or every target.
"It's more that I'm aggressively hitting the shot that I'm committing to. I think that's going to be a big key for me not only tomorrow, but my whole career, and it's something I'm working to get better at."
Ko's final round gets underway at 9.18pm Sunday night New Zealand time with coverage on Sky Sport commencing at 11pm.
Advertisement
Sign up to our NZ Golf Updates