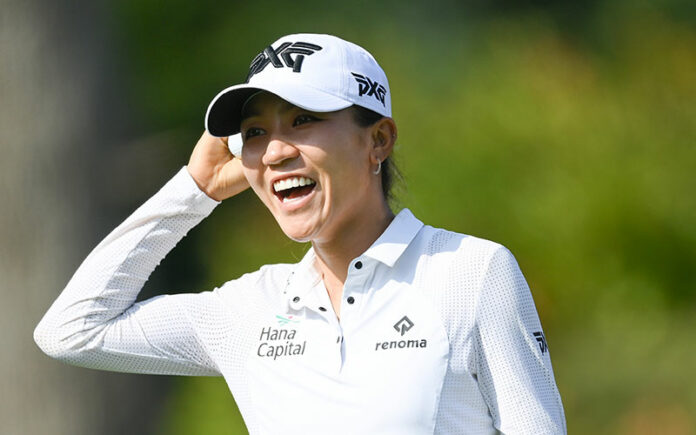 2015 Evian champion Lydia Ko is in outright third position at 12-under at the Amundi Evian Championship, six strokes shy of Jeongeun Lee6's lead after a bogey-free 68 in the third round.
Ko is enjoying a resurgent season that saw her first victory since 2018 at May's LOTTE Championship but Ko last hoisted a major trophy when she made the leap into Poppie's Pond at the 2016 ANA Inspiration.
In her 2015 Evian win, she shot a final-round 63 that she called "one of the best" rounds of her career.
She knows she'll need to replicate that magic if she hopes to again etch her name on the Amundi Evian Championship trophy.
"With golf, you just never know. It's never the end until the glove comes off and the final putt drops in on the last," said Ko.
"I just got to stick to my gameplan and see. There is so many big names, a lot of players playing well, so I think I have to focus on me and go from there."
While Ko's third round wasn't as good as her second, her three birdies allowed her to to put a gap between herself and those tied for 4th, Minjee Lee, Ayaka Furue and Pajaree Anannarukarn.
"I felt like I played really solid. Missed couple short ones, but — I put really good strokes on it but I just misread them.
"So all I can do is be committed and hit good shots and kind of go from there. I've got to focus on my game and hope for nice sunny weather tomorrow and see where that puts me at the end of the day."
View this post on Instagram
Lee6 followed up Friday's historic round of 61 with a solid 3-under 68 on Saturday, extending her lead to five strokes over American Yealimi Noh at -13. She carded four birdies and three bogeys, as well as a hole-out for eagle from the fairway at No. 11. While the round didn't have quite the same spark as yesterday, it was no less fulfilling and important for the 25-year-old Korean.
"I'm satisfied with my result today because some shot a little bit big miss, but I did up and down well," said Lee6, whose previous best finish at Evian is a tie for sixth in 2018. "Yeah, it was great."
Lee6, who earned her first and only LPGA Tour victory at the 2018 U.S. Women's Open, is firmly in position to join her countrywomen Se Ri Pak and In Gee Chun as the only two players in Tour history to win majors as their first two titles.
"I'm waiting so much (for my) second win, but this tournament is even the major tournament," said Lee6. "If I win, I'll be very happy. Huge honour."
The final group including Ko will tee off at 9.50pm NZT Sunday and will be broadcast live on Sky Sport 1 from 9.30pm.
Advertisement
Sign up to our NZ Golf Updates