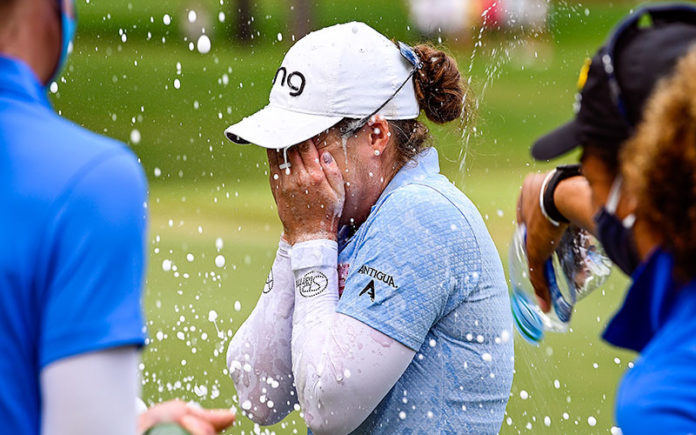 Ally McDonald, on her 28th birthday, headed off the 18th green after the final round to champagne showers from friends and family after becoming a first-time winner on the LPGA Tour, while 15-time tour winner Kiwi Lydia Ko managed to tie for 8th on 10-under, in her third top ten finish since the start of August.
Ko started the Drive On Championship final round in a tumultuous way with two birdies and two bogeys in the first four holes before settling down on the front nine with pars.
The back nine saw Ko pick up three more birdies to jump into the top ten, six shots behind the leader.
For the four-year tour player, McDonald said she was proud of the resiliency she showed through the final holes to win by one stroke over five-time LPGA Tour winner Danielle Kang at Reynolds Lake Oconee.
"I've never doubted my ability, but I've definitely questioned whether I would be able to win out here. It's really hard to win out here," said McDonald.
"So I've just really hung in there and tried to stick to my process since day one. That was able to get me in the winner's circle today. I'm really thankful."
McDonald started the day alongside rookie Bianca Pagdanganan and Kang in the final grouping, with Kang carding the first birdie of the group at No. 2 to gain a stroke on the leader.
McDonald answered with a birdie of her own at No. 4, to which she credits as the momentum-starter for her day.
The Mississippi State alum would then par the rest of her front nine, as Kang bogeyed No. 5 and birdied No. 4 to make the turn two shots back.
McDonald would then stick it to 15 feet on the par-4 10th to make her first of three consecutive birdies through No. 12, despite not feeling too confident on the approach shot on No. 11.
"I didn't hit that great of a shot on 11. I feel like I executed my game plan, but we didn't carry it far enough for it to take that slope down," said McDonald.
"That was definitely not a putt that I was looking to make. It was just one that I was trying to nestle down to the hole but executed great speed, great line, and just so happened to go in."
Kang would inch back into the picture with birdies on No. 11, 13 and 14 to get to 15-under heading into No. 15, one back of McDonald at 16-under. But a bogey at No. 15 set her back as McDonald's nine-foot birdie putt dropped on No. 16.
Though she bogeyed the next at No. 17, McDonald said she never lost touch with her initial game plan, and knew she had to finish strong by taking it "one shot at a time."
"I didn't really panic just because I knew — I thought I hit a really good putt on my first putt. Just carried a little bit too much speed and kind of power lipped out," said McDonald.
"Yeah, like I said, I didn't really know where I stood, but I thought I might have had a couple clear. So I just went back to my game plan with executing my routine."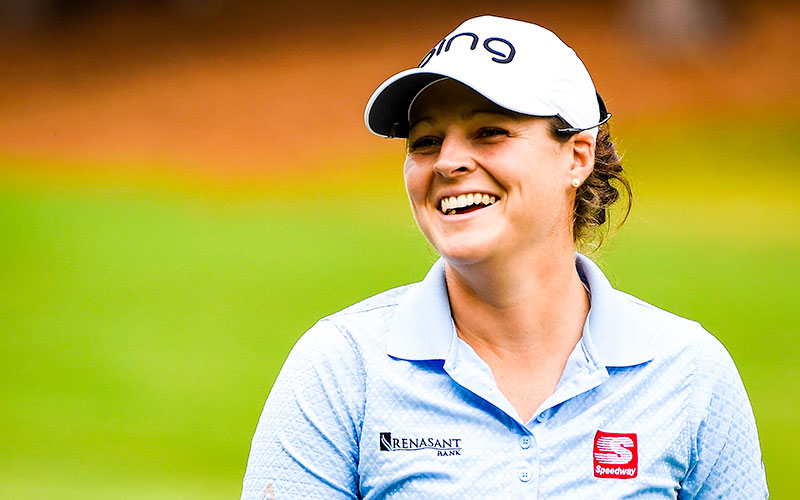 It came down to the 18th hole, as Kang's eagle chance almost landed in the hole, went out three feet and spun back, barely missing the cup as it grazed the lip.
Kang ultimately putted for birdie, finishing in solo second at 15-under. After her par putt dropped, McDonald, emotions aflutter, felt relieved.
"It's very fulfilling for me to finally get that victory. I won't say over the hump or anything like that because it's really hard to win out here," said McDonald.
"I'm just going to continue working really hard and try to even get No. 2 after this one. But I'll definitely soak this in. I'm just really grateful and blessed that I play on the LPGA Tour and am able to do what I love to do every single day."
Pagdanganan, in the first final grouping of her young Tour career, parred the first 16 holes as the battle between McDonald and Kang raged on, closing with two birdies on her the final holes to finish 14-under in solo third.
After a final-round 67, Mina Harigae ended in a tie for fourth, her second top-10 result in the last three events, with Carlota Ciganda, at 13-under.
"I feel great. I was hitting it really well this week, my driver especially. I think I only missed a couple fairways all week," said Harigae, who only missed two fairways this week in Greensboro.
"I wish I made a little more putts on the first day, but they came together the rest of the time. It's been great."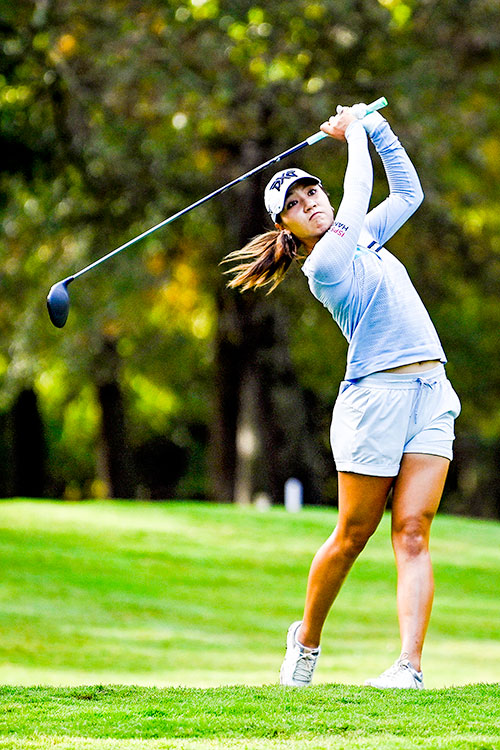 Ariya Jutanguarn and Katherine Kirk recorded their best results of the season with a tie for sixth at 11-under, as last week's Symetra Tour champion Matilda Castren, 15-time LPGA Tour winner Lydia Ko and Brittany Altomare rounded out the top 10 in a tie for eighth at 10-under.
Advertisement
Sign up to our NZ Golf Updates