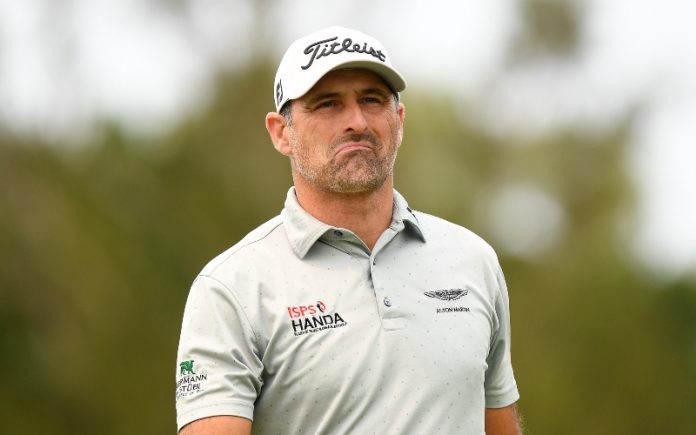 Battling a rib injury he worried would prevent him from even teeing off in the final round, New Zealander Michael Hendry stormed into the lead of the Australian PGA Championships at Royal Pines on the Gold Coast on Sunday before a late steadier from Adam Scott snatched victory for the Australian.
Hendry, 40, playing with a recurring rib injury, took the outright lead when he birdied the par-5 ninth and again separated himself from Scott and Nick Flanagan when he moved to 12-under at the 10th hole.
Near misses at 11 and 13 kept the chasing pack close behind and when a flared tee shot at 15 led to just a par, Hendry's momentum momentarily stalled.
On the back of a birdie at 14 and with a career record of playing the 15th hole in 17-under par in 17 visits, Scott seized the initiative when he lasered a 5-iron from 215 yards to 10 feet, the successful eagle putt moving him to 14-under and a two-shot advantage.
Even a bogey at the 72nd hole did nothing to close the ultimate margin of victory as Scott clinched the Joe Kirkwood Cup for a second time and his 30th win worldwide, a win he was beginning to wonder might never come again.
Despite dropped shots at 17 and 18 Hendry held on to finish outright second at 11-under par with 2017 Australian Open winner Cameron Davis, China's Yuan Yechun, Ormsby, Flanagan and Min Woo Lee all locked together in a tie for third at 10-under par.
Speaking after the round, Hendry explained that his injury flared up in the warm-up and would have been happy to just make it through the 18 holes of the final round let alone finish with a 3-under par.
"The warm‑up was terrible," Hendry said. "I honestly thought I wasn't going to get through the round. So quite honestly, my goal today was just get through 18 holes and finish the event regardless of what the score was. Lo and behold, I hit it really well.
"It was painful all day and I just kept trying to basically man up and hit the shot.
"Maybe that was the thing that I needed to take my attention away from what was happening on the golf course. It was more about trying to make good swings under a little bit of pain, and I made a lot of good swings."
Hendry's dropped shot on 17 was tough given he had played so well for the day up until that point where his shot just clipped the top of the trees.
"Yeah, that's always a risk [hitting over the trees] because that big tree always comes into play. You've just got to try and skim it basically, otherwise you end up over the back.
"I just tried to hit the shot and I did, just flicked the top of the tree."
Former New Zealand Open winner, Michael Hendry has been in tournament winning positions before but today was different.
"I've never been in the situation physically and been in contention at the same time as today, it was an odd one for me today. I kind of ‑‑ like I say, anything above and beyond 72 holes to me was a bonus today, and to go out and shoot 69 in pretty tricky conditions, just to get through was great.
"I look at leaderboards, I know what's going on. If you want to win tournaments, I think you've got to know when you've got to push the button to attack and when you can be defensive. So I was very aware as to what was going on.
"I'm pretty happy with the way I played considering physically what was going on. It's a shame that I didn't end up winning, but when you're not 100 per cent and you're trying to chase down one of the best players in the world, you're up against it."
Scott, Hendry and Wade Ormsby (T3) were the only players to complete all four rounds under par.
Beginning the final round with a one-shot buffer and world ranking position stacked heavily in his favour, Scott flexed his muscle early with a kick-in birdie at the opening hole but took a further 14 holes before delivering the knockout blow.
Throughout the week Scott alluded to the need to break his winless streak in order to build towards an attempt at a second green jacket at The Masters in April, sharing the spoils of victory with his two children an added bonus.
"That will be fun for my daughter because she's asked all year for a trophy, so I've not been able to deliver," Scott said of his early Christmas present.
"So that will be fun for me tonight, see if that makes her happy.
"It's big for the confidence. I've seen what it's done for me in the past; a win, you feel like you're just never going to lose again, so you want to run with that while the confidence is up."
Fellow Kiwi Denzel Ieremia continues his great recent form with a 4-under final round to end up tied for 10th on 7-under.
Josh Geary and Ryan Fox were next best Kiwis on 3-under and then Daniel Hillier, Harry Bateman and Blake Windred on 1-under for the tournament.
Advertisement
Sign up to our NZ Golf Updates