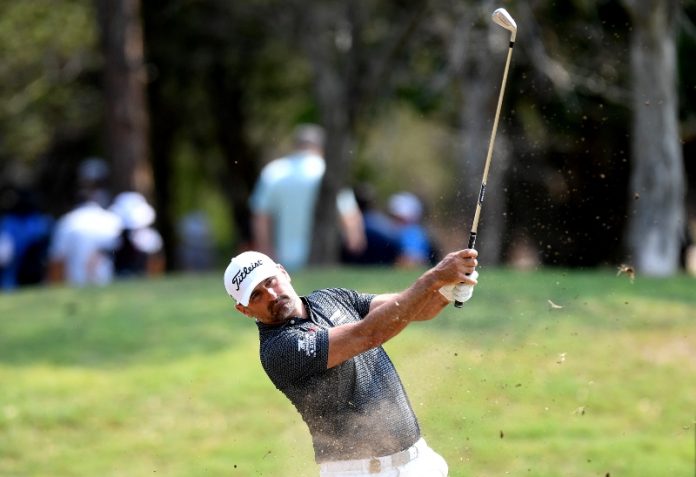 Michael Hendry has overcome a rib injury and serious discomfort to shoot a 2-under 70 and be only 2 shots behind leader Adam Scott going into the final round of the Australian PGA at Royal Pines on the Gold Coast.
The 40-year-old Hendry shot the lights out on the front nine on Saturday grabbing three birdies and the share of the lead heading into the back nine, it was there he suffered some discomfort.
"I've got some type of rib injury," Hendry said following his round.
"We're not entirely sure what it is yet. It's been a little bit stiff most of the week, but it really flared up today and it was pretty difficult coming down the back nine.
"But we got through today and hopefully the physio boys will be able to fix me up to the point I'll be able to get through tomorrow."
Hendry sits on 8-under, with Scott on 10-under, Wade Ormsby is on 9-under and then three other players share 8-under with Hendry, Nick Flanagan, Min Woo Lee and Yuan Carl Yechun.
"I'm pretty happy with my round today," Hendry continued.
"It was pretty solid for the most part and playing under a little bit of an injury cloud, it's ‑‑ 2 under when you're not feeling 100 per cent in some pretty tricky conditions, still in with a chance if I can get myself on the course tomorrow.
"I have little niggles, I'm 40 years old now, I'm no spring chicken so these little things sort of flare up every now and then, but this one's something completely new.
"So I assume it's just something random and hopefully if we get on top of it, it won't be an issue again."
Five shots back from Hendry is Kiwi whiz-kid Denzel Ieremia who shot a 3-under 69 and could still be in the running tomorrow for a minor placing.
Behind him Ryan Fox hit a 92 to remain at 3-under, Josh Geary is at 1-under and Harry Bateman is also at 1-under after a 3-over 75 today.
Adam Scott's 3-under par round helped him grab the outright lead and he hopes to keep the momentum going into the final round.
"I've tried really hard to keep my intensity up after last week, and my focus on the course," Scott said.
"I've had a couple moments where I've wavered, but I've managed to pull it back together.
"Yeah, it would be nice to cap off this year with a win here at home because I know what the confidence of that can do going into next year and just kind of make things a little more comfortable running into the Masters time."
Advertisement
Sign up to our NZ Golf Updates