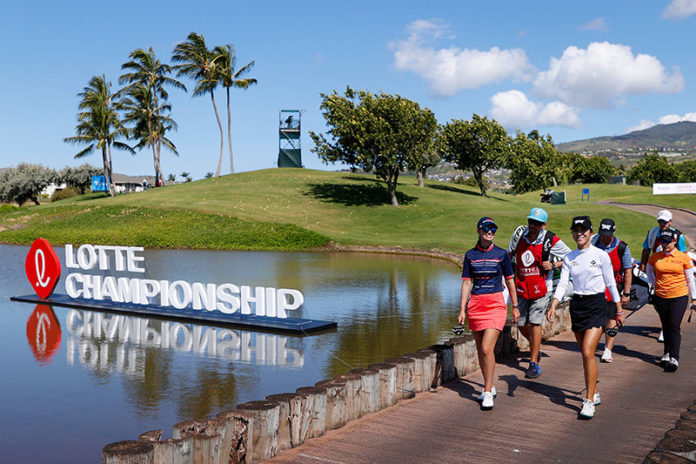 The momentum that allowed Lydia Ko to storm through the field at the ANA Inspiration has boosted Ko to produce two strong rounds to be only two shots behind the leader after day two of the Lotte Championship in Hawaii.
After a 67 in the opening round, Ko unleashed with nine birdies and no dropped shots on the way to a 9-under 63.
Ko is two shots behind Yuka Saso who has two rounds of 64 and then she is three shots ahead of a bunch of players including Road to CME leader Nelly Korda on 11-under.
"Between yesterday and today I feel like my game has been pretty solid," Ko said after her round.
"So hopefully stick to my game plan and just keep hitting it confidently and with commitment and see where it takes me for the rest of the two days.
"I started off well birdieing my first two holes, and then I think I just continuously gave myself opportunities. Especially around a golf course like this, the more times you're putting for birdie or having chances to putt for birdie the better.
"Because especially when the winds come, I think it's a course where some players can go really low. So feel like I was able to do a pretty good job at that, and nice finishing off with a birdie on the last."
Ko's move up the rankings, 25 places in four months, has been attributed to Ko's change in mindset and also her coach Sean Foley.
"I think Sean has obviously helped a lot in the technical aspect, but he's been super helpful for me for a lot of things that goes on between the ears. He has been there to slap me out of it if I'm not thinking right or overcomplicating it. He's kept it really simple for me.
"I think he's just somebody that has built up a lot of confidence, and I think at the end of the day the confidence and belief in yourself is the 15th club in the bag and almost the most important club.
"I think when that's where you are able to play with a bit more freedom, and he's really helped me with that. We're continuously going to work on the same things. I know some days it's not going to be good, but as long as I know and have a better understanding of my game, I think it just makes it a lot more simple."
Could this be the tournament that gets Ko that elusive LPGA victory?
"I checked out the weather forecast and it's going to be pretty similar the next couple days to the first two days. I know the leaders from yesterday have tee'd off or are just going out now, so I don't know where I'm going to stand at the end of the day.
"But I think especially around a golf course where there are some low scores you just have to focus on your game and do the best with what you have in front of you. Sometimes when you're trying to chase down birdies and just like compete against everybody else it just makes it more complicated.
"For me, just hitting each shot the best I can and give myself good looks for birdies and see what happens after two more days of golf."
Ko tees off at 10am NZT on Saturday and coverage begins on Sky Sport 6 at 11am.
Advertisement
Sign up to our NZ Golf Updates