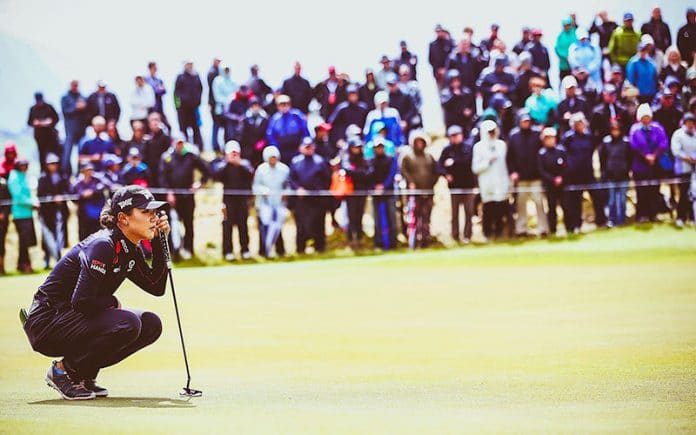 We have just enjoyed a very successful 2020 NZ Men's Golf Open, but many people are now questioning why there is no Women's Open.
The Women's event was staged in Christchurch at Pegasus in 2009 and subsequently at Clearwater, before all the fanfare of an LPGA event at Windross Farm in 2017 on the coattails of the success of Lydia Ko.
That was it. No more. It was like the ferocious winds and rain on the final day blew it into oblivion.
After the final round of the NZ Men's Open at Millbrook, I spoke to golf legend, Sir Bob Charles.
Commenting on the men's event he said, "This is a great Open extremely well presented. While it has been very successful for the men I think we are not doing enough for Women's golf in New Zealand," Sir Bob Charles said.
"It has been three years since we had a ladies Open and I think somehow we have got to get it back on the golfing calendar. I have been speaking to a few people including NZ Golf and I think everybody is right behind me. But it is a matter of how we get it off the ground.
"I'm not quite sure but I would like to see it start as a modest $50,000 event like the Charles Tour events just to get the women's event going again.
"When you look at the Australian Open tennis where women get equal prizemoney with the men it makes you wonder what are we doing for women's golf here in New Zealand. That is my big issue."
Queenstown professional Laura Hoskin agrees with the thought of a modest beginning.
"If you put on a $50,000 tournament players will come from Australia and maybe even Europe," Hoskin said.
She makes a very good point as the 2019 NZPWG Women's Pro-Am in memory of Anita Boon had a prize purse of $40,000 and attracted a field including 28 Professionals from New Zealand, Australia, Scotland and the Cook Islands.
2019 was its 11th year and NZPWG Board Member Kristin Farrell said, "It is special for all involved and is a much-loved event by the professionals and amateurs who play each year. Anita would be proud to see the many opportunities it creates for young players."
Karen Lunn the ALPG Tour CEO also speaks volumes of the event, its longevity and value for New Zealand's future golfing stars.
"Most players will view a National Open title as great on their resume. We only have to ask Ryan Fox."
Charles asked whether it could be run at the same time as the Men's Open in Arrowtown?
"There are many options. It would be great to have a festival of golf here for maybe two weeks," Charles said.
"It is a great time of the year. The Victorian Open was a very successful event with the men and women playing side by side. Something like that would be fantastic and would give ladies golf in this country a shot in the arm.
"It has to be there every year, yes better to start small and build it up. If there is no Women's Open there is nothing for the young women to aspire to and if there is no event there is nothing to build on. I also think we have to get the PGA for men back off the ground."
So what is required for it to happen?
I asked NZ Golf CEO, Dean Murphy. He said, "We would like to get the Women's Open up and running again but funding is the big issue."
Director of Golf at the Otago Golf Club and one of New Zealand's leading coaches Shelley Duncan is quite specific.
"I would love to see it happen but it must be viable and sustainable financially."
I also spoke to Arrowtown Golf Club Manager Micah Dickinson who thought it would be possible to run a Charles tour type event there and it would likely be a subject for discussion by the Management Committee if the possibility arose.
The bottom line is firstly the will to make it happen. Then proactive networking to attract sponsors and a Pro-Am format would help with funds.
So do we have a sponsor out there willing to put their name on New Zealand's elite women's event? Maybe NZ Golf can find a way to channel some funds to assist the process.
Bob Charles has the final word.
"I wish I could pull a few more strings, but we have got people talking about it anyway and that's important as is finding the money."
Advertisement
Sign up to our NZ Golf Updates