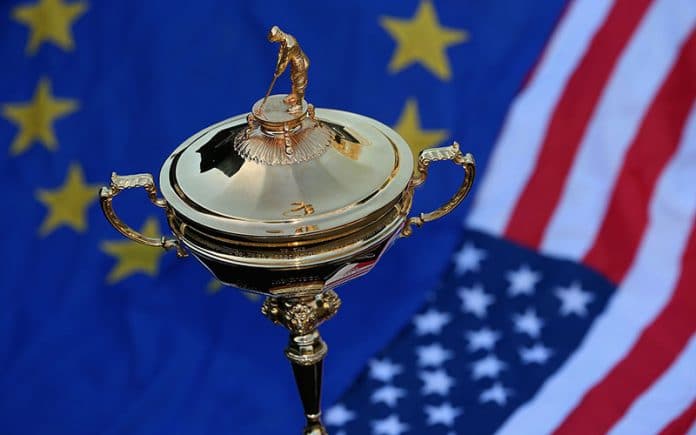 Todays golfing fast and fascinating facts. Who leads the Ryder Cup rankings and how many aces have been recorded?
Getting Straight to the Point
Due primarily to its dominance in the early years of the Ryder Cup, the USA leads not only it terms of the number of times it has won the tiny gold cup donated by Samuel Ryder, but also the total number of points it has amassed in the 42 editions of the biennial transatlantic competition.
Since its inception, of the 42 Ryder Cup competitions staged to date, the USA has prevailed on the majority of occasions, 26 times in fact, compared to the opposition (Great Britain / Great Britain & Ireland / Europe) with 14 victories, with two matches tied, meaning each team, (Europe in 1989) and USA (1969) retained the trophy under the rules of the competition.
Drilling down into those basic facts, 984 individual matches have been played in the 42 Ryder Cups to date; of those the United States has won 475, Europe (including Great Britain and Ireland) has won 375 with 134 matches ending all-square.
As such, the USA has accumulated a total of 542 points to Europe's 442.
Team Europe's most consistent and successful partnership in the history of the Ryder Cup was the iconic all-Spanish duo of Seve Ballesteros & José María Olazábal, which amassed 12 points out of a possible 15 ties played together, whilst the USA equivalent, much more recent, is the pairing of Patrick Reed and Jordan Spieth, with five points out of a possible seven.
The Joy of Six
Quite remarkably, between the first-ever tee-shot struck in the long and colourful history of the Ryder Cup – 93-years and 984 matched played to date – there have only been six holes-in-one, with not a single 'Ace' recorded in the first 47-years between 1927 – 1973.
Indeed, it was not until the 19th edition of the biennial events – staged at Muirfield in Scotland in 1973- that the first Ryder Cup 'Ace' was recorded, that Englishman Peter Butler, who holed his 188-yards tee shot on the Par-3 16th hole, using a three-iron. But it did GB&I little good, losing out 13-19 to a star-studded USA including Arnold Palmer, Jack Nicklaus, Lee Trevino and Tom Weiskopf.
It was to be a further 20-years before the next Ryder Cup hole-on-one and again on the eastern side of the Atlantic Ocean, this time Nick Faldo who holed-out during a vital singles match against arch-rival Paul Azinger, before, two-years-later, two Europeans carded a hole-in-one, Italian Constantino Rocca and Clive Clark at the same Ryder Cup, Oak Hill, to this day, the only Ryder Cup holes-in-one even witnessed on US soil.
Advertisement
Sign up to our NZ Golf Updates