He has played 84 tests for the All Blacks since his debut in 2009 as well as starring for the Highlanders. He is back home in New Zealand after the Coronavirus cut short his final year at French club Pau and while he is planning on supporting the Highlanders in the new Super Rugby Aotearoa competition we managed to have a Quick Round with Ben Smith.

How old were you when you started playing golf and who got you started?
I must have been around six or seven and my dad and I would whack some balls up and down the rugby field. Once I got a little older and better we would head out to Island Park Golf Club which is a great 9-hole course not far from where we lived.

Where did you start playing golf?
I started to get more into golf as part of being on a rugby team, whether it was the Highlanders or All Blacks while playing on tour. Like many of the guys, I looked forward to our Wednesdays off where we could get out and play. It was always entertaining to see who would shout lunch plus also keeping an eye on players who used the foot wedge.
Thanks to the corporate partnership that The Highlanders have with the Otago Golf Club (Balmacewan), I had a membership. I loved it so much that we bought a house on the 8th hole a couple of years ago.

What is the lowest handicap you have ever played off?
I don't really have a handicap. I'm basically an average golfer who just loves the game. I guess a good score for me is breaking 90.

What is your lowest round score and where were you playing?
My lowest round was probably shooting 85 at "Balmac". Now that I have some time off from playing rugby, I look forward to putting some more time into my game!

How many 'hole-in-one's' have you had?
I am still trying to tick that box. I'll let you know as soon as I hit that perfect shot!

How far do you hit your 7-iron?
I can usually make 140m with my 7-iron.

What is the best part of your game?
Well, I would say that that depends on the day. Last Saturday, for instance, my chipping, especially with my sand wedge, was really good and saved me a few shots.

What is your biggest fear on the golf course?
My biggest worry is hitting someone with my tee shot. I'm not the most consistent golfer and I do have a wayward drive at times. I would hate to get to my drive and discover my wayward ball has struck someone!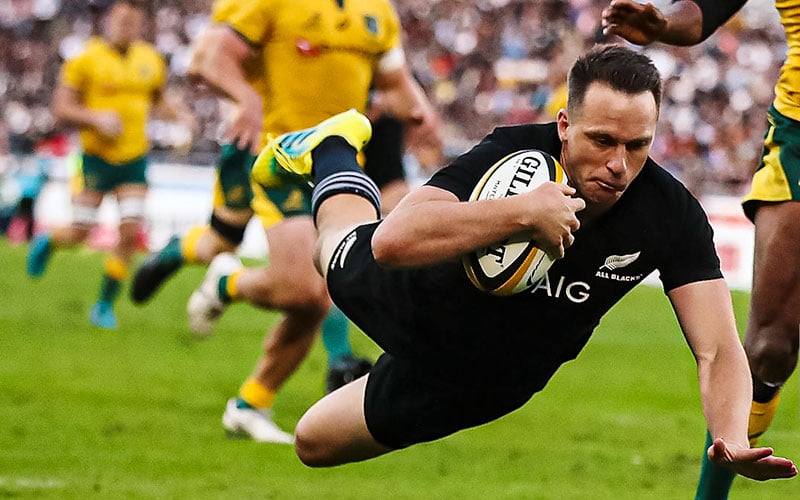 What is the best part about living next to a golf course?
The ease of just getting out in the late summer evening and playing a few holes. I can put the kids down to bed and head out for an hour or so. 'Balmac' is such a lovely setting and the loop of the three holes by my house is great to play.

What is your biggest frustration (pet peeve) when playing golf?
For me, it's having someone talking or making random noise when you are just about to take your shot.

What do you most love about playing golf?
The best thing is getting out and playing with my mates. The banter, the stick and just getting out there. Everything slows down and it allows me to get away from everything.

What is your most memorable moment in golf?
One Wednesday, I was on tour with the All Blacks and I got out to play golf in Argentina. I had a good day and Izzy (Israel Dagg) had an off day and I beat him. He loves his golf as we all know, so for him to be beaten by some average golfer like me was priceless! I loved it!

What is your favourite golf course?
I have been fortunate to play some great courses around the world, especially in South Africa. However, Balmacewan is still my favourite place to play!

Who is the most famous person or best golfer you have ever played with?
I can't really think of anyone famous but Moxie (Michael Smith, former Otago representative golfer) would be the best player I have teed it up with. He has just bought a house across the road so now he owes me lots of tips for talking him up!!

If you could pick any three people, alive or dead, to play in a four-ball with, who would they be? And do you have any particular reason for your choices?
I would choose Tiger Woods as my first pick. I just love watching him play; he's just a freak! Then I'd chose John Daly; he can sure "grip it and rip it"! It would be fun to see who would hit it further? Him or Tiger? And lastly, I'd pick Happy Gilmore – just because….and yes, I know he isn't real!! So of course, Happy Gilmore is my favourite golf movie.

Who would you get the most satisfaction out of beating on the golf course and why?
That's easy… "Nuggie" (aka Aaron Smith). He is such a tough competitor and he takes his golf really seriously. He talks non-stop so it is always great to get one over him! It's even better when he has to buy me lunch or some beers!

What is your favourite golf destination?
Playing golf in Queenstown is great. I love Jacks Point and the other courses there. Every golfer should be thinking of heading to Queenstown for their next golf trip!

What is your favourite thing to do away from the golf course?
Currently, I am pretty busy chasing kids around and spending time with my wife. Otherwise, it is just getting away to places like Wanaka, especially in the summer. I love being out on the water boating, fishing, water skiing etc.
---
See also, the Quick Round with Beauden Barrett here.
See also, the Quick Round with Israel Dagg here.
See also, the Quick Round with Ryan Fox here.
See also, the Quick Round with Denzel Ieremia here.
See also, the Quick Round with Nick Voke here.
See also, the Quick Round with Tom Walsh here.
See also, the Quick Round with Stephen Fleming here.
See also, the Quick Round with Sean Fitzpatrick here.
Advertisement
Sign up to our NZ Golf Updates