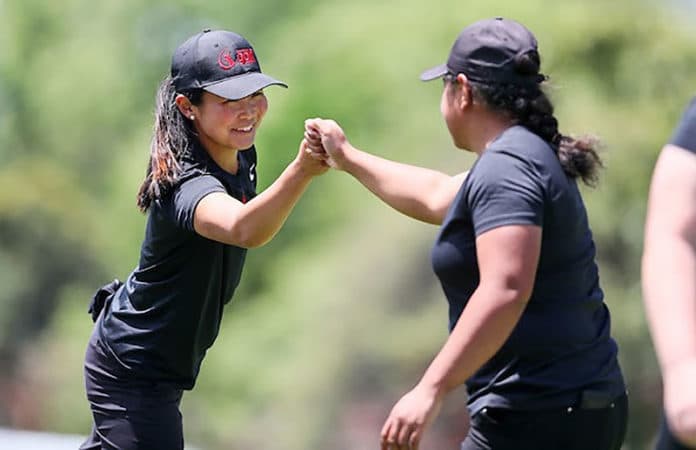 A handful of teams have separated themselves at the top of the leaderboard after four rounds of the New Zealand Women's Interprovincials held at Akarana Golf Club.
Both Canterbury and Auckland find themselves in the top two places on the ladder after round four and are set to do battle on Thursday.
Canterbury who are on a mission to replicate the success of the men's side last week sit equal with the hometown favourites on three wins and 15 games.
After a bye on Wednesday morning, they came out firing against Tasman in the afternoon to record their third 5-0 victory in a row.
Tied at the top are Auckland who pegged it up against Aorangi and got through the encounter unscathed with a 5-0 victory.
They backed that performance up against Manawatu-Whanganui 5-0 which was a lot closer than the score suggests.
North Harbour and Bay of Plenty are nipping at their heels in third and fourth place respectively with three wins and 13.5 games.
The North Harbour outfit play last year's runners-up Manawatu-Whanganui tomorrow with Bay of Plenty playing Aorangi.
Wellington also remains undefeated with three wins and 12 games and will play Taranaki on Thursday morning.
The race to see who will be in the semi-finals come Saturday will be a lot clearer after play on Thursday.
Round 4 Results
North Harbour 4 Otago 1 Eunseo Choi def Sumin Kang 2/1, Anna An def Yoonae Jeong 6/5, Yeonsoo Son lost Abby Crawford 4/3, Amy Im def Kathryn Baker 4/3, Vaha Fapiano def Rebecca Calder
Auckland 5 Aorangi 0 Vivan Lu def Lynda Brown 5/4, Fiona Xu def Ginny Bolderston 7/6, Caryn Khoo def Rachel Eder 3/2, Aileen Du def Marg Coughlan 5/3, Chloe Lam def Sharon Bradford 7/6
Northland 3 Man-Wang 2 Shardae Bulkeley lost to Tara Raj 3/2, Jenny Peters lost to Lisa Herbert 6/4, Kylie Jacoby def Brydie Hodge 5/4, Maraea Durie def Sera Raj 4/3, Alayna Cox def Natalie Lyttle 5/4
Bay of Plenty 4.5 Tasman 0.5 Caitlin Maurice halved with Aroha Minhinnick, Alanna Campbell def Tracy Bary 3/2, Jessica Green def Michele Reardon 9/8, Taylor-Rose Perrett def Lee Willetts 7/6, Heather Keefe def Annie Tiller 8/7
Hawkes Bay Poverty Bay 4 Taranaki 1 Tessa McDonald def Holly Winter 4/3, Janie Field lost Lucinda Searle 3/2, Matha Manaena def Debbie McCallum 2up, Clare Choi def Joanne McDonald 3/2 Aseri Miekle def Rochelle Keegan 1up
Round 3 Results
Bay of Plenty 4 Otago 1 Caitlin Maurice lost to Sumin Kang 4/2, Alanna Campbell def Yoonae Jeong 7/5, Jessica Green def Abby Crawford 4/3, Taylor-Rose Perrett def Kathryn Baker 6/5, Heather Keefe def Rebecca Calder 3/2
Wellington 4 Waikato 1 Darae Chiung def Robyn Pellows 5/3, Erika Cui lost to Sian Stevenson 1up, Victoria Li def Jennifer Kerr 2up, Yewoo Hyun def Gemma Towers 3/2, Dakota Asi def Bianca Stephens 3/2
Taranaki 3 def Northland 2 Holly Winter def Shardae Bulkeley 2/1, Lucinda Searle def Jenny peters 1up, Debbie McCallum def Kylie Jacoby 1up, Joanne McDonald lost to Maraea Durie 6/5, Rochelle Keegan lost to Alayna Cox 8/7
North Harbour 4.5 Hawkes Bay Poverty Bay 0.5 Eunseo Choi def Tessa McDonald 6/5, Anna An def Martha Manaena 5/3, Yeonsoo Son def Clare Choi 2/1, Amy Im def Fiona Eills 6/5, Carolyn Cressey halved with Aseri Miekle
Canterbury 5 Tasman 0 Momoka Kobori def Aroha Minhinnick 6/5, Hillary O'Connor def Tracy Bary 4/3, Maddie May def Michele Reardon 4/3, Catherine Bell def Lee Willetts 6/4, Amy Weng def Anita Newman 7/5
Auckland 5 Man-Wang 0 Vivan Lu def Tara Raj 2/1, Fiona Xu def Lisa Herbert 4/2, Caryn Khoo def Brydie Hodge 3/2, Grace Jung def Sera Raj 1up, Aileen Du def Natalie Lyttle 4/3
Advertisement
Sign up to our NZ Golf Updates