Mt Maunganui Golf Club is in great condition and ready to host the final round of the 2020 Jennian Homes Charles Tour in early December with the overall tour champion up for grabs.
In its second year of conducting the Christies Flooring Mount Open, Mt Maunganui is now squarely back on the New Zealand golfing circuit.
Last year's event was the first four round professional tournament at the Mount in over 30 years since Frank Nobilo won the 1987 NZ PGA Championship.
In 2019, rising youngster Denzel Ieremia shot 29-under par in four rounds to cruise to victory in the Mount's return and with Covid-19 devasting golf circuits across the globe, it is expected some big Kiwi names will tee up for this pre-Christmas event.
Speaking ahead of entries opening for the tournament, Mt Maunganui Club Manager Michael Williams they are expecting a strong field.
"With the current Covid situation, most of NZ's top players are in NZ and we will welcome them at the Mount for the week," Williams said.
"The recent Charles Tour events have had superb fields, so it will be a great chance for spectators to see them up close."
As the club has such a grand history of hosting major New Zealand titles, Williams said the Christies Flooring Mount Open has now become the main event for the club on an annual basis.
"The Mount has a long proud history of tournament golf including the NZPGA in the 60s, 70s and 80s. People still talk about those tournaments today.
"It's a great week for us to show off a special NZ course in one of NZ's best locations.
"The course is in pretty good condition all year round but we have undertaken a few projects this winter since lockdown including re-shaping a few bunkers.
"The finishing touches are being put on them now so it will be interesting what some of the players think of them. Our goal is to put on display true firm putting surfaces that the Mount has been renowned for."
As with many clubs across the country, the Covid-19 lockdown caused some heartache but also opened up some great opportunities to find players new to golf, Mt Maunganui is no exception.
"We have been going really well. We have joined up a number of new members (particularly younger members) and have had plenty of casual golfers through the door as well.
"What is one of NZ's busiest clubs has got even busier! It certainly has unfolded a lot differently to what I thought would happen when we locked the doors back in March."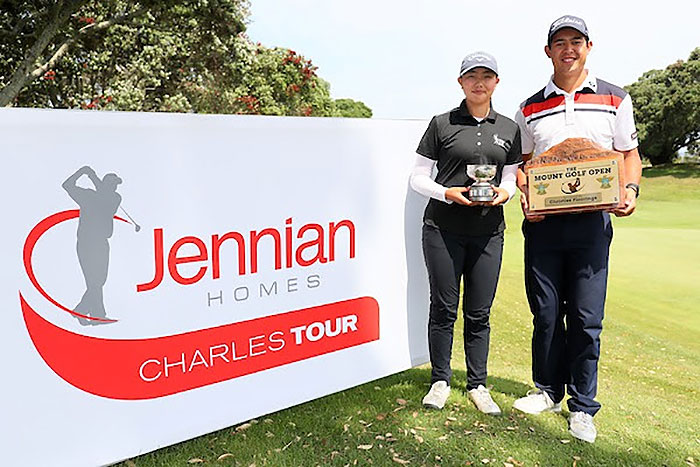 Last year Williams was instrumental in staging the first junior pro-am during the Charles Tour week in which more than 30 children from the club's junior programme took part and that innovation will be continuing this year.
"We will be running a Junior Pro Am again this year which we started last year. This was a huge hit with the players and the kids"
Williams said he has big plans to extend the tournament far beyond just the four days of play.
"We have Phil Taiturangi coming as our guest this year and he will speak at our tournament dinner on the Tuesday evening.
"We want to make it a festival of golf for the week."
NZ Golf Magazine is the Official Magazine of the Jennian Homes Charles Tour, a tour named in honour of New Zealand's legendary Sir Bob Charles, and is made up of 6 events in New Zealand.
The Charles Tour is designed to provide an opportunity for young, talented local amateur golfers to play alongside New Zealand Golf's elite squad members, as well as seasoned New Zealand based professional golfers, who will play for their share of $50,000 prize money.
So far in 2020, only Daniel Hillier has won multiple tour events with the titles being shared amongst Luke Toomey, Kieran Muir, James Hydes and Hillier.
With the possibility that international tour players might be teeing up alongside the best of 2020, the Christies Flooring Mount Open could produce a stunning finish to the year that we are all expecting.
Advertisement
Sign up to our NZ Golf Updates