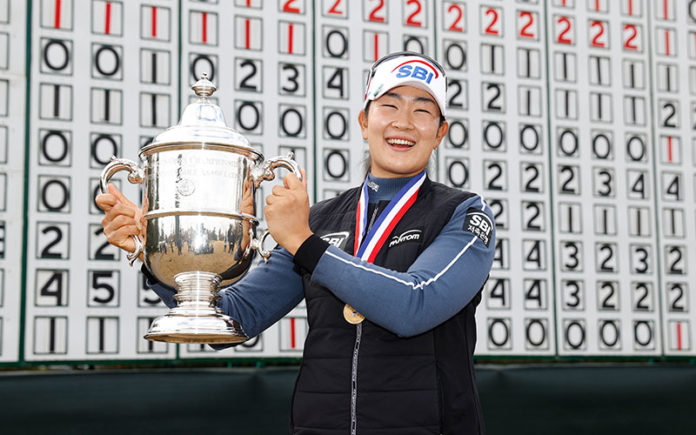 For the first time since 2011, the U.S. Women's Open had to move the final days play to Monday as rain washed out Sunday's play and once the rain cleared, the cold temperatures arrived and it provided the perfect conditions for South Korean player A Lim Kim to tame the unfamiliar bermudagrass and take the 75th U.S. Open title.
Kiwi Lydia Ko who was even par at the start of the final day dropped five shots in the freezing conditions to finish 5-over for the tournament tied for 13th place.
With only two professional victories to her name before this one, Kim looked like ultimate professional as she shot a 4-under 67 to produce the best round of the day and win by one shot ahead of fellow South Korean Jin Young Ko and American Amy Olson who tied for second with overnight leader Japan's Hinako Shibuno back another shot in third.
"Back in Korea there's no Bermudagrass, so for me, it was really — it took some time for me to get used to Bermudagrass, especially hitting the irons off the grass," Kim explained, "You really need some kind of skill, different style of swing in order to hit the ball out of the Bermudagrass.
"But love this golf course, love this environment. I even said earlier I want to actually put a tent up here and stay a few more days."
After a 1-over par 72 on the third day, Kim started five shots back from the leaders and was not really in the hunt until the birdies started to drop on the 6th and another on the 8th to see her squarely in with a chance turning for home as others around her faulted.
"To be honest, it was a little bit disappointing round the third round on Saturday," Kim said after the tournament, "I decided to come out today and try to be the aggressive player that I was, try to attack the pin, and it actually worked out today."
While Kim was making her play, overnight leader Shibuno had struggled to keep her lead and by the 11th hole had dropped four shots. American Amy Olson, who's father-in-law had passed away on Saturday night, was amazingly in the zone and was holding onto a slim lead heading into the back nine.
It was there that Kim made the move, shooting birdies on the final three holes to take the outright lead on 3-under and she would be never headed. Jin Young Ko tried everything in the final stages to tie the lead with birdies on 16 and 18 but just couldn't get a trap shot from the bunker on 17 to drop, staying 4 feet away leaving her with just par and a one-shot deficit.
Olson birdied the last to grab a share of second place.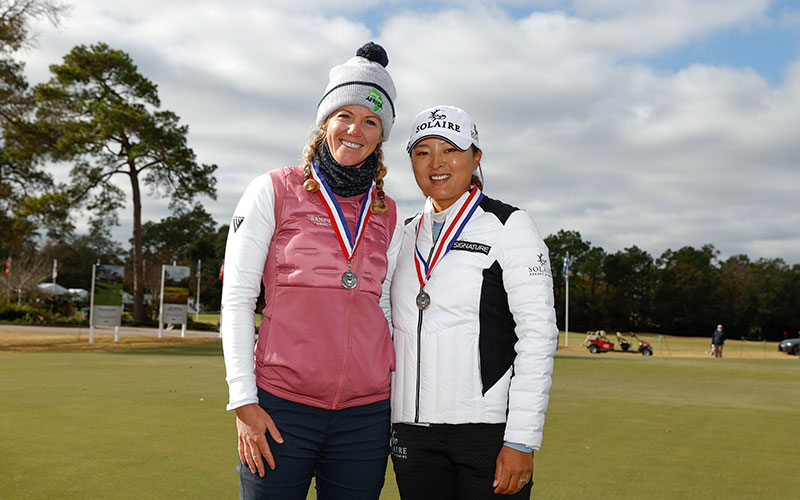 For the 25-year-old South Korean Kim, she became the 10th winner from her country at the U.S. Open in the last 16 years.
"Can't really describe it in words. I never expected that I was going to appear in the U.S. Women's Open," Kim said.
"A lot of people around me told that if I come to the States a lot of golf courses are pretty wide open, wide fairways, so I kind of expected that when I was out on this golf course.
"But I realized how the rough was and narrow fairways, a lot of tall trees. But I'm glad that I got here a few days earlier in the week so I had enough time to prepare for this tournament.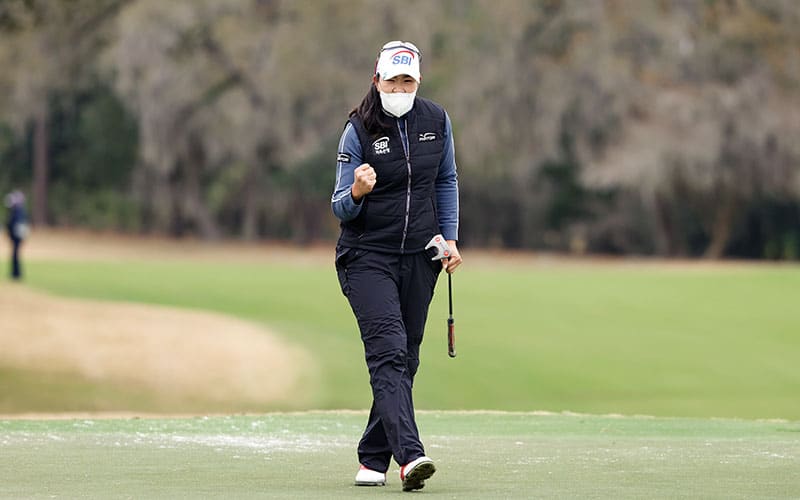 While the final groups played out, Kim was waiting in the players' tent to see if she had secured victory. During that time she inadvertently dropped her phone into her golf bag which led to hilarious scenes as her caddy was to empty the bag and tip it upside down to find the phone live on television.
"After I found the phone, I still didn't know that I actually won this tournament, so I got a lot of text messages from my family and friends how well I played.
"They were cheering for me overseas. I actually came to winter training four years ago. That was my first time back in the U.S., and this is the second time, and first time playing in an overseas tournament.
With celebrations set to begin as soon as she left the course.
"I really miss Korean food right now, so I'll probably have good Korean food with my family."
Advertisement
Sign up to our NZ Golf Updates